Urban tropic: a new house in the Philippines thinks inside the box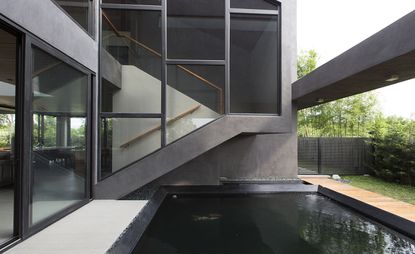 (Image credit: Ed Simon)
Just 45km south of the hustle and bustle of Metro Manila, an almost perfectly square site in the level plains of the Laguna province's tropical suburbs, provided the inspiration for the rigorous geometry of Z House. Manila-based Micaela Benedicto's MB Architecture Studio conceived the new 423 sq m, two-storey dwelling as a composition of interconnecting cubic volumes, within the square site, while keeping in line with its right-angled context.
Take an interactive tour of House Z

'The architecture evolved from a series of configurations exploring sets of cubic spaces, each one denoting an indoor or outdoor space, arranged within a footprint grid of nine squares,' explains Benedicto. The resulting layout of internal spaces forms an inverted 'Z' shape on plan, earning the house its title. The voids that dot the floorplans create pockets of welcome outdoor space, carve depth and height into the structure, maximising daylight and cross ventilation.

The arresting monochrome exterior, seamlessly rendered in charcoal grey with distinct grey framed glass curtain walling, responds to the modular diagram with a series of projecting and recessing volumes. These gestures in turn produce a richly layered interior, bathed in daylight with varying degrees of transparency. Contrary to the archetypal modern house, white surfaces are the exception, not the rule, substituted with warm timber doors, ceilings, floors, and complimenting grey fitted furniture. Interiors were designed by Chako Hirayama.

At ground level, the garden and courtyard are treated as extensions of the open plan kitchen, living and dining space. The cantilevering volume of the staircase forms a sculptural centrepiece over the pond. The study and guest suite is discreetly positioned off the main entrance and utility areas are tucked away behind the kitchen. A rectilinear void creates a generous double height living space with oblique views to the open plan lounge at first floor. This includes an enclosed corner library and a self-contained master bedroom suite with private terrace, accessed by the bridge link.

The whole is greater than the sum of its parts in this house. The clever assembly of spaces, sculpting a tight site to create parcels of lush vegetation, will surely provide a breath of fresh air for the client couple accustomed to high-rise living in the capital's business district.
INFORMATION
Find out more about Micaela Benedicto's MB Architecture Studio website (opens in new tab)