Palinda Kannangara's elevated retreat is in sync with its Sri Lankan locale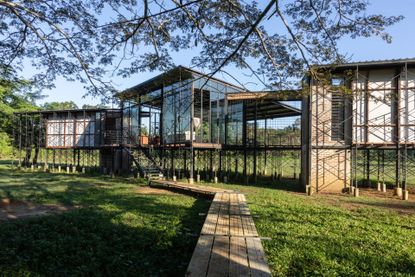 (Image credit: Luka Alagiyawanna)
The Colombo-based architect, Palinda Kannangara has completed a wide portfolio of projects, which are as much about the surrounding context as the architecture. His restrained palette and contextual sensitivity to each site is informed by his early experience working with the Sri Lankan modernist architect, Anura Rantavibhushana, who trained with Geoffrey Bawa for 16 years.

The Frame Holiday Structure is sited in the Lowland wetzone of Sri Lanka, 60 km from the Singharaja Rainforest. It was commissioned by a client, an ethno-musician and jazz drummer, who was keen to reclaim his ancestral land in which he grew up, which had been abandoned for decades due to constant flooding, for an extraordinairy escape.
The brief was to create a leisure space and weekend retreat away from his hectic urban life. Rather than the traditional verandah style building, Kannangara created a sequence of three rectangular elevated platforms, which house the open plan living and dining space, off which two delicate bridges connect to the two bedrooms with bathrooms. These are angled to enhance the views of the surrounding vegetation, creek and distant mountains.

The budget was relatively low, which led Kannangara, who worked in close collaboration with the client, to create a simple solution deploying scaffolding. This method of building meant that the structure was completed in two months.

'The idea of the lightness and temporality of the landscape determined the decision to use scaffolding as an exoskeleton, Kannangara explains. This lifted lightweight structure, allows the local villagers to graze their cattle freely, as well as offering the option to deploy the building to higher ground if desired. The result is a structure that touches lightly upon the landscape and is nimble in its ability to adapt to the uncertainties of the terrain.
INFORMATION
palindakannangara.com (opens in new tab)