Design Haus Liberty's Lake Maggiore house masters the art of retirement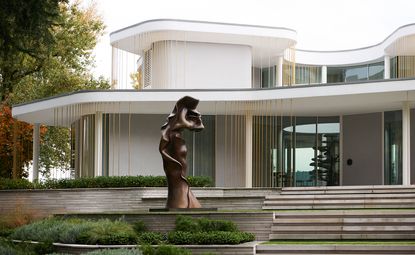 (Image credit: Adrien Dirand)
Universal boating etiquette dictates that, should you pass someone's lakeside property, keeping your distance and your engine low are de rigueur. Sometimes, though, the desire for a snoop is so overwhelming that the rules simply have to be broken. Such is the case with Villa Mosca Bianca, recently built on the shores of Lake Maggiore. Elderly couples, out for a Sunday sail, chug past to witness the glasshouse that everyone is talking about, kayakers pull up on its (private) beach and shamelessly film its curvaceous concrete terraces, and paddleboarders fake-capsize next to its state-of-the-art jetty, spying as they splash about.

It's not the first house on this southern section of the lake to cause a storm – rewind 200-odd years and the novelist Alessandro Manzoni was living it up at Villa Stampa in Lesa, while a decade ago, then- Italian prime minister Silvio Berlusconi bought the 18th-century Villa Campari in Meina – but it's certainly the most modern. Near-prohibitive planning restrictions mean Lake Maggiore's sleepy shores stay sleepy. To build something so daringly avant garde on an empty plot seemed an impossible task. But the owner, an American property developer who for decades has conquered tricky locations in London, Manhattan and Switzerland, was unfazed.

Planning regulations were not always so draconian on Maggiore's Italian shores. Near Villa Mosca Bianca is a Spanish-style hacienda, a thatched cottage, a Hamptons-style beach house, and some experimental 1960s cabins. Less chocolate box beautiful than Garda, less bijou than Orta, and lacking the grandeur of Como, this section of the lake is a mish-mash of styles, dotted with Milanese weekend retreats.
For Dara Huang, founder of London architects Design Haus Liberty, who won the pitch to create the house, the beauty lay not in the local vernacular but in the landscape. 'I first visited the site around two years ago,' she says. 'A few ancient trees and a thick green forest led straight on to a wide-open lake and I knew I had to preserve the green, capture its ephemeral calm.' Four glass wings, holding bedrooms and bathrooms, stretch into the land, 'like fingers, each room in its own cocoon with its own special ambiance,' while the open-plan kitchen and living spaces occupy the rest of the 10,000 sq ft space. A keen wakeboarder, the owner likes to get up early, meditate and watch the sun rise over the water.

Life is lived outdoors, on boats and terraces that roll down to the shore. 'The entire house is scripted around his lifestyle, of how, now he is soon to retire, he wants to live,' says Huang. 'Resting, thinking, meditating, eating.' Each terrace, planted with wild grasses and open to the elements, caters to this daily routine. It's one that passing boats get to share, given the absence of the elegantly clipped cypress trees, weeping cedars and ebullient hydrangeas that artfully screen the gardens of Berlusconi and his ilk.
Summers here are hot and humid; winters are cold and the lake often floods. The stepped terraces of the new villa act as a flood barrier while the glass doors open up, allowing breezes to escape through the central atrium, and screens made of brass rods create shady indoor/outdoor spaces. 'They provide a lightness to the large mass of the house,' says Huang, who mastered brise-soleils while working at Herzog & de Meuron. Rainwater is collected and used to water the vegetable garden, and solar panels increase energy efficiency.

Huang, who is currently creating a 2,000,000 sq ft project in China and an underground mixed-use commercial space in London, devised all the interiors at the villa, applying her trademark blend of natural raw edges and clean-cut minimalism. DH Liberty Lux, her bespoke lighting brand, took care of dramatic one-off lighting pieces, all made in the UK by British artisans. Marble off-cuts sourced from a nearby quarry were honed into abstract furniture, and the owner, an avid art collector, installed a sculpture by Helaine Blumenfeld at the front of the house.

As well as sparking curiosity for miles around, Villa Mosca Bianca, or La Casa Moderna as locals like to call it, has galvanised the neighbours; fences have been given a new lick of paint, gardens have been relandscaped and swimming pools added. Local architect Roberto Manzetti, who wrangled with the local commune to obtain permissions and oversaw the construction of Villa Mosca Bianca, says: 'There are no other houses like it in the area. People have been initially confused by its strong impact, but once the vegetation has grown, its lightness and harmony with the landscape will reveal itself. It has opened people's minds to the idea of building in a minimal, modern way.' Manzetti is now creating two equally modern villas in nearby Laveno and another is being planned right across the water from the house. Lake Maggiore, which for decades has lain undisturbed, might be waking from a long slumber.

A version of this was originally featured in the Wallpaper April 2019 issue (W*241)
INFORMATION
Receive our daily digest of inspiration, escapism and design stories from around the world direct to your inbox
Emma O'Kelly is a contributing editor at Wallpaper*. She joined the magazine on issue 4 as news editor and since since then has worked in full and part time roles across many editorial departments. She is a freelance journalist based in London and works for a range of titles from Condé Nast Traveller to The Telegraph. She is currently working on a book about Scandinavian sauna culture and is renovating a mid century house in the Italian Lakes.