An OMA/AMO show at Het Hem explores our balance with nature
We tour Het Hem's latest exhibition, 'Chapter 5IVE', a collaboration with OMA's Rem Koolhaas and Samir Bantal, director of AMO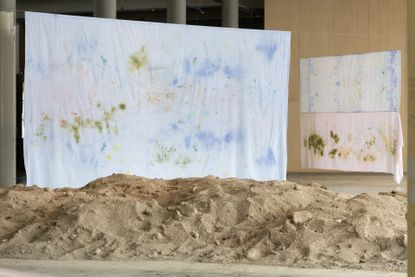 (Image credit: Cassander Eeftinck Schattenkerk)
Het Hem's latest exhibition 'Chapter 5IVE' is the result of long conversations between curator Rieke Vos, Dutch architect Rem Koolhaas and Samir Bantal, director of AMO, the think tank of the Office for Metropolitan Architecture (OMA). The installation of 15 groups of artworks is being shown at the cultural institution's former munitions factory space in Zaandam, the Netherlands.
The framework of the exhibition was the extensive study of the relationship between city and countryside, which Koolhaas and Bantal began in 2012 and was first presented in the Guggenheim in 2020 under the title 'Countryside, The Future'. 'Globalisation's initially glamorous image seems to be rapidly losing its shine in various parts of the world. Increasingly, mechanisms of the modern city seem to make life more uniform and upset our balance with nature, and people in the countryside are no longer willing to accept this,' says Bantal. In other words, we must look to the countryside to help us achieve sustainable life on Earth. This is a key part of our battle against climate change and our fight for food security and an inclusive balance with nature.
'The artworks give space for a critical reflection on our relationship with rural life and nature, now and in the future,' says Vos. The journey starts with a prologue: in German artist Christian Jankowski's The Hunt (1992-1997), the artist walks into a supermarket with a bow and arrow like a primitive hunter gathering his life supplies – only to be faced by an unconcerned checkout assistant, who simply charges him for his 'captures'. Humans tend to place themselves outside or even on top of nature. This comical anecdote questions whether there is an inherent conflict in the way we live and how we position ourselves in the ecosystem.
Our economy demands continuous growth, which outpaces nature's clock. Hungarian-American artist Agnes Denes' Tree Mountain – A Living Time Capsule – 11,000 Trees, 11,000 People, 400 Years (1982, 1992-96) is one of the earliest ecological artworks, in which thousands of silver firs were planted on a former gravel pit in Finland in a mathematical manner, using the Fibonacci sequence and golden ratio to encourage future civilisations to reflect on its cultural origins. 'Rural areas are likely to be hardest hit by climate change, but they might also have the best solutions to deal with it,' says Vos. Nature may work slowly, but on the other hand, Denes sends out the message that it is possible for humans to adapt to its rhythms if we have the will to do so.
The exhibition moves towards a more futuristic sentiment. Vos describes Bantal and Koolhaas as 'in a way techno philosophers', whose open minds seek ways of using new technologies to change our behaviours while at the same time maintaining our values.
The Great Decline (2019) by Belgian artist Maarten Vanden Eynde is a copper memory chip, showing the floor plan of Norway's Svalbard Global Seed Vault, which opened in 2008, covered with a large variety of seeds. 'Seeds contain a lot of knowledge,' says Vos. 'They are one of the most complex rural technologies.' The design is reminiscent of a lukasa, an ancient memory device created by the Luba kingdom (now part of the Democratic Republic of Congo) to document topographical and historical information about political events, people and places.
At the end of the exhibition hall is Emissary Forks at Perfection (2015-16), a live algorithmic simulation by American artist Ian Cheng. It portrays a far future, in which humans have become extinct, where a human is brought back to life by Al to see how they would react to the dystopian environment. 'Perhaps the most intimate crisis we face today is the limit of human consciousness to really grasp non-human scaled complexity,' says Cheng.
Vos adds, 'Humans tend to think that we can control everything through technology. Cheng's work paints another picture in which we are reminded that we will always be part of a holistic environment.'
INFORMATION
Receive our daily digest of inspiration, escapism and design stories from around the world direct to your inbox
Yoko Choy is the China editor at Wallpaper* magazine, where she has contributed for over a decade. Her work has also been featured in numerous Chinese and international publications. As a creative and communications consultant, Yoko has worked with renowned institutions such as Art Basel and Beijing Design Week, as well as brands such as Hermès and Assouline. With dual bases in Hong Kong and Amsterdam, Yoko is an active participant in design awards judging panels and conferences, where she shares her mission of promoting cross-cultural exchange and translating insights from both the Eastern and Western worlds into a common creative language. Yoko is currently working on several exciting projects, including a sustainable lifestyle concept and a book on Chinese contemporary design.
With contributions from