The Bartlett launches campus for architecture and engineering at London's Here East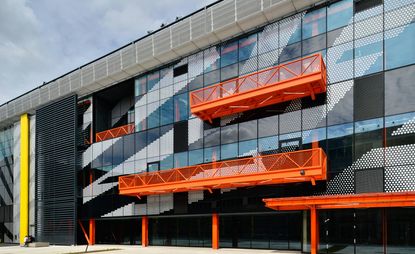 (Image credit: press)
Open space isn't something easily found in London, but at the Queen Elizabeth Olympic Park it comes in abundance. Its expanses stretch from the canals of Hackney Wick to Stratford's Westfield shopping centre – there's even a busy shuttle bus to transport people across it. The park is home to Here East, a business, technology and creative campus, developed by iCITY from its previous life as the Olympic press centre; the 72,000 sq m 'industrial shed' was once the temporary home to 200 TV studios and the Infinity Data Centre, a vast black box filled with servers making it one of the most well-connected places in the country – an ideal advantage to its new purpose as a hub for technology.

For a claustrophobic Londoner, this space reeks of potential. Visions of a well-planned, pedestrian-friendly, dare-I-say affordable new east London are hard to keep at bay. Bringing this fantasy a step closer is University College London and The Bartlett, which have moved into the Here East block with a new architecture, engineering, computer science and real estate campus, transporting with them a hoard of creative and mathematical brains to the growing community – and this is just the first phase, UCL East located on another site close by is set to open by 2022.
Designed by architecture practice Hawkins\Brown, the new campus is designated for collaborative and cross-disciplinary work. After designing the masterplan for the evolution of the site from its Olympic past, Hawkins\Brown were ideal collaborators for the Bartlett and UCL's new space. Not only were they familiar with the Here East campus and concept, but the team already worked with UCL Estates and the Bartlett on the deep retrofit of the Gordon street building (opens in new tab), an old Bloomsbury terrace in need of modernisation that Wallpaper* visited in 2016 for a fashion shoot (opens in new tab) and also Hampstead road, a fit out in a former BHS warehouse. Hawkins\Brown are well-versed in finding ways to repurpose and bring life back to used London spaces.

This vast space has enabled UCL's new Real Estate Institution and Robotics Lab to be born, and the Faculty for the Built Environment and the Engineering Sciences Faculty to expand. It has also allowed The Bartlett to take some risks on a new undergraduate course, new combined master's programmes and some general cross-contamination – encouraged by the design of the space.

Working across a 6200 sq m segment of Here East, one of the biggest challenges for Hawkins\Brown was daylight, which was only available from one side of the site: 'The space is 100m long – it was originally a big dark empty shed and we had to negotiate human occupation with a building that was never designed for human occupation,' says Tom Noonan, project architect and associate at Hawkins\Brown.

It's at the edge of the plan, where the natural daylight is plentiful, that a ground floor studio space hosts 180 workstations and a first floor space is the new home to the UCL Real Estate Institute. A friendly stepped auditorium space is a buffer between the daylight-filled spaces and the two main labs positioned further into the core of the space; one for 3D tracking, scanning and large fabrication and another cyclic environmental and mechanical multi-scale test lab. These in turn are surrounded by smaller controlled zones for wet trades, nano-robotics, thermal studies, tissue culture, welding and much more.

The Gordon street building in Bloomsbury is mostly desktop based, but this campus is totally flexible, loose-fit and fluid ready to be adapted as technologies change and courses develop, explains Manpreet Dhesi, communications manager for The Bartlett. 'It's not a clean desk policy', says Dhesi of the work spaces. 'It's less-programmed because the functionality might change in four years. While Bloomsbury is drawing based. This place is about making.'
'In practice there is far more collaboration in work and cross-fertilisation than in academia, where it's very siloed,' says architect Noonan. 'To think back to studying in the old Wates house, it was just a closed studio with drawing boards, I was there for a few hours a week. Now you're working next to computer sciences students working on human surgery with robots. There's no boundaries between each of the disciplines, you have engineers and architects working in the same volume, so its a real learning curve. There's real opportunities to learn from each other.'

Starting students off with the advantage of a common language between architecture and engineering is one of the aims of The Bartlett with this new campus – to change the perception of architectural education and civil engineering, as well as bringing the potential to collaborate with industry. For large scale projects such as Here East, Hawkins\Brown work directly with engineers every day. For this project they collaborated with BuroHappold, an integrated engineering firm, which covered structural engineering, mechanical engineering, acoustics and served as electrical and fire consultants on the project.

Across the site, spaces flow into each other easily, offering sight lines from studio to lab. Off the mezzanine project space – where there is a distinct smell of burnt sugar and the new undergraduate class is at work collaborating in small groups on projects on the floor – juliet-style balconies overlook the labs below, where a carbon aeroplane wing stands next to a small robot on wheels (the UCL Robotics Institute have a partnership with Airbus). An open walkway passes beneath the balconies through the main lab, allowing students to always see what's happening in the spaces that are partioned with transparent polycarbonate screens.
As well as sight lines, material continuation occurs across the site. The stepped auditorium, that resembles an open-air Roman forum more than your average university lecture hall, has a bright yellow coloured floor, and the yellow is manifested in other areas of the building through cushions on the benches or the colour of the walls in the Real Estate rooms.

The auditorium is built of smooth plywood joinery, another material that continues across the whole site – 'it's a way of softening it; its cheap, its durable, its better than plasterboard,' says Noonan, of the material which is used in sculptural staircases, neat shelving/work space niches and inbuilt benches across the site.

The shape of the auditorium is similarly considered and creative. It swells and shifts into smaller or larger stepped areas in different places in an almost modular way – while it can serve as a 350-seat lecture hall, it can also fit a range of smaller sessions: 'All of the timber strip is acoustic. There's soft felt behind there which absorbs the acoustics – so you can have multiple sessions,' says Noonan. 'You can hear people but its not intelligible. All of this was electro-acoustically modelled by BuroHappold for scenarios of different populations of people occupying different parts,' he says. This auditorium is not just an academic box that no one uses outside of class, but a living, breathing space for informal meetings, lunch and crits.

The whole site has a welcoming campus feel, different from the central London university vibe where terraced buildings are often patched together with extensions and strange circulation systems. Step outside into Here East's long central plaza (where food trucks park up at lunchtime), and while you won't find the British Museum or Senate House library, you'll find other creative forces at play – Ford's Smart Mobility Hub, Studio Wayne McGregor (opens in new tab), Matches Fashion HQ and the V&A, which recently unveiled proposals for a new collection and research centre at Here East. University education, and academia, has never felt so exciting, experimental, future-focused and – useful.

See more campus architecture here (opens in new tab)
INFORMATION
For more information visit the Hawkins\Brown website (opens in new tab) and the UCL Bartlett website (opens in new tab)
Harriet Thorpe is a writer, journalist and editor covering architecture, design and culture, with particular interest in sustainability, 20th-century architecture and community. After studying History of Art at the School of Oriental and African Studies (SOAS) and Journalism at City University in London, she developed her interest in architecture working at Wallpaper* magazine and today contributes to Wallpaper*, The World of Interiors and Icon magazine, amongst other titles. She is author of The Sustainable City (2022, Hoxton Mini Press), a book about sustainable architecture in London, and the Modern Cambridge Map (2023, Blue Crow Media), a map of 20th-century architecture in Cambridge, the city where she grew up.