Heatherwick Studio provides insight into creative process at LA's Hammer Museum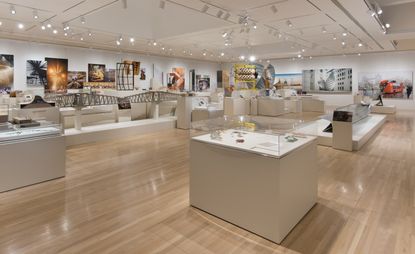 (Image credit: press)
The literature related to the Hammer Museum exhibition 'Provocations: The Architecture and Design of Heatherwick Studio' singles out the firm's 'astonishing range.' For one time in the history of press packets, this is a profound understatement.

As the show illustrates, the brilliant, mercurial office's portfolio is perhaps the most eclectic in existence. It includes, but is not limited to, spinning chairs, extruded metallic sofas, and transformable tables, and scales up to Olympic cauldrons, buses, bridges, buildings, and city plans.

Like Heatherwick's creations, the meandering exhibition, curated by Brooke Hodge with coordinating curator Aram Moshayedi, has no hierarchy, although it does lean more heavily on recent work, much of it in the public realm, which Heatherwick acknowledges is his passion.

Projects are grouped into what show designer Neil Hubbard calls 'organised chaos,' informal clusters that allow viewers to make their own connections and conclusions. The emphasis is on the studio's process, which, as the exhibit title suggests, starts with a question and leads to hands-on, ruthlessly logical responses.

Each object is accompanied with a query, like 'How can a seaside building relate to the sea?' (the wavy, layered East Beach Café in Sussex, England), and 'Can a building stand up on the architectural equivalent of matchsticks?' (the porcupine-like Belsay Sitooterie in Northumberland, England). The show is light on renderings and heavy on models, mock ups, and test elements, making it refreshingly tactile and reinforcing the image of a firm that follows through on its intricate and brash, yet very accessible, proposals.

'The workshop is the heart and soul of the studio,' said Hodge, who also curated Provocations' iteration at the Nasher in Dallas last fall, and will direct the show at the Cooper-Hewitt in New York this summer. 'The ingenuity is so mind boggling to me. It's fresh because they're never doing the same thing.'

For those who question Heatherwick's transition to buildings and infrastructure, the answer is in the spectacular results— such as the lushly planted Garden Bridge in London, the hive of textured, cylindrical columns at the Learning Hub in Singapore, and a contemporary art museum in Cape Town built into forty two vertical concrete tubes—which rethink what's possible in a way that only someone who insists on being what Heatherwick calls 'an expert at not being an expert' can.

To such naysayers Hodge asks, 'Why not? Does he have to keep making handbags and chairs?'

'There's always some friction in change. It would be weird if there weren't,' adds Heatherwick.
ADDRESS
Hammer Museum (opens in new tab)
10899 Wilshire Boulevard
Los Angeles, CA 90024
VIEW GOOGLE MAPS (opens in new tab)