Heatherwick Studio's glasshouse architecture flowers in the English countryside
Heatherwick Studio's new glasshouse is a floral haven in West Sussex's Woolbeding Gardens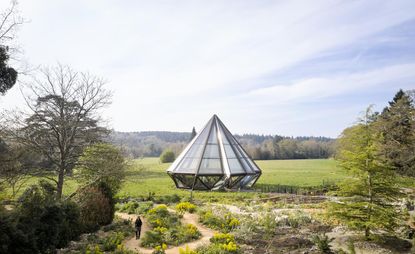 (Image credit: Hufton + Crow)
Before creating large-scale, headline-making landmarks – the Vessel and Little Island in New York, and 1000 Trees in Shanghai amongst them – Thomas Heatherwick established his name with striking, small-scale works, building-sized objects, witty, ingenious and often kinetic. There was 2004's curling, crowd-pleasing Rolling Bridge in London's Paddington and The Sitooterie, a hedgehoggy garden seat, created two years earlier in Essex. A new piece of glasshouse architecture at Woolbeding Gardens in West Sussex traces a line back to these early works in its one-good-idea elegance and a kind of Victorian enchantment with the mechanics and engineering of movement. A 15m-tall, ten-sided blossoming jewel, the Woolbeding Glasshouse is the centrepiece of a new garden that, horticulturally, takes the visitor on a winding trip along the Silk Route, from Turkey to China, and, functionally, protects a cluster of subtropical plants. In effect, it does much more than that, coming off like a carefully parked spacecraft for higher-intelligence plant-life pilots.
Woolbeding Glasshouse by Heatherwick Studio
This piece of glasshouse architecture was commissioned by Stewart Grimshaw, partner of the late Simon Sainsbury, who together leased the 1,000-acre Woolbeding estate from the National Trust in the early 1970s. The pair added a number of gardens and contemporary follies to the estate over the years. After a chance meeting with Heatherwick, Grimshaw set on creating something even more remarkable, a lasting legacy of their time in charge of the estate. There had been a large Victorian glasshouse at Woolbeding but it was long gone and Grimshaw mooted the idea of creating a new one, radical in scale and ambition. Heatherwick was, of course, intrigued and signed up for the challenge.
Heatherwick says he spent research time reading about Joseph Paxton, 19th-century gardener, engineer and designer of the Crystal Palace and the Great Conservatory at Chatsworth House in Oxfordshire. He also thought back to his student days in Manchester. 'I lived near Fletcher Moss Botanical Gardens and they had a glass orchid house. And I knew the glasshouse at Woolbeding had to have that kind of focus.'
Grimshaw had studied botany and came up with the idea of the Silk Route Garden. Two years in the devising and planting, the garden path now winds through 12 biomes, from Mediterranean Bursa through Anatolian Plateau and Tibetan Meadows and over a sheep-repelling ha-ha to the subtropical glasshouse, creating a kind of teasing theatre along the way. 'The garden is a kind of maze where you keep thinking you are near the end and at the glasshouse but it keeps pulling you back,' Heatherwick says.
Functionally, the glasshouse has to shield umbrella trees, magnolias and bananas against harsh winter winds and rain but be open to the elements when they are calmer and kinder. That demand presented the engineering and aesthetic challenge Heatherwick needed. He wanted to do more than create a frame for open-and-close windows but, rather, to create a structure that fully bloomed on demand, offering its occupants clear blue skies. A series of hydraulic rams lower the triangular petals or sepals in an elegant and all-but-silent four-minute dance. At full stretch, they sit at the same angle as the glass sides of the base, creating a kind of glass crown.
Heatherwick says the technical challenge was ensuring the building could handle that shifting centre of gravity and that the sepals achieved a weather-proof seal when closed and didn't get in any kind of tangle in the blossoming process. The final design was realised with the help of specialist engineers Bellapart.
Leaf-skeleton engravings on ground-level grills and a metal door handle shaped after an actual bamboo add to the glasshouse's steampunk air. And it makes sense that the building has a retro sci-fi thrust to it. 'The Victorian glasshouses were these really gorgeous structures and in some way the forerunner of modern buildings and high-tech architecture in the way they used glass and metal.'
For Heatherwick, though, the Woolbeding Glasshouse, funded by The Woolbeding Charity and the National Trust, is a permanent tribute to a particular architectural legacy and an attempt to create something like it. 'The Georgians and Victorians were such prolific builders and those buildings, in their adaptability, flexibility and their cherish-worthiness, have proved to be arguably the most sustainable buildings in history,' Heatherwick proposes.
'Now the average life of a commercial building is 40 years, which is environmentally terrible. But the real terror is that we end up just protecting history and not making new history. I hope that we don't lose our confidence to make new things that might have some of the qualities and values of the things that we cherish from the past.'
INFORMATION
The Woolbeding Glasshouse and the Silk Route Garden are open on Thursdays and Fridays from 28 April to 30 September