Heatherwick Studio's 1000 Trees blooms in Shanghai
Heatherwick Studio's 1000 Trees is Shanghai's newest mixed-use development, blending trees, art and sculptural concrete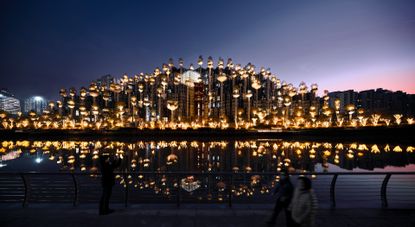 (Image credit: Qingyan Zhu)
The first phase of Heatherwick Studio's 1000 Trees has finally opened in Shanghai, unsurprisingly a couple of years behind schedule (thanks to the pandemic) but as verdant and striking as the name and early renders suggested. The mixed-use development takes up just part of a 15-acre site bounded to the north by Suzhou Creek and by the M50 art district to the south. From the river, the building is deliberately hard to read, a 60m tall, gently sloping, terraced jumble of horizontally striped stone and towering planters in unapologetically raw and rippled concrete.
For studio founder and head Thomas Heatherwick, 1000 Trees reimagines large-scale urban developments as open, social spaces rather than blank monolithic boxes or towers. 'Many big buildings just feel cold, sterile and monotonous on the outside,' he says, 'so our challenge was to create something engaging on a human scale.'
1000 Trees: the first phase
Based around a 9m grid, the building twists 45 degrees to get maximum river views. The studio's biggest idea, though, was leaving the development's giant supporting columns on the outside and turning them into those planted podiums, exposed sections of cliff topped with trees, shrubs, grasses, flowers and climbers. The exoskeleton device allows for more open and lighter space inside but also means, says Heatherwick, that shops, restaurants, galleries, even a kindergarten all have outdoor terraces. The building is also deliberately porous, and accessible from multiple angles with walkways at various levels. Heatherwick likens it to a termite mound.
'We felt an enormous responsibility to make sure that commerce not be its only atmosphere and to make a community heart,' he says, 'that it has a diversity of places to explore and is somewhere that people can just be.' (The design was, of course, plotted long before the Covid-19 pandemic – Heatherwick nods to the influence of Jan Gehl, the Danish architect, urbanist and author of Life Between Buildings and Public Spaces, Public Life – but that provision of outdoor space now looks beyond prescient.)
1000 Trees, though, has also become a lightning rod for a lively debate in the architectural press about the positives and not-so-positives of 'urban greening'. Those for verdant buildings argue that their plants and trees increase biodiversity, lower temperatures, suck in CO2 and other pollutants, reduce noise and generally lift the spirits. Critics argue that those benefits are far outweighed by the carbon output of building in concrete and steel, and that maintaining green walls and roofs is resource intensive, though living walls are far more at fault here. Heatherwick Studio says the planting on 1000 Trees is all local, will change with the seasons and has been carefully researched and picked to minimise pruning and maintenance.
RELATED STORY
Heatherwick and Lisa Finlay, the studio's group lead on the 1000 Trees project, say another key priority was engaging with the low-level reused warehouses and industrial buildings of the M50 art district on the other side of the development. 'The planning regulations clearly expected us to build a huge tower on a podium, but that would have made a mockery of the art district,' says Heatherwick. 'The most respectful thing we could do was to come to meet it at street level and at its scale, to blur that boundary as much as we could.'
The much less discussed south-facing façade, then, is essentially an angled display space for local art especially commissioned for the building by French street artist and M50 champion Paul Dezio. Local artists have also been invited to create 40m-high murals inside the building's elevator shafts, visible from glass cars. Heatherwick says the artwork is 'an acknowledgement that no one designer should be allowed to do projects this big. They need to be diverse. Single brains will create something that is too much of one thing.'
An external glass lift, meanwhile, is housed in a tower of weathered Cor-ten steel blades, a shimmery echo and reimagining (and repositioning) of part of a flour mill that once stood on the site. 'The city said they wanted to remember that there was a mill there and asked us to rebuild its tower,' explains Heatherwick. 'Initially, everyone said "No, we can't do that. It's kitsch, it's ridiculous." But then we thought, this is an enormous project, the more idiosyncrasy the better, so how do we keep this memory but make it useful?'
For Heatherwick, the steel tower exemplifies the studio's mission to build the strange and unexpected into its large-scale developments. 'I deeply believe in not copying the past but I'm really proud of the tower. We're really interested in how we build, in what typically gets eradicated, and not creating sterile dead places. Everyone loves clean lines but clean lines are actually boring. So how do you get dirty lines?' The entire 1000 Trees plot is bisected by a road, and phase two of the development, another forested urban mountain but this one 100m tall, is now under construction. The new development, which has to work its way around four existing heritage buildings, will include workspace, a cinema, a hotel, as well as a large park and an amphitheatre.
Finlay says the team will now be studying how people use phase one of the development, alert to the fact that the pandemic has permanently shifted behaviour and needs in dense urban areas. 'We want to do a lot of monitoring over the next year,' says Finlay, 'and look at how the terraces and spaces are actually being used. It might be used in completely different ways to what we imagined, so let's find out.'
INFORMATION
heatherwick.com (opens in new tab)