Haringey brick bungalow shows good things come in small packages
This Haringey brick bungalow by Satish Jassal Architects works within tight constraints to bring a fresh take on small-house design in London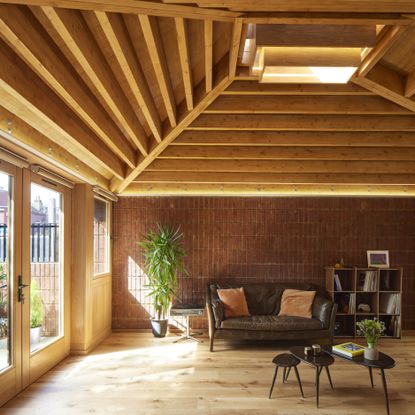 (Image credit: Richard Chivers)
When Satish Jassal took on plans to build Haringey Brick Bungalow on a backland retail site behind north London's Turnpike Lane, accessed only by a 1m-wide passageway, he knew he would have to rise to a formidable design challenge. The resulting house by Jassal's RIBA award-winning practice, is a carefully considered home that reimagines the possibilities for design in the constrained spaces typical of London.
Haringey Brick Bungalow brings openness to tight spaces
Tucked behind a butcher's shop amid a medley of retail and restaurant extensions, the home's pair of pyramid-shaped sedum rooftops are intended to offer a more interesting outlook for residential neighbours.
Constrained not only by footprint, but also by access, this project called for Satish Jassal Architects to be innovative and imaginative in bringing a sense of openness to tight spaces.
By offsetting the two volumes that make up the home's structure, external spaces have been carved out to form a courtyard entrance on one end and a rear patio on the other.
These outdoor areas provide different aspects and, along with rooflights atop each volume, allow natural light to pour into the home and illuminate interior living spaces.
Stretching across both volumes is a wide, generous living, dining and kitchen area. Coffered glulam ceilings follow the contour of the pyramidal roofs, climbing up to 3.5m at the highest point, inviting a sense of scale into the home. Hanging timber 'chandeliers' add a tasteful touch of grandeur to the modestly sized interior.
By continuing the external materiality of handmade red brick internally, complemented by warm oak tones and clean white surfaces, the architects created an effortless sense of coherence between the interior and exterior form.
Through a series of meticulously measured design and construction choices, Satish Jassal Architects has embedded an unlikely light, porous and open living space behind a busy north London street. Haringey Brick Bungalow is a unique structure that speaks to the old adage – good things come in small packages.
Receive our daily digest of inspiration, escapism and design stories from around the world direct to your inbox
Nana Ama Owusu-Ansah is a writer and photographer from London. She first wrote for Wallpaper* in 2021, in a series on the new vanguard of African designers practising in Africa and its diaspora. She is drawn to projects centring on decolonial approaches to art, architecture, as well as community and sustainability. Nana Ama read Economics and Spanish at University of St Andrews, and, as an avid linguist, is passionate about using accessible language to invite new audiences to engage in design discourse.