Hampstead House revives neglected Trevor Dannatt modernist home
Hampstead House by Coppin Dockray is the sensitive restoration of an overlooked Trevor Dannatt modernist home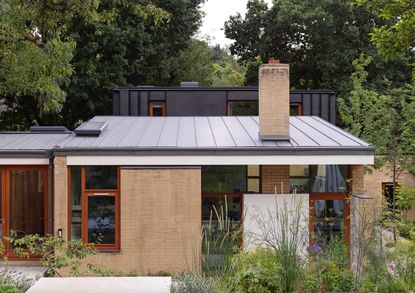 (Image credit: James O. Davies)
Saved from possible demolition, a post-war Hampstead house designed by titan of British modernism, Trevor Dannatt, has had years of piecemeal additions peeled back in a refurbishment for a young, growing family. Coppin Dockray, an architecture studio familiar with employing historical sensitivity in its delicate revivals of 20th-century buildings, strikes a meticulous balance of preserving the house's original character while infusing contemporary boldness and resilience in the new design. As a result, this is a versatile, unobtrusive, modern Hampstead house, cradled between grand Edwardian terraces and towering oaks.
Hampstead House by Coppin Dockray
Hampstead House faced a series of awkward extensions in the 1960s and 1980s and its own poorly constructed, uninsulated, and dated building fabric had to be prised from an overgrowing garden. While fully restoring Dannatt's original California-inspired design was out of the question for practical reasons (some parts were too damaged to be salvageable), the architects and client agreed that reimagining its original elegance would be sufficient conservation and homage.
Sitting in a dip on a tricky wedge-shaped plot, the home is a checkerboard of stepped pavilions with roofs of varying heights surrounding a central courtyard. The house's gardens and patios are brought inside through expansive windows and often double-height ceilings, each room offering a distinct landscape of flourishing British flora. To fit the new family's needs, a playroom was added to the ground floor whilst additional bedrooms and a study formed the upper floor.
Unusually illuminated with natural daylight for a north-facing site, the materiality of the house is noticeably, deliberately simple. Solid brick walls, either left exposed or white-washed on the interior are connected by sweet chestnut flooring, bespoke joinery, and staircases. The kitchen, the heart of the home, glows warm with wood-panelled fittings under a large rooflight segmented with baffles. A collage of vintage, custom, and new furniture ornament the house, creating a 'lived-in', domestic quality.
In addition to the carefully chosen materials that no doubt will improve the home's life span, improved ventilation and insulation factor into the renovation's future-proof construction. 'We worked methodically to improve the energy performance,' the architects explained, adding that the result of these interventions was a notable 59 per cent improvement in the home's annual carbon emissions.
'Despite the site's restrictions, animated, dappled light always tracks through the interior spaces via discreet clerestory windows, a double-height void, or attentively framed window views,' write the architects. Indeed, in spite of the difficulties and restrictions tied to working with such a challenging, rich site, this breath of fresh air to the new family home renders it as charming as it was 60 years ago. 'For such a slender north-facing building, it enjoys a surprising and constant in-between quality – neither ever fully interior nor exterior.'
coppindockray.co.uk (opens in new tab)