Traditional and modern are in perfect balance at Roger Ferris' Grove House
A cluster of minimalist structures in rural Bridgehampton makes up Grove House, a tailor-made, harmonious and modern family home by Connecticut-based architecture firm Roger Ferris + Partners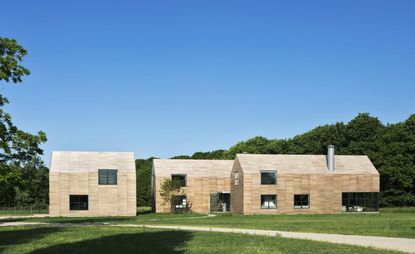 (Image credit: TBC)
A 5.5-acre plot in rural Bridgehampton on which to build a home opens up a wealth of opportunities. Luckily the husband-and-wife client who approached Roger Ferris + Partners knew what they didn't want their single-family residence to be. They had previously lived in a Tribeca loft, says architect Roger Ferris, and 'found that although the open layout was ideal for entertaining guests, their children were easily awakened'.

The Connecticut-based architecture firm, renowned for its harmonious and distinctly modern design signature, therefore devised a solution that maximized privacy while maintaining functionality. They created a cluster of smaller structures, 'each with a specific purpose'.

One volume is for public living, one is a private family wing and a third volume houses an artist's studio and garage. A glass breezeway delicately connects two of the volumes, while the third stands alone in the lush landscape. 'The placement of this building on the site responds to the challenge of adhering to environmental regulations while orienting the volumes to take full advantage of the scenic views,' says Ferris.
To complement the pastoral surrounds of the property, each gable-shaped volume was covered with Garapa, a Brazilian rainscreen hardwood. Installed from the upper level walls to the roof, it gives the buildings a sculptural quality that balances traditional and modern, a sense enhanced by not simply nailing down the wood, but fastening the panels from the back. 'Over time, the material will gradually weather and the volumes will fade into their natural surroundings,' says Ferris.

Abundant use of glass on the lower ground level results in a dual benefit. From outside, it 'lightens and refines the buildings to be one with surrounding landscape,' but also creates a light-filled interior in which that surrounding landscape is framed. Inside, a simple and neutral setting with American white oak floors (supplied by Hudson Company, owned by the wife's brother) establishes a perfectly balanced dialogue between the natural Hamptons grasslands and the softly contemporary aesthetic of this built environment.
INFORMATION
ferrisarch.com (opens in new tab)