Perfect fit: the IDC Herzliya's Psychology Building makes the most of a tricky site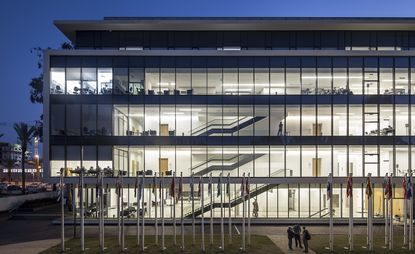 (Image credit: Amit Geron)
The new building for the faculties of psychology and economics at the Interdisciplinary Center (IDC) Herzliya is nestled on a long and narrow site, flanked by eucalyptus trees along its southern and eastern edge.

Designed by Israel- and France-based firm Gottesman Szmelcman Architecture, the project followed an ambitious remit; the fairly tricky site had to accommodate classrooms, computer labs and brain study labs. The result? An elongated building responding to both its brief and the limitations of its site.

'For this project there were various key considerations for us: a commitment to green architecture; a desire to create clear and dynamic relationships between architecture and its surrounding; and a commitment to effectively and harmoniously incorporate carefully defined functions within each building,' explains Ami Szmelcman, one of the partners at the firm.
'We introduced a transparent northern façade that would be able to exploit the benefits of the northern light while establishing a visual relationship with the campus,' he continues. 'Thus, whether students enter or leave their classes, whether they choose to form discussion groups or study on their own within the common parts of the faculty or beyond, they are simultaneously a part of the building and its surroundings.'

The ground floor of the building was slightly raised in order to enhance what Gottesman calls 'lightness'. This gesture emphasises its delicate relationship to the ground and the surrounding mature trees.

'In complete contrast to the building's northern aspect, the southern façade is typified by its solidity and the incorporation of long narrow windows that introduce sunlight into the building with minimal thermal consequences,' says Szmelcman. 'The pattern of long horizontal openings is extended both to the roof and to the sidewalk; creating a sensation as if the transparent northern façade has been wrapped in a protective skin.'
INFORMATION
For more information, visit the Gottesman Szmelcman Architecture website (opens in new tab)
Photography: Amit Geron
Daniel Scheffler is a storyteller for The New York Times and others. He has a travel podcast with iHeart Media called Everywhere (opens in new tab) and a Substack newsletter, Withoutmaps (opens in new tab), where he shares all his wild ways. He lives in New York with his husband and their pup.