MoMA proves that Frank Lloyd Wright still has it, even at 150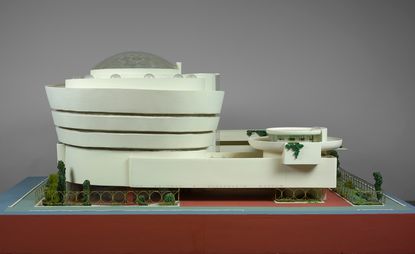 (Image credit: TBC)
Although Frank Lloyd Wright (opens in new tab) died more than half a century ago (his 150th birthday would have been on 8 June), he remains the most famous architect in the world. It's easy to see why when you explore the Museum of Modern Art (opens in new tab)'s new exhibition, 'Frank Lloyd Wright at 150: Unpacking the Archive'.

The sprawling show features almost 400 works by the American master, ranging from drawings, models, furniture and print media all the way to tableware and pieces of buildings. It was sparked by the herculean task of ushering the archive's more than 55,000 drawings, 125,000 photos, and much more from Taliesen West to MoMA.

But much more than that, describes curator Barry Bergdoll, it's about bringing in new voices to examine the work and impact of this most impactful of architects. Bergdoll invited more than a dozen scholars and conservators to unpack (as per the show's title – a double entendre) varied themes around Wright's work. What they've found reveals that the archive, as Bergdoll puts it, continues to 'unfold new experiments', and will continue to do so for generations.
Revelation comes regularly as you explore the 12 divided sections of the show – focusing on drawings and abstract representations over photographs – from his well-documented experiments in ornament, structure, and building systems to his relatively unknown research in urbanism and farming. Other galleries touch on landscape, the Native American-inspired Nakoma Golf Club near Madison, Wicsonsin, and his proposed blade-like mile high tower for Chicago, meant to shore up his bonifides as he lobbied to take part in the city's building boom.

As you chew on the seemingly endless themes, it's impossible not to marvel at the skill and seduction of the drawings and artifacts, from a surprising neoclassical competition rendering for the Milwaukee Public Library in the 1890s to the space aged, dome and bubble concoctions of the 1950s. Everything is art: elaborate and colorful architectural sections and plans are just as much artwork as the intricate stained glass windows, hexagonal chairs, and concentric-sphere murals nearby. All is unified, wondrously held together through Wright's organic ideals and his commitment to (whether his clients liked it or not) total design.
And while the architect was light years ahead of his time, exploring complex technological and formal systems that most around him couldn't keep up with (which explains, to a point, all the cracks and leaks), he was able to create spaces, systems, and pieces that almost anyone could appreciate. Wright's work is universal both in its ability to hold together in all its variation, and in its ability to seamlessly connect to the world at large.

This combination of complexity and accessibility, the show drives home, continues to mesmerise the general public. Perhaps even more than the architectural establishment. The show, says Bergdoll, is basically a billboard to encourage scholars and visitors alike to continue to tease out lessons from it all.

'The goal here is to announce that the archive is here and open to new questions and new people,' says Bergdoll. For Wright, the quintessential self-promoter, all this broadcasting, and yes, fame, would have been just fine.
INFORMATION
'Frank Lloyd Wright at 150: Unpacking the Archive' is on view until 1 October. For more information, visit the MoMA website (opens in new tab)
ADDRESS
MoMA
11 W 53rd Street
New York
VIEW GOOGLE MAPS (opens in new tab)