For the fans: Herzog & de Meuron unveils Nouveau Stade de Bordeaux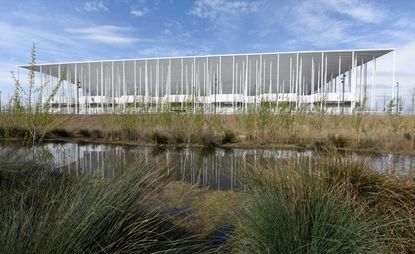 (Image credit: Francis Vigouroux)
Herzog & de Meuron have given Bordeaux, France, something to cheer about, even if the first game has yet to take place. The acclaimed architecture firm has officially inaugurated the new 42,000-seat stadium which will house FC Girondins de Bordeaux and host five matches of the forthcoming 2016 European Football Championships.

The new stadium is light and elegant, two traits not often attributed to sports arenas. 'One might be tempted to draw a comparison with a classical temple,' begin the architects, 'but unlike the elevated plinth of a temple, the grand stairs of the stadium blur the boundaries between inside and outside.'

It is that mix of exterior and interior, combined with a geometric structure that makes the arena stand out so. Integration of the structure in the landscape of Bordeaux was of great importance, solved by the meticulous arrangement of the 'bowl structure' and columns to reflect the pattern created by trees and paths in the surrounding area.

The 'bowl', as the games arena itself is referred to, was designed to afford all spectators optimal views. Two superposed tiers, each divided into four further sections, are protected from the elements by the rectangular roof canopy. The multipurpose ground beneath is adaptable beyond football and rugby matches, doubling up for concerts and corporate events as necessary.

The real test will come this weekend, when football fans fill it for the first time.