A new show at the Vancouver Art Gallery hints at Herzog and de Meuron's plans for the museum's future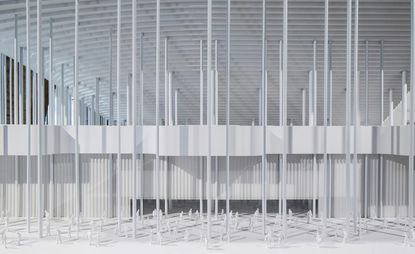 (Image credit: Rodolphe Escher)
Herzog and De Meuron have a knack for designing art museums that act as catalysts for neighbourhood change. The Tate Modern and its transformation of a moribund area into the dynamic Southbank is perhaps the most famous example, but others abound. The Caixa, in Madrid for example, built on the bones of an abandoned electrical station, redynamised a street that had been previously punctuated by a petrol station, connecting it to the neighbouring Museo del Prado and creating a plaza framed by a green wall.
It's the Basel-based firm's ability to fuse the indoor and outdoor, and to approach the art museum as a public space that makes them seem an excellent fit for the design of the long awaited new Vancouver Art Gallery. Now, a new exhibition at the existing VAG (opens in new tab) called 'Material Future' is offering visitors food for thought on how the architects might transform not just the city's premiere art museum, but Vancouver itself.
For what's at stake with the new VAG, is not just a gallery with more space for the rapidly expanding collection that spans Emily Carr classics to 'Vancouver school' photoconceptualism, but the fate of a burgeoning new arts district six blocks east of its current Arthur Erickson-designed Robson Square location, in a neo-classical former courthouse.

Tentatively called the Cambie Street Grounds, the area is home to the Queen Elizabeth Theatre, the CBC HQ, a midcentury central post office as well as a new arts building housing theatre and music festival offices.
This new gallery site, which borders a bus station, an old armoury, trendy Yaletown and a drug addled Downtown Eastside, is currently being master planned by Herzog and de Meuron and so no actual design plans can be revealed until June.

On until October, the current exhibition is a bit of a tease, albeit one that is as rigorous and meticulous as the architects' design process it hopes to convey. The first room offers a history of the VAG and its previous two buildings as well as the long two-decade process leading up to the current plans. The second room features maquettes, drawings, documents and publications highlighting the firm's better known works - including the Tate, but also an intriguing design for a (currently stalled) crystalline pyramidal tower in Paris inspired by Haussmann's grid system, and a concrete and glass library in the former East Germany with a giant scarab imprinted on its back.

The last room is a dark contemplative space highlighted by a loop of slides that show a variety of the firm's public spaces that engage enthusiastically with their users. A tiny punched out window looks out onto Georgia Street, inviting the viewer to gaze out at the streetscape, and until June's big reveal, delight in imagining future design possibilities.
ADDRESS
Vancouver Art Gallery
750 Hornby Street
Vancouver, British Columbia
Canada V6Z 2H7
VIEW GOOGLE MAPS (opens in new tab)