Maison Miu Miu: Herzog & de Meuron create a new design gem in Tokyo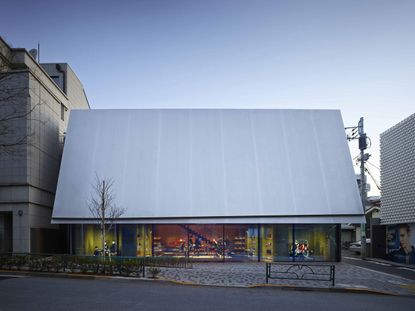 (Image credit: press)
Since construction started early last year, the new Miu Miu Aoyama (opens in new tab) store has been a well-kept secret. In fact, it spent the months running up to its inauguration completely wrapped up with only a brief note on the façade hinting to its 'Opening in March 2015'. Today the curtain was finally lifted by Herzog & de Meuron co-founder, Jacques Herzog, and a few of his key staff.

Located diagonally across from the iconic Prada Tokyo Epicenter building, completed more than 10 years ago also by Herzog & De Meuron (opens in new tab), the architects felt the pressure to come up with something truly remarkable right from their first meeting with Miuccia Prada two and a half year ago. Stefan Marbach, senior partner at Herzog & De Meuron explains: 'We first started out trying to do something similar to the Prada building, but quickly realised we in fact had to do something completely different.' While the owner might be the same, the brands are quite different, and the Miu Miu project's modest site restrictions were also worlds apart from the more generous Prada site.

With a footprint of just over 250 sq m and local building code limiting the height to two storeys, the Miu Miu store is a simple stainless steel box with two flaps opening up the building at the front and back - a defining element for the design. While the back one goes all the way down to the street, the front one stops at about two metres above ground, creating a canopy that allows visitors to enter the building through a large central double door. A meticulously punched copper panel covers the inner wall of both vertical elements. Depending on season, time of the day and weather, this reflects the sunlight in a different way, resulting in an ever-changing feel inside.

Everything in the store has been custom designed and much care has been given to the details. A/C outlets are concealed within the floor with 10mm holes drilled in a decorative pattern to let out cool air. LED lighting is hidden within the copper tubes holding up the product display shelves. Copper is in fact a recurring element, appearing everywhere, from the legs of the bespoke furniture, hangers, handrails and the elegantly designed Plexiglas shelving units. The Prada building across the street may be immediately striking in its tall, pure architectural form and pattern, but the Miu Miu store has a style all its own.
ADDRESS
Miu Miu (opens in new tab)
3-17-8, Minami Aoyama
Minato-Ku, Tokyo
107-0062
VIEW GOOGLE MAPS (opens in new tab)