Fasano Itaim brings the hospitality brand full circle back to São Paulo
Fasano Itaim is the luxury Brazilian hospitality brand's second outpost in São Paulo – and it just opened with a design by Studio MK27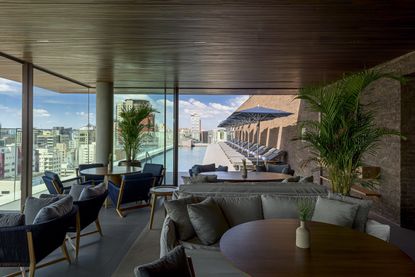 (Image credit: Fasano Itaim)
Wallpaper* Newsletter
Receive our daily digest of inspiration, escapism and design stories from around the world direct to your inbox
Thank you for signing up to Wallpaper. You will receive a verification email shortly.
There was a problem. Please refresh the page and try again.
With the opening of his new luxury hotel, Fasano Itaim in São Paulo, things have come full circle for Gero Fasano. The launch comes nearly 20 years to the day after the opening of his first namesake boutique property in the city, located in the nearby neighborhood of Jardins on a street named for his grandfather Vittorio – the restaurateur who emigrated to Brazil from Milan in 1902 and started this culinary empire. 'When we opened the first Fasano Hotel in 2003, I never thought we would do a second hotel, much less ten, and certainly not another here in São Paulo. It happened that way because I have great partners,' said the 61-year-old Fasano.
He refers to partners José Auriemo Neto and Constantino 'Coki' Regis Bittencourt. Auriemo Neto owns JHSF, one of Brazil's top real estate development firms, which took an ownership stake in the company in 2007 and has since made an art of selling luxury condominiums branded together with Fasano hotel projects. 'JHSF has been a great partner, but none of this would have been possible without Coki,' said the patriarch of this restaurant company-cum-five-star hotel brand.
Inside the newly opened Fasano Itaim in São Paulo
Bittencourt brought the company its second hotel project in Rio de Janeiro, which opened in 2007, and he joined the company as a partner after that, leading hotel development efforts ever since. Fasano added: 'Because of him, we have done what none of the big hotel companies could do here in Brazil. We'll keep going, but we will stay true to ourselves.'
Indeed, the brand's expansion is impressive, opening in some of the most coveted, highest barrier-to-entry markets in Brazil and beyond, such as Trancoso, Brazil, Punta del Este, Uruguay, and New York City. The Fasano portfolio now totals ten hotels across the Americas, with the 11th opening next year in Miami Beach. In this age of industry consolidation, it is one of few luxury boutique brands that remain independent.
Perhaps more impressive to its dedicated clientele is its ability to consistently replicate its unique take on old-world service and the gastronomic excellence that built the brand. But globally, the group may be more well-known for its incredible design. Their rich, warm sensibility has also been a constant, building on a Brazilian tradition of simple, sensual modernism – thanks to some of the world's most celebrated architects.
Gero Fasano's clear vision for the brand and exquisite personal taste have informed successful collaborations with Thiago Bernardes, Marcio Kogan, Philippe Stark, and Isay Weinfeld. And the leader's most impressive skill may be managing these design geniuses in service of his brand. 'He is a collaborator, not just a client. He brings big ideas and lots of small ideas too. All of them make the project better. He knows what he wants and is extremely dedicated to his customers, so he makes us better as designers,' said Kogan.
With this latest Fasano project, official name Fasano São Paulo Itaim, Marcio Kogan has also come full circle, creating yet another seminal project – which has become routine for his impressive Studio MK27 – after working on the original Fasano Hotel in Jardins with his then-partner Isay Weinfeld. His challenge in Itaim was to recapture the brand's essence all over again, different but the same, two decades later and not far from the first effort. He succeeded brilliantly on a more contemporary take than the first project and using some of the same natural materials that have come to define his firm's expansive body of work, and the Fasano aesthetic.
The spaces are clad with Brazilian walnut, or freijó wood, and the stone floors are made of Brazilian basalto, or basalt, a type of lava rock – the challenging acoustics softened with expansive areas of rugs, and an expertly curated mix of upholstered furniture and lighting that steals the show in the 107 rooms and public areas. Kogan's own 'Daiki' chair and 'Brasilia' sofa for Minotti are featured prominently in the lobby – a long, seamless extension of the stunning bar and centrepiece Gero Restaurant, always buzzing with regulars. A gallery wall of old photos celebrating the brand's origin story is an irresistible conversation piece for passersby and a clear signal to the uninitiated that this isn't just another luxury hotel.
It's a seductive and inviting space that encourages lounging day and night, always against the backdrop of the stunning tropical foliage that highlights the exterior of the building, just outside the long run of floor-to-ceiling glazing and sheer curtains. If there is one significant conceptual difference between the two São Paulo hotels, it's transparency. The original is incredibly private, a sanctuary for guests, while the new property embraces the city, providing cinematic views at every opportunity.
On the guestroom floors, Kogan's hallways feature wood wall panels with flush room doors and clandestine service closets that offer a striking preview of the guest experience to come. The rooms are as warm and cosy as the public spaces, a gorgeous mash-up of Brazilian design, new and old, from Sergio Rodrigues' midcentury classic 'Vronka' chair to contemporary gems by Jadar Almeida, including his 'Matriz' sofa, 'Memory' floor lamps, and 'Docc' and 'Jardim' table lamps. The luxurious yet stylish design, together with the brand's little touches, like handwritten notes and the elegantly presented fresh Brazilian fruit plate, pitchers of hand-squeezed juices, and selection of patisseries that await every guest, make a stay here feel like home – likely better than home.
The ample bathrooms are a hallmark of the Fasano brand. They feature long wall-mounted vanities, oversized walk-in showers, and large soaking tubs by Lure Surface. Deca wash-lets provide ultimate convenience, and the copper hardware by Docol brings subtle bling to the serene palette, featuring downlit, scored basalt stone wall finishes, their texture in beautiful dialogue with the matching flat lava stone flooring. A massive freijó wood sliding door provides privacy or opens fully, adding to the loft-like feel of these generous rooms.
Local architecture firm Aflalo/Gasperini Architects designed the stunning two-tower complex, but collaboration on the building's base and its facade resulted in the long, horizontal volumes of poured-in-place concrete often seen in Studio MK27 projects – accented with brick, wood, and almost otherworldly landscaping. The work of Aflalo Gasperini and Marcio Kogan - together with his business partner Diana Radomysler - is seamlessly integrated, evident from within the structure, where the rectangular windows put the city front and centre for every room and amenity space. Their effect is even more dramatic and almost vertigo-inducing while running on the gym's treadmills, high up on the 19th floor.
Still, the most breathtaking view of this expansive megalopolis is from the rooftop pool and bar, 21 storeys atop the hotel tower. Complete with sauna spaces, outdoor showers, and dedicated service staff, the long, slender pool area allows for both morning lap swimming by more motivated guests and midday sunbathing and lazy lunching by the more indulgent. At night, the adjacent lounge transforms into the city's newest and most exclusive rooftop bar – making the evening cityscape an even more privileged view. It's a beautiful, seemingly endless vista that makes one wonder how any group could leave such a lasting legacy on a city so vast, but the family Fasano certainly has.
Receive our daily digest of inspiration, escapism and design stories from around the world direct to your inbox