Japan as seen through the lens of Marcio Kogan
Brazilian architect Marcio Kogan recalls his Christmas tradition of traveling to Japan and how that inspired a new collection of seating for Minotti, referencing the original 1960s design of hotel Okura by Yoshiro Taniguchi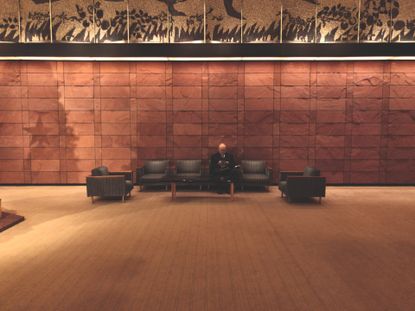 (Image credit: press)
It's not unthinkable that, after a long and complex collaboration between one of the world's most renowned architects and his industry-leading client, one might use the F-word to characterise the other. But when Marcio Kogan and Roberto Minotti describe each other as 'family', it's still a bit surprising. Perhaps more surprising is that this genuine warmth extends across their teams – even after their most recent collaboration, a multifaceted, multinational effort, delivered on schedule in the face of the Covid-19 crisis.

The lovefest is likely a reflection of their shared philosophy on the workplace. 'I saved all of my money early in my career so I could invest in creating the best environment possible in my office,' said Kogan. 'It was very calculated. Everything I do is with pleasure. I love the people that work in my offce and they love to work here. The word 'family' is overused, but in this case it's accurate. Everybody is a friend. I care about them all. It's the same with clients. I don't work with anyone who I don't consider a friend. Everything must be done with pleasure.'

Of course, Minotti is a family business, founded by Alberto Minotti in 1948 and now run by his sons Roberto and Renato, together with the third generation: Alessandro, Alessio, Susanna and Leonardo. They have dozens of employees whose tenures go back decades, in an industry tradition that is uniquely Italian, and a network of international collaborators whom they consider extended family. 'We only work with people we have a good connection with, that's the most important thing. We have to have a good synergy with the people we are collaborating with, their culture, their passion for this job we share,' says Roberto.
Like all healthy relationships, this one with Kogan has grown organically over time. It started when Roberto requested a meeting while he was in São Paulo, solely out of admiration for Kogan's work. A friendship quickly began, but it would be four years before Kogan would receive his first Minotti commission: the 'Quadrado', a modular outdoor seating collection inspired by the classic teak duckboard used in yacht construction (see W*235). Released in 2018, it became a runaway bestseller – which tends to strengthen a friendship.

For his contribution to Minotti's 2020 collection, Kogan had several ideas for indoor furniture in mind, but Roberto requested that he design pieces for both indoor and outdoor use – a brief driven in part by Kogan's incredible residential projects in and around São Paulo. 'It's hard to tell where the indoors ends and the outdoors begins. This is a common theme in our work. Everything can be open because the climate is so agreeable,' says Kogan. Celebrated in the pages of Wallpaper*, in coffee table books and across social media, his residences are coveted by design enthusiasts the world over – including Roberto, a trained architect who first fell in love with the idea of indoor/outdoor living as a student, learning about the midcentury masterpieces of Richard Neutra and John Lautner. The brief was also driven by Minotti's ambitious expansion within the outdoor furniture market, to be supported by a new factory currently under construction near its HQ in Meda, Italy.The heart of the offering is the 'Daiki' chair series, inspired by the lobby of the original Hotel Okura Tokyo.

Kogan has travelled to the Japanese capital just after Christmas for the past six years running. 'All I do is walk. I never have a plan. I don't want to do anything but walk and discover the city and experience this amazing culture, which is the exact opposite of Brazil in so many ways. I think I took 2,000 pictures on my first trip. I was fascinated. Every morning, the only touristic plan we had was to go to the Nezu Museum, which was a 90-minute walk from our hotel. On our way, we stopped at a second-hand shop, then a ceramics studio, a café, a bookstore. We never made it. And that was fine with me,' recalls Kogan.
It was on one of these endless strolls that he came across the Hotel Okura, its midcentury lobby originally designed by Yoshiro Taniguchi in 1962 and demolished in 2015 despite protests by modern preservationists. 'I loved the atmosphere there. It was a masterpiece of interior design, very elegant, serene, timeless,' said Kogan. 'When I was there, I decided to make a tribute to this hotel and thought that could be a piece of furniture.' Kogan pitched his idea in an unconventional way. 'Minotti never imagined I would make a movie,' he says, a filmmaker at heart. It took only two minutes, 57 seconds for the shock to wear off and for his elegant, passionate film about the project to win approval. 'It was poetic. I loved it. It was an original way to tell the story of a project. I thought it was in line with Marcio's spirit; I just loved it,' says Roberto.
RELATED STORY
The resulting 'Daiki' series lives up to its lofty genesis, a simple, perfectly proportioned design concept that, like the original Hotel Okura lobby, is at once classic and modern. It's the perfect result for Minotti, a brand itself built on walking the fine line between tradition and innovation. 'Daiki' is a blend of both, and includes an indoor armchair, with a shell in either Bolivian rosewood or ash veneer, and an outdoor armchair and dining chair. Teak is used for the outdoor versions, which allow for continuity with interior spaces featuring 'Daiki' or other Minotti pieces – a strategic priority and personal preference for Roberto. With the series, Kogan recalls the same sense of timelessness that made Taniguchi's interiors worth fighting for.
Ultimately, Kogan contributed two additional series, the 'Linha' tables and 'Boteco' sideboards, to Minotti's extensive 2020 collection – which also includes designs by a global collection of designers, among them Nendo, GamFratesi, Christophe Delcourt and the company's own art director Rodolfo Dordoni. In total, there are around 40 original products, each with variations that translate to over 400 new items.
Creating the context within which Minotti products are presented each year is a critical part of the company's process, and the Covid-19 crisis only added pressure and complexity to an already ambitious release. Roberto, ever the architect, designed a virtual modernist retreat, the Seaview Resort and Lodges, a fictitious five-star resort that gracefully spills down a mountainside in the city of Carmel-bythe- Sea, California. Here, the influence of those famous residences by Kogan, Neutra and Lautner come to 'life'. The hotel's public areas comprise a tiered series of lobby space, restaurants and poolside cocktail bars, all with spectacular ocean views and 'invisible' boundaries between them and their generous terraces. It's the perfect way to present the breadth and depth of the new collection in situ.

Ironically, this virtual resort and its accompanying launch video – which includes Kogan's short film – was a more concrete way to experience the 2020 collection, free from the pandemonium of furniture fairs and allowing for deeper understanding of the products' backstory. Global lockdowns forced the cancellation of Milan's Salone del Mobile, where Minotti's new collections would otherwise have been shown, but a temporary escape to an idyllic, if only imagined, resort in California was more than welcome. The project is so well done, it raises the question, does Minotti have plans to open a luxury hotel? 'We are focused on making furniture, but we never say never.'
INFORMATION
minotti.com (opens in new tab)
As originally featured in the November 2020 Issue of Wallpaper