Exploring Punta del Este, the southern hemisphere's hub for art and relaxation
Punta del Este offers everything, from party to relaxation; all enveloped in idyllic countryside and a rich cultural offering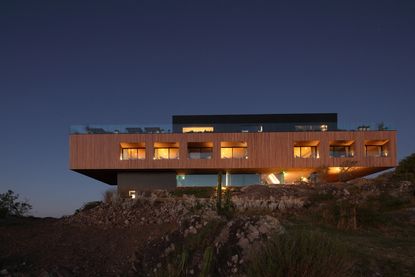 (Image credit: Estudio Obra Prima)
Wallpaper* Newsletter
Receive our daily digest of inspiration, escapism and design stories from around the world direct to your inbox
Thank you for signing up to Wallpaper. You will receive a verification email shortly.
There was a problem. Please refresh the page and try again.
Uruguay's Punta del Este is a playground for the whole region during the southern hemisphere's summer months (November-March) offering allure that stretches far beyond the endless beaches and lagoons that extend along its coast. Here, marvels abound, from the city's high-rises to the fishing village of Jose Ignacio, and the late Rafael Viñoly-designed circular bridge over Laguna Garzon. Each season, this opulent stretch of coastline positions itself firmer on the radar of a sophisticated set of global citizens lucky enough to be able to live anywhere. Its reputation as a safe haven of natural beauty was helped by a relaxed attitude to travel during the pandemic and some serious investments in art and architecture which added a well deserved depth to Punta's rep' for polo and parties; all of which have helped seduce a cultured, year-round crowd to the 'Hamptons of the Americas.'
PUNTA DEL ESTE: A CULTURAL TOUR
Fasano Las Piedras
Sao Paulo-based architect Isay Weinfeld laid the foundations of Fasano's first international venture abroad with twenty brutalist bungalows built for the luxury Brazilian hospitality brand that opened shop in Uruguay in 2010. Estudio Obra Prima lead architect Carolina Proto took the reins from Weinfeld with the opening of a hotel extension and restaurant, La Locanda, in 2016. Since then she's been commissioned to design nearly all of the 17 private residences nestled into the eucalyptus forests that surround the links golf course at the heart of the 480 hectare country club. Proto's designs for the private residences combine solid, sandstone rock with exposed concrete and hardwood cabins hidden in the forest. This year, she added a stylish 19th hole to the course, and a beach club with a private runway that has accentuated Fasano's allure with loyal Brazilian fans and international visitors alike. Unlike the rest of Punta del Este, the hotel, spa and the eponymous Italian restaurant on which the Fasano empire has been built, stay open all year round.
MACA / Contemporary Art Museum
Placed in Pablo Atchugarry's sweeping sculpture gardens, the ocean liner-esque Museo de Arte Contemporáneo Atchugarry (MACA) is a world class collaboration between the renowned Uruguayan artist and his architect and compatriot, Carlos Ott. Opened in 2022, the museum's five exhibition halls have bolstered Punta del Este's artistic ambitions, luring glamorous collectors from neighbouring Brazil and Argentina to touch down in their helicopters for sunset soirees and open-air concerts in a spectacular setting. Free to all, this cultural destination offers plenty of art to admire with ambitious itinerant exhibitions and a permanent collection that includes works by Richard Anuszkiewicz, Carmelo Arden Quin, Pablo Atchugarry, José Pedro Costigliolo, Carlos Cruz Diez, Sandú Darié, Jorge Eielson and Wifredo Lam.
fundacionpabloatchugarrymiami.com/maca
Posada Ayana and Skyscape
Originally conceived as a holiday home for Austrian couple Robert and Edda Kofler, the contemporary design of Uruguayan architect Alvaro Perez Azar for this site eventually evolved into Jose Ignacio's standout hotel. Opened in 2021, Posada Ayana provided lucky lockdown visitors with a secluded space blessed with style, sustenance and stunning sunsets. As if Edda's tasteful art collection (including work by Adriana Rostovsky, Francisca Maya and Carmela Piñon) and the refurbished mid-century modern furniture weren't enough to endear the hotel to the design-savvy visitor, the owners installed a James Turrell Skyspace on a plot next door in 2021 to cement its place at the heart of Jose Ignacio's burgeoning art scene.
Rizoma
Jose Ignacio's residents love this comforting cultural cluster placed carefully in a pine tree forest in laid-back 'hood, La Juanita. Argentine owner Eduardo Ballester commissioned architect Diego Montero to come up with a clever cladding solution to protect Rizoma's 15,000 books from the searing summer sun. The red-tinted pine literary temple is flanked by a gallery that houses the ceramics and workshop of Ballester's wife, artist Marcela Jacob, and the drawings of his daughter, Mary Ballester, on one side; and four cosy, eucalyptus-clad self-contained suites on the other. Rizoma's family vibe continues in the cafe, where surfer son Tomas cooks cakes and healthy bites between catching waves. Building on Rizoma's runaway success, Tomas teamed up with two friends to create nearby Tres, serving up homemade pasta worthy of a top Milanese Trattoria.
Posada Luz
Owner Jian Farhadi worked closely with Argentine architect Diego Montero to craft a Barraganesque vacation home on 14 carefully landscaped hectares of vineyard before ultimately opting to convert his Uruguayan retreat into a hotel and winery. The result is a sustainable wine lodge that gets booked up fast during high season. If you don't manage to reserve one of the eight suites, it's still worth the 15-minute trek from Jose Ignacio to taste the treats served from Luz's eco-friendly kitchen. Celebrated Argentine chef, Martin Milesi, pops up in the summer with his theatrical 'one table' dining concept, UNA, with a supporting cast of foragers trained at Noma.
Las Musas
This idyllic yoga retreat, nestled between a small vineyard and a mature forest, is just five-minutes by car from the endless beaches of Jose Ignacio. Architects Mathias Klotz and Carolina Pedroni were commissioned to add three unobtrusive wood and cement cabins on the land by owner Sandra Perlemuter. Klotz' eucalyptus-clad shrine to Perelmuter's passion for yoga is the centrepiece, perched between weeping willows and a small lake. Her house and a smaller cabin, connected by walkways through the woods, can be rented for short and longer stays while the Chilean-Argentine architectural duo have designs for a dining area and kitchen addition that will enable Perelmuter to cater for more expansive open-air exhibitions and musical gatherings by the end of 2023.
Galeria del Loft
Poet and architect Carolina Pedroni, and her talented family, have carved out a cultural hideaway, a stone's throw from the bustling Punta del Este, in Altos de las Piedras. The family's creative compound shaped from pine and eucalyptus is built on stilts to minimise its impact to the environment. While Pedroni seated her studio atop husband Roberto Riverti's photo gallery, Espacio Foto Arte, her daughter Julieta Riverti got her own space opposite, including a small nursery for her landscaping venture, Estacion Salvaje. A wood-shuttered gallery space, Galeria del Loft, joined the family cluster in 2023. Combined, the spaces offer a superior setting for poetry readings, art exhibitions and cultural gatherings throughout the year. The complex is open to the public between November until Easter, but visits can also be organised upon request off-season.
Smokewood Garzon
Flamboyant chef Francis Mallman put sleepy Garzon on the map when he opened his steakhouse and hotel there, named after the town, in 2003. Everything built in Garzon ever since has added to the tiny hamlet's growing art scene, which is betting on Garzon becoming the Marfa of Latin America. One of Garzon's latest additions, an office created by award winning architecture studio MAPA (with offices in Argentina, Brazil and USA) for its own use, features an elongated desk that doubles as an art installation during Garzon's Campo Art Fest. While most visitors visit the town for the day or for a lively evening opening in repurposed railway carriage La Galerilla, if you want to stay longer and soak up life in the slow lane, book a stay at MAPA's marvellously secluded Smokewood Lodge on Airbnb.
Receive our daily digest of inspiration, escapism and design stories from around the world direct to your inbox
Originally hailing from the UK, Rainbow Blue Nelson first landed in Colombia in search of Tintinesque adventures in 1996. Subsequent forays from his Caribbean base in Cartagena have thrown up a book about Pablo Escobar, and the Wallpaper* City Guides for Santiago, Brasilia, Bogota and Miami. Currently completing a second book about Colombia whilst re-wilding 50 hectares of tropical rainforest on the country's Caribbean coast, he's interviewed some of South America's most influential figures in art, design and architecture for Wallpaper* and other international publications.