Fasano Las Piedras prepares for post-pandemic take-off in Uruguay
With Fasano Las Piedras, Brazil's luxury hospitality chain plans contemporary homes-away-from-home and Uruguay's first private runway in Punta del Este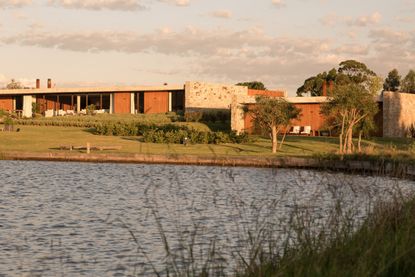 (Image credit: Studio Obra Prima)
With Fasano Las Piedras in Punta del Este, Uruguay, the renowned Brazilian luxury hospitality chain is establishing itself as one of the cornerstone companies building brand Brazil overseas. Capitalising on the opening up of the Brazilian economy at the start of this century, Fasano has been working on a string of ambitious real estate projects, one of which is Las Piedras, its first outside its home country.
Built with well-to-do Brazilians in mind, the luxury retreat in what the locals like to describe as the 'Hamptons of the Americas' was a logical place to test the Fasano family's hotel and real estate acumen beyond Brazilian borders. The rolling hills behind Punta del Este seduced company head Gero Fasano himself, who fell in love with what he compares to a 'combination of Tuscany with the English countryside next to the sea'.
Fasano Las Piedras: the history
Like many of Brazil's most successful brands, Fasano saw little reason historically to build a reputation abroad. For its first hundred years in business, stretching back to the arrival of patriarch Vittorio Fasano from Italy in 1902, the family's restaurants and cafés catered to Brazil's finest and have been synonymous with sophistication in the country's largest city, São Paulo.
However, not satisfied with simply feeding a fortunate and faithful following in a string of standout Italian eateries there, the family has in recent years, extended its influence. They hitched Fasano's name to the financial muscle of JHSF, the developer of the most opulent shopping centres and real estate developments in the sprawling Brazilian metropolis.
Fasano lands in Punta del Este
As a result, the company snapped up one of the most expansive cattle ranches in Uruguay in 2010, acquiring a sprawling 480 hectare estate. The plan was to replicate a project already on the cards at Fazenda Boa Vista, an exclusive golf and polo club on the outskirts of São Paulo.
Trading on Uruguay's unique selling point – its reputation for stability and allure as an escape from the high-octane life in neighbouring Brazil and Argentina – and the family's unparalleled connections with Brazil's most powerful families, the foundations of Fasano's first international venture were laid by São Paulo-based architect Isay Weinfeld. The trusted architectural partner (behind Fasano's impeccably understated hotel debut in São Paulo) lined up 20 eye-catching contemporary concrete cabañas to look out over the Uruguayan coastline in 2010.
Fasano Las Piedras' residences are born
As a next step, local firm Estudio Obra Prima has been tasked with taking the pioneering Fasano Las Piedras development to the next level. Lead architect Carolina Proto, who worked closely with Weinfeld on the interiors of his brutalist bunkers, stepped out of Weinfeld's shadow with an imposing extension to the original Fasano restaurant in 2016.
Adding another ten suites for hotel guests, a second restaurant, a library and a viewing deck from which to enjoy Punta's spectacular sunsets, the cantilevered La Locanda wing announced the continuing architectural ambitions of the project. Estudio Obra Prima has also been responsible for designing almost all of the 25 permanent residences that have so far been built alongside the undulating Arnold Palmer-designed 18-hole golf course.
Fasano Las Piedras: the design
Proto says: 'The first houses in the project were built with red brick inspired by the incredible masonry of Uruguayan maestro, Eladio Dieste.' More recent interventions sit more firmly in the Paulista School of Architecture that stretches back to Vilanova Artigas and Paulo Mendes da Rocha. Combining resilient materials with exposed concrete – wood, steel and sandstone cladding handpicked from the undulating rocky terrain – the most recent projects follow a similar layout, sitting subtly and sturdily in the wild, natural setting.
Wood-clad cabins are placed carefully in eucalyptus forests, and more expansive pavilions are nestled in landscaped gardens of reeds, wildflowers and long flowing grasses. Foxes and flocks of migrating and endemic birds have hardly noticed the arrival of their new golf club-wielding neighbours, nor the thoroughbred stallions that have arrived with them.
A home-away-from-home
While the project has been steadily positioning itself as a prime destination over the last decade, attracting regular weekend visitors from across the region, it took a pandemic to persuade people of the possibility of converting Punta del Este from a holiday home to a home-away-from-home.
'Even though it's not a two-hour flight, we're getting much more interest from global citizens from all over the US and Europe. The people that can live anywhere,' says Erin Boisson Aries of Douglas Elliman Real Estate, recently appointed by JHSF to field calls from their New York office.
As well as finishing the paperwork for Uruguay's first international airport dedicated exclusively for private residents, the team has drawn up plans to construct new 'show houses' drafted for a more international audience looking for a peaceful place that combines two post-pandemic idylls – a mansion in the countryside, just five minutes from the sea.
Proto has designed one of the biggest properties yet for Argentine part-time polo player and part-time Ralph Lauren model, Nacho Figueras, who is building a contemporary family home to coincide with the opening of a new country club, amplified pool area and the inauguration of the polo pitch in 2024. Other designs for villas modelled on the Weinfeld cabins and a farmhouse adaptation of the original 1930s hacienda are also being built for prospective buyers. A total of 297 lots are available.
Last year, Proto added a stylish 19th hole for golfers and a boho-chic boat club that operates in the southern hemisphere's summer months (November to March). It's the only Fasano facility that shuts up shop at the end of summer, unlike the rest of Punta del Este's Fasano offering; the hotel, spa and the eponymous, award-winning Italian restaurant stay open all-year round.
Originally hailing from the UK, Rainbow Blue Nelson first landed in Colombia in search of Tintinesque adventures in 1996. Subsequent forays from his Caribbean base in Cartagena have thrown up a book about Pablo Escobar, and the Wallpaper* City Guides for Santiago, Brasilia, Bogota and Miami. Currently completing a second book about Colombia whilst re-wilding 50 hectares of tropical rainforest on the country's Caribbean coast, he's interviewed some of South America's most influential figures in art, design and architecture for Wallpaper* and other international publications.