Snøhetta goes underground at the Ordrupgaard Art Museum
Snøhetta unveils new subterranean extension at the Ordrupgaard Art Museum in Denmark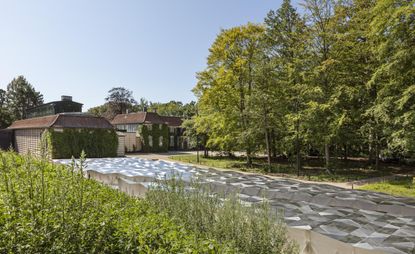 (Image credit: Laura Stamer)
Ordrupgaard Art Museum in Denmark, home to world-class Danish and French art, has expanded its wings with the opening of a new addition by Snøhetta. The international design studio has added five new subterranean exhibition spaces to the historic building following the museum's previous expansion by the late master designer Zaha Hadid in 2005. Discreetly situated near Jægersborg Dyrehave, Copenhagen, the state-owned art museum which was originally an impressive three-winged neo-classical country mansion continues to combine historic Danish architecture with contemporary design.

Mostly underground, the extension creates a holistic route through the museum that meticulously connects Hadid's distinctive black lava concrete extension with the museum's permanent collection and original building. Three of the new five spaces are dedicated to the museum's extensive assembly of French impressionist paintings while the remaining two zones masterfully link the existing exhibition spaces. The new expansion produces a well-informed circular movement throughout the building which creates a genuine sense of fluidity as one meanders around looking at the world-renowned art pieces.
The largest exhibition area is a bold, steel-skinned structure that playfully glistens in the tree-lined landscape. Inspired by the paintings of impressionist giants Degas, Monet, and Renoir, the extension exterior delicately captures light and its changing qualities. Characterized by its diagonal cut in the landscape, faceted edges, and polished finish, the form carefully guides visitors to the main entrance of the Ordrupgaard. This volume is complemented by the natural stone steps and lush surrounding foliage.

To contrast the metal exterior, Snøhetta created soft and organic interiors that help to provide a warm atmosphere. Inside, gypsum boards are mounted to oak walls which allow curators to easily change the colour scheme of each room. The ceilings on the other hand, are wrapped in crisp oak veneer cassettes with cleverly placed light fittings that help place the artwork on the centre stage. As you walk through the museum, you notice how natural daylight floods the building - both when you leave the exhibition spaces and when entering the original museum building. Here, light helps signify the transition from one building to the next.

For over three decades, Snøhetta has designed some of the most impressive cultural buildings across the globe. The transdisciplinary practice merges architecture, landscape, and interior design with graphic, product, and digital design. For their extension of the Ordrupgaard Art Museum, they have carefully considered the original structures, blended old and new, and created a fluid, elegant and refined addition to the historic Danish building.
INFORMATION
snohetta.com (opens in new tab)