Explore Bau Magazine's influential mix of word and image at the ICA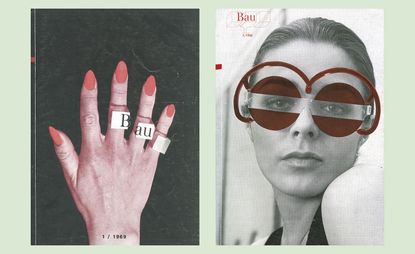 (Image credit: Image courtesy of the artists and their estates)
The first major presentation of the work of Austrian architecture magazine Bau is launched in the UK today by London's Institute of Contemporary Arts (opens in new tab). The influential Vienna-based publication was founded in 1965 and helped define the era's architectural discourse through its inspirational content.

The exhibition, 'Everything is architecture: Bau Magazine from the 60s and 70s' (opens in new tab), will display vintage issues published between 1965 and 1970. This particular period was a turning point for the magazine as its editorship was at the time taken over by a group of influential Austrian architects and artists, including Hans Hollein, Walter Pichler, Günther Feuerstein and Oswald Oberhuber.

Exploring a period when new experiments in architecture were flourishing globally, the exhibition shows how the magazine presented a platform to push novel ideas, advocating that buildings were much more than mere concrete forms and arguing for their great influence in the realms of art and politics. This radical interdisciplinary approach was crystallised in the 1968 issue of 'Bau' where influential architect Hans Hollein boldly claimed that 'Everything is Architecture'.
In the ICA's display, visitors can experience first hand Bau's unique design and layout and its difference when compared other experimental publications of its time. The publication strikes a beautiful balance between key texts by philosophers, artists and architects and playful, dynamic imagery of architecture, art and popular culture - a powerful mix. Complementing the exhibition, further talks elaborating on the publication's background history will be held by seminal architect, founder of Archigram and former ICA director, Peter Cook (opens in new tab).

Offering a glimpse into an exciting turning point in architectural history and press, visitors can see how the iconic magazine broke boundaries and questioned what defined modernist architecture in the pre-war period.