East Quay: arts and community landmark revives English harbour town
Developed by Onion Collective and designed by Invisible Studio and Ellis Williams Architects, East Quay is a new arts and community landmark planned to revive Watchet's local economy, by tackling 'social, cultural and environmental justice'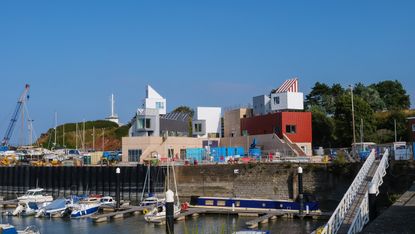 (Image credit: JIM STEPHENSON)
The variety in the team's experience informed their methods in engaging with the local community through consultations and regular public meetings. They directly involved the people of Watchet and established trust with the wider community, including the local council. The project has since received funding from multiple sources, such as the Heart of the South West LEP's Getting Building Fund and Arts Council England, including £5.3m from the government's Coastal Communities Fund.
East Quay: a community landmark for Watchet
This harbour town sits in an old industrial heartland, with its local economy traditionally relying on coastal exports and trade. Historically a hub for paper manufacturing in the UK, Watchet's last remaining, 250-year-old paper mill closed in 2015. With its economic identity at risk, Watchet has also consistently ranked at the bottom of the social mobility index and has had a low SME (small and mid-size enterprise) performance nationally.
East Quay aims to change that. The building serves as a landmark on Watchet's landscape, 'a porous object that can be climbed, traversed and explored'.
Designed by Invisible Studio and Ellis Williams Architects, the extensive, £7.3m structure consists of a courtyard, two art galleries, 11 artist studio's, a paper mill, a print studio, an educational space, a restaurant and five accommodation pods. The main concrete plinth, its pink colour the product of a locally sourced red sandstone aggregate, serves as a roofscape and a passageway between the harbour and the historic West Somerset steam railway. It also supports the secondary structures – the stilted accommodation pods.
An assemblage of colourful and robust materials, such as corrugated tin, complement the landscape and material composition of the harbour. 'This is not about a building, it's about a series of places, which are very unprecious,' says Taylor.
The compact and playful interiors of the accommodation pods were designed by the young architecture practice Pearce+Fægan. The two lead designers collaborated with an environmental psychologist and a local secondary school to also design the Creator Space, an alternative after-school education room, where children and teenagers can enjoy activities that are typically not found in your general youth club.
East Quay's communal and industrial nature is reflected in its public-facing artist studios, hosting multiple practitioners, from sculptors, photographers, furniture designers and jewellers to printmakers. The new paper mill studio is not only a tribute to Watchet's industrial past, but also to UK crafts, with papermaking being one of the critically endangered skills, according to the Paper Industry Technical Association. The studio is operated by one of the few traditional papermakers left in the country.
The contemporary art galleries are currently exhibiting works from artists such as Neville Gabie, Suzanne Lacy and Deanna Payne. Onion Collective consciously chose to bring the world of 'high art' and local art to Watchet, advocating that art and collective making should be accessible to everyone.
'Culture is the art of gathering together, changing and developing,' says Jessica Prendergrast, one of Onion Collective's co-directors. Often exhibitions and major cultural institutions like this are found in central hubs. East Quay asks its visitors to engage with the cultural intricacy and complexity of Watchet and what it has to offer.
Today, the Onion Collective continues to fund its projects at East Quay through consultancy work around the country. The centre is the largest business in Watchet and is expected to create over 200 new local jobs within the next few years, making it a real community landmark.
East Quay is a living project that 'multiple people over time have changed and extended', reflecting the vibrant and dynamic life in Watchet. Onion Collective's methods of co-creating and participating with the local people will no doubt be a blueprint for future communal revitalisation projects. As East Quay continues to evolve with time, it showcases ways that architecture can respond and make change at the heart of a community.
INFORMATION