A 'contemporary palazzo' by David Chipperfield and Studio Mark Randel rises in Munich
'Contemporary palazzo' housing project in Munich is designed by David Chipperfield and Studio Mark Randel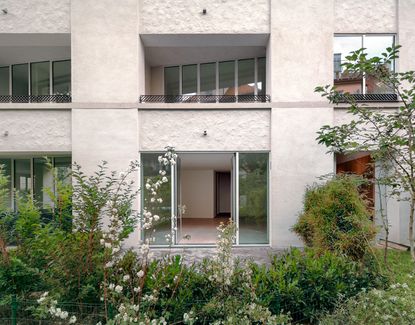 (Image credit: Simon Menges)
Neighbours of this 'contemporary palazzo' by Munich's Isar River will notice the quiet elegance of a David Chipperfield design. And for all intents and purposes, it is one. Commissioned by German developer Euroboden in 2012, the 12-unit block was developed in-house by the 2023 Pritzker laureate and his then-design director, Mark Randel. When Randel, after more than two decades with the practice, left to set up his own practice in Berlin, the Kolberger 5, as the housing is known, came along. The high-end residence represents a baton-passing from the established Chipperfield approach to Randel, who is slowly finding his own design language.
David Chipperfield's 'contemporary palazzo'
'I find I'm more into imperfection, and fighting for materials that are less refined,' he says. 'When I use real stone, I just let it be.'
You can spot the difference outside, in the subtle contrast between plaster applications, and in the cast-bronze lattice balustrades – perhaps less ascetic than the typical project by Chipperfield. Incidentally, the team erected a 1:1 model of the façade ahead of construction, to test the materials against weather and determine the fit.
Euroboden spared little expense on this bowed residential street in moneyed Bogenhausen, where every unit gets a sweeping view of parkland in one direction and city spires in the other. The two-storey penthouse, equipped with a circular staircase of solid travertine, tops out the five storeys, as per the neighbourhood vernacular established by city planner Theodor Fischer during the Gründerzeit, or 'boom', of the late 19th century. Prices are more vertiginous, climbing from €20,000 per square metre for the ground-floor flat.
A certain buyer would recognise the value of living in a Chipperfield joint. The vaulted foyer, enveloped in European oak, is lit from clerestory windows and a Viabizzuno pendant system from Munich lighting boutique Occhio. The concierge gets his own suite, with discrete storage for deliveries. The entry stairs – travertine again – were finessed by Munich's top stone mason, amusingly named Steininger, almost a direct translation.
'I can count on one hand the different materials we used in the construction,' says Julia Wöhr, Euroboden's project manager. She stands beneath the main stairwell, a sculptural oak ziggurat winding upward through a skylit void. To preview the impact it would make in the space, she travelled to London's Old Bond Street, where Chipperfield designed a similar wood stair for the Valentino flagship.
Visual interest comes through striations in the wood and the aforementioned imperfections. 'The luxury is understated,' says Randel. 'It is walking barefoot on real wood, on real stone, living with all natural materials.' In the main bathrooms, Steininger carved soaker tubs from raw blocks of Travertini paradiso from Tuscany.
Randel says hundreds of trades worked on site over ten years. Now that they're gone, the occupants are left with birdsong from the serpentine gardens and a swish-swish from trees you can almost touch.