David Adjaye and leading architecture practices design flexible Cube Haus modular homes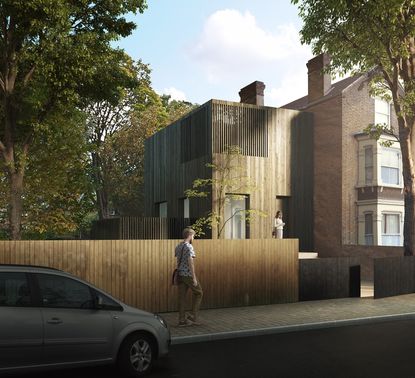 (Image credit: press)
It makes for a compelling rags-to-riches story: a small, awkward, neglected London site, an acclaimed designer and a contemporary, sustainable fantasy home. And the best part? It's 100 per cent true.

Land-sourcing platform Land Converter is seeking out unloved real estate from local landowners, and enlisting top names to transform it into covetable architecture.

Launched this week by two London entrepreneurs, Land Converter's developer partner Cube Haus has commissioned four modular house designs from David Adjaye, Faye Toogood, Carl Turner Architects and Skene Catling de la Peña to adapt into any garden, industrial space, or even rooftop. Sellers will get a premium for their land, and buyers will get a modern dream home at a competitive price.

Founders Paul Tully and Philip Bueno de Mesquita have proved it pays to have creative friends in high places. Tully is a creative agency veteran with brands including O2 under his watch. His partner Bueno de Mesquita enlisted Adjaye to build his Lost House in North London, then again to design a Mayfair shop for his wife Roksanda Illincic, whose label Roksanda he also cofounded.

The pair began with a single design by a mutual friend, Charlotte Skene Catling, and approached estate agency Modern House to market the idea. 'They warned us that we'd be pigeonholed if we used just one modern architect,' says Bueno de Mesquita. 'So we started to look at architects with different aesthetics.' Immediately, he says, 'they loved the idea.'

The challenge for Adjaye, Toogood, Turner and Skene Catling was to make their design adjustable – able to be reconfigured to fit any awkward site. The interior skin would have to be cross-laminated timber, so each design could be prefabricated in the same factory and built with the same construction method.

Each designer returned within six weeks with a flexible prototype upwards of 500 square feet, certain to make it through any planning process. For instance, says Tully, 'Carl Turner designed his around an internal courtyard to get rid of the "right to overlook" issue. The modular blocks can be adjusted on a computer within the constraint of the site.'

Though you might not classify a Cube Haus as affordable – the partners are working with Modern House to market the homes at £700,000 to £800,000 – they're arguably 'accessible to people who wouldn't consider using an architect,' says Bueno de Mesquita. 'We're aware of the shortage of housing in London, and we want to build as many as we can.'

Land Converter agrees to pay landowners about 25 per cent of the end value of their property. 'If we get the land at 25 per cent,' says Bueno de Mesquita, 'we know the house can be accessible at a price point for resale. We're not interested in selling houses for £2 million in Chelsea.'

At the moment, five homes are navigating planning permission in neighbourhoods like Ealing, Forest Gate, Sydenham and Peckham, where the average home on the street is valued in the Cube Haus range. The goal is to build 100 houses locally in five years.
INFORMATION
For more information visit Adjaye Associates' website, Skene Catling de la Pena's website, Carl Turner Architects' website, Faye Toogood's website and Cube Haus' website