Daniela Reboucas Atwell Q&A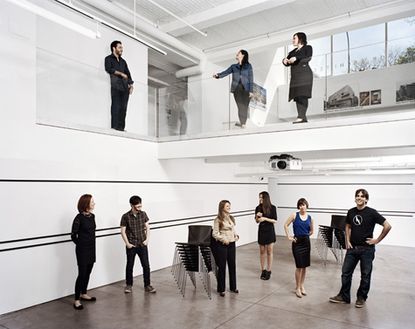 (Image credit: TBC)
Daniela Atwell runs G2 Development & Planning, an architectural and design firm which is focused on Master Planning and Real Estate Development.
Tell us more about your company.
Our idea is that the architect should not just be involved in the design process, but also work with investment and development teams to create projects and influence the business and marketing aspects of each project. We are teaching an Advanced Architectural Studio at Columbia University along with Jaime Lerner from Curitiba. Like our practice, we have organised this studio to be the first interdisciplinary studio between the Architecture and Real Estate Development Program.
Why did you end up working in New York rather than returning to Brazil?
It was a natural transition. I left Brazil when I was 18 to study architecture in Europe at the Politecnico di Milano, then accepted a job offer to work with Rafael Viñoly in New York.
Do you think there are many opportunities in Brazil if you are an architect?
Economic development in Brazil over the past 10 years has been extraordinary, and moderated, so it is growing in a sustainable manner. The opportunities at this point seem to be endless. There is no doubt that if there is a country with an amazing open field to be explored both in terms of architecture and development, it is Brazil.
What things do you miss most about Brazil?
I miss the way, at times, there is more flexibility in dealing with general rules and protocols. This of course, also has a downside, if one does not have the right relationships and experience with the community.
What Brazilian things do you do in New York?
I have a group of friends that we call 'a familia' and we see each other at least every Sunday. It's very Brazilian to search for a sense of family as back home there's a culture of intense family interactions.
What would a perfect night out in Brazil involve?
I'm from Sao Paolo, so the perfect night out in the city would begin by going to the theatre, then for dinner at Arturito in Vila Madalena, Mani in Jardim Paulistano, or Bottagallo in Itaim Bibi, followed by a trip to hear some music in the revitalised old downtown area around Baixo Augusta.
How do you think being Brazilian has shaped your aesthetic?
The eclectic backgrounds of so many immigrants coming to Sao Paolo, shaping the city with their own type of architecture, as well as the powerful influence of Modernism, has had a dramatic effect on my thinking. I grew up with incredible diversity around me, not only in terms of culture but also in the abundance of natural resources.
Emma O'Kelly is a contributing editor at Wallpaper*. She joined the magazine on issue 4 as news editor and since since then has worked in full and part time roles across many editorial departments. She is a freelance journalist based in London and works for a range of titles from Condé Nast Traveller to The Telegraph. She is currently working on a book about Scandinavian sauna culture and is renovating a mid century house in the Italian Lakes.