Coffey Architects redesigns an apartment in a former school house in London
Timber tricks and decluttering techniques characterise this clever Clerkenwell conversion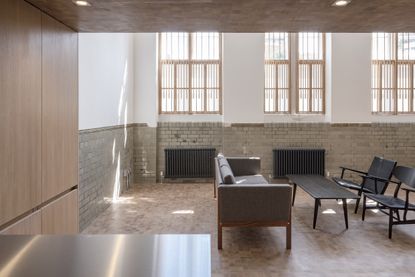 (Image credit: Tim Soar)
Coffey Architects has redesigned an apartment housed within a 19th century former school house in Clerkenwell. The approach was to insert a piece of 'inhabited joinery' into the apartment in one of the old classrooms with ceiling heights reaching over four metres and plenty of original character. The sculptural intervention is contemporary, yet its simplicity draws the eye to the newly revealed architectural detailing of the historical building.

Located on a pleasant campus of trees and gardens in the midst of Clerkenwell Conservation Area, the Grade II-listed school-house was built in 1892 by TJ Bailey and converted to residential and commercial use in 2000. The conversion of the classroom into a two-storey home with a mezzanine level, had left a cramped and dark space, prone to collecting clutter.

Coffey stepped in to open up the space, introducing some much-needed light. The architects stripped back anything in the way of the original architecture, cut back the existing mezzanine level to create a double-height living space, and relocated the staircase to the side of the plan. New voids of space were revealed that were ripe with potential.
A process of replanning, redesigning and resculpting began. The small kitchen is tucked beneath the mezzanine. Lightly striped oak timber joinery lines the walls and hides neat storage spaces behind it. While sliding timber pocket doors conveniently reveal and conceal the snug downstairs and the bedroom upstairs.

Reached by the gracefully processing European oak staircase, the upper level is lit by the three metre high sash windows, framed by timber shutters lined with linen reminiscent of Japanese screens. At the top of the stairs a slim study area stretches out before the bedroom.
RELATED STORY
The highly efficient tight-knit plan, kitted out with sliding elements, is reminiscent of the clever formation of Hidden House, a RIBA-award winning house on the same campus (opens in new tab), which involved similar timber tricks.

Coffey were keen to work again with contractor Ed Mcbeath of Woods London and joinery subcontractor James Wilkie, who they had worked with on Hidden House. Taking the opportunity to do something slightly different, they decided to line the floors, ceiling of the mezzanine level and craft a bespoke desk and dresser with 30,000 individually cut and laid cross-section blocks of European oak.

A new challenge for Woods London, the intensive technique was a labour of love, and the blocks were all hand-cut on site and carefully arranged at alternating angles in a random pattern. The end grain effect of the cubes creates a textured, yet smooth and hard-wearing finish reminiscent of the parquet flooring seen in archive photographs of the school.

Project architect Ella Wright wanted to show a clear definition between old and new, yet celebrate both at once. Original cornicing and green glazed bricks have been rediscovered and restored – and, an old penny dated 1900 found beneath the flooring was another wonderful discovery along the way.
INFORMATION
coffeyarchitects.com (opens in new tab)