Swiss bliss at Mike Spink's Klosters chalet
Property developer and designer Mike Spink was inspired by traditional chalets when creating his own – think raw pine, white plaster and picture windows, yet he also decidedly wanted a chalet that met all his skiing needs, and personal taste. The large hallway in his chalet is like a hotel lobby where everyone gets their act together, and a retreat to the subterranean spa with thick wool curtains signals his escape from all the action.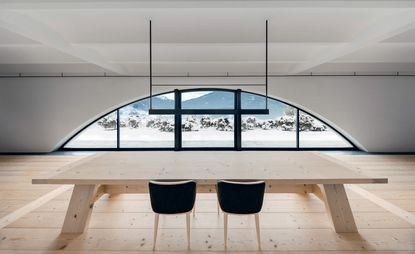 (Image credit: Simon Menges)
Designer and property developer Mike Spink is a 25-year veteran of the upper, upper echelons of the international property market, and his new winter retreat in Klosters sets out his typically low-key, high-end approach. Chalet MM was designed in collaboration with Spink's in-house architect Franz Borho, formerly of David Chipperfield Architects. Chipperfield's practice designed an impressive Kensington townhouse for Spink some years back, as well as Fayland, the Spinks' spectacular country house in the Chiltern Hills, north west of London. Both properties demonstrate an extraordinary attention to detail, their grandiose scale spliced with a minimal approach to materials and the soft scattering of natural light.

Chalet MM takes things a step further. Spink and his partner Maria have been coming to Klosters for more than two decades, and he talks animatedly about the subtle domestic design variations found across the local valleys. Klosters was originally a poor farming village and housing design was primarily about necessity, expediency and function. Houses typically had thick walls, small windows, rubble foundations and clay roof tiles. Additional status could be afforded by painted decorations, mimicking the stone carving found in more prosperous neighbourhoods. One particular local property, a historic house in the nearby village of Luzein (owned and restored by an uncle of one of Spink's ski guides), was especially influential in the design of Chalet MM. A grand dwelling dating back to the 1600s, it had been lovingly refurbished to its original status, right down to the straw-filled mattresses and absence of central heating.
A new-build, Chalet MM sits on a shallow slope above Klosters' village centre, nestled into a slight depression that provides a natural protection against avalanches. 'Historically, the villagers knew what the conditions would be in every location – where avalanches came, which spot would flood,' says Spink. As well as such local knowledge, an understanding of how things are done in Switzerland was essential to the build. New houses are defined by an array of equations – set by the local authorities – determining massing, volume and height in relation to the size of the plot. But there are no real material or aesthetic limitations, provided these rules are followed.

'Chalet MM was designed to mimic the historic house's unique atmospheres by adopting the same traditional hierarchy of materials,' says Spink, explaining how the new structure is arranged, from the heavy, rendered masonry base rising up to relatively light timber upper floors. 'The different materials create a changing ambience from floor to floor,' he says, 'while the window openings play with the dramatic mountain light conditions.'
The chalet is configured around the demands of skiing. Klosters isn't a ski-in, ski-out resort, and guides typically collect parties from their chalets before heading out for the day. The property's large courtyard is accessed from a lobby and boot room, with a long balcony overlooking what Spink calls the best view in the house. The generous layout is down to the couple's experience. 'To actually get out of the door [to go skiing] is a half-hour process,' he explains. 'It's why the hallway is like a hotel lobby. You can lounge around while everyone gets their act together.'
RELATED STORY
The main staircase rises up through the heart of the house, with subtly curved hand-applied plaster walls. The master bedroom on the first floor is flanked by a private sitting room and bathroom. Everywhere you look, floorboards and ceiling joists are meticulously aligned. 'I'd love to live in the original [Luzein] chalet but I'd hate the imperfections,' Spink admits. In Chalet MM, finishes are never less than perfect; while the 17th-century house has a weathered stone sink with a chunk of wood as a plug, the new chalet features a dark cast-iron bath with copper Vola taps.

Walls, ceilings and floors are clad in steamed and combed local pine, left raw and untreated for a strong Alpine aroma. Two vaulted bedrooms are tucked into the eaves on the uppermost floor, while the main living space is set below the entrance level. This is where the dramatic low arched window overlooks the rustically planted garden, the valley's contours effectively concealing the village from view.

The window, which runs practically the full length of the 17m-long room, was inspired by the architectural vernacular of the nearby Engadine Valley. The walls here are white plaster and furnishing is sparse, with sofas and chairs from Axel Vervoordt, and Spink's long, monastic dining table, inspired by the table at Fayland and built by a local joiner. At one end is the stone kitchen and a simple pantry with open stone shelves. The arched window was fabricated in Davos, while the masonry and woodwork all originated in Klosters itself. 'Maybe half the people we bump into in town I know from the project,' Spink says. 'They are seriously proud of the finished product, and of each other's work.' Ultimately, around 95 per cent of the chalet's materials and fixtures were sourced from within 10km of the site.
What you see from Chalet MM's exterior is relatively conventional, albeit on a grand scale. Set beneath the courtyard is one further realm of luxury that illustrates why Spink's developments are so highly regarded. Top-lit by a lightwell rising 8m into the courtyard, the subterranean space contains a relaxation room and spa, with a massage table that can be screened off by heavy wool curtains. At the base of the lightwell sits a font, in an altar-like niche, receiving water from the mountain spring that runs through the site and also fills a trough in the courtyard. The custom-designed, wall-mounted lanterns were fabricated in Sweden and paired with off-the-shelf Swiss light switches.

Chalet MM is still shiny and new, but the exterior timbers will eventually weather to a shimmering black, blending the property into the historical stock of the village. For Spink, this project was an exercise in conjuring up atmosphere through texture and materials. His eye for detail infuses every corner and radius of this handsome winter retreat, but it is the local connections that give it its heart.
As originally featured in the April 2019 issue of Wallpaper* (W*241)
INFORMATION
Jonathan Bell has written for Wallpaper* magazine since 1999, covering everything from architecture and transport design to books, tech and graphic design. He is now the magazine's Transport and Technology Editor. Jonathan has written and edited 15 books, including Concept Car Design, 21st Century House, and The New Modern House. He is also the host of Wallpaper's first podcast.