Time to celebrate: Buro Ole Scheeren turns five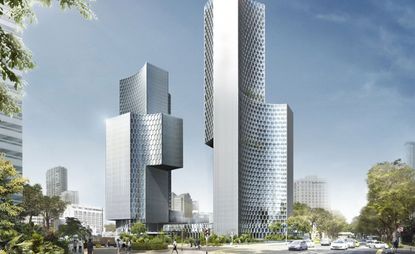 (Image credit: TBC)
It seems like only yesterday that Büro Ole Scheeren (opens in new tab) was launched, but, incredibly, this month marks the firm's fifth anniversary. With projects dotted across Asia, Europe and North America - including MahaNakhon tower, Thailand's tallest skyscraper, the Guardian Art Center in Beijing, a high-rise in downtown Vancouver, and the DUO tower in Singapore - the practice has never been busier. So much so that a new studio is opening in Berlin and Bangkok. We caught up with founder Ole Scheeren to discuss the future of architecture and just what it is that makes him tick.

How do you think the business of architecture has changed in the five years since you started the studio, or indeed, since you started practising as an architect?
It was really the entire past decade that was dominated by Asia - not only for me personally, as in fact I worked and lived in Beijing and Hong Kong for that period of time - but also for architecture generally. It was also a period in which the most significant things in architecture happened in China and Asia. The past five years were incredibly productive for us and my new studio with multiple large-scale projects under way in Beijing, Shenzhen, Bangkok, Singapore, Malaysia, and beyond.

Asia's unparalleled scale and speed of growth have required a new way of thinking about the future and about possibilities - it has required a set of completely different tools for how to tackle issues of extreme urbanization and densification through social and physical structures.

These concerns did not exist when I started practising as an architect almost 25 years ago. Since then, the world changed to become globally interconnected - and digital. Architecture has changed from a focused and often regional profession to being confronted with globalization. The digital age both liberated architecture from many of its technical limitations, but also condemned it to the tyranny of the image - and the iconic. Our society today is far too concerned with the production of images that are disseminated and consumed through the various digital channels of the internet. This threatens to divorce architecture from some of its primary responsibilities as a profoundly social undertaking.

Can you describe the evolutionary progress of your own personal style?
I have never been interested in looking at architecture as being concerned with only function or aesthetics - constructs of utilitarian or artistic compositions of built matter and light - but I am interested in architecture as a tool of society: as organizational structures that create and define a set of both functional but also inter-human potentials, and establish relationships and narratives of its inhabitants and the larger social or public domain.

This interest manifested early in my career. Besides working as an architect on physical designs and technical solutions for buildings, I have also always been engaged in more peripheral activities ranging from collaborations with artists and filmmakers, curating and scenographing exhibitions to working in graphic design and branding.

But at the core of my work stands a profound interest and commitment to architecture as a social construct. Our buildings are reflections of this understanding: they are derived from an intense engagement with the specific cultural, social and physical context. They are not created as mere shapes and silhouettes, but are the results of analytical processes and courageous visions of how we can imagine the life of people to be different. They are four-dimensional structures in which spatial complexity and connectivity merge with the unfolding of multiple narratives of its inhabitants and users. In this sense we are primarily designing relationships - from functional to fictional - and this is what generates our architecture.

After successfully establishing your work in Asia over the past ten years, why the desire to open a base in Europe? What can your practice bring to a European context?
I started my career in Europe, did a few projects and then moved on to the Unites States with the work for Prada in New York and Los Angeles. After more than a decade of focus on Asia, we are now looking again at the US and Europe. Starting an operation in these regions allows me to explore the potentials of having worked in both contexts for a long time. The first chapter of my life was building in the West and the second in Asia. The value of our work is that we're deeply familiar with, and embedded in, both contexts simultaneously. And I think the possible transfers and synergies between those have a lot of potential.

Who are the architects who have most helped to form you as an architect?
At first, inevitably, there was my father. He was an architect and I kind of grew up in architecture school because he was still a student when I was born. My first engagements in the profession involved destroying architecture models of students, which I found in the corridors. While I was still at high school, I started to work more seriously on designs in my father's office. At 18, I started my own studio for model making. At 21, I built my own first project independently - from the client's first handshake to completion. In some way I had a very early start and my father gave me a lot of insight.

In 1989, I saw the design by Rem Koolhaas for the competition for the ZKM Center for Art and Media in Karlsruhe, Germany. There was something that, for the first time, seemed to answer some important questions for me. Or rather, it posed the right questions, something that revealed the sense of a potential in architecture. And without being able to fully understand it, rather instinctively, I thought if this is possible, then maybe it's worth doing it. And it was about five years later that one morning, I woke up and thought it was time to go to OMA's Rotterdam office. This was the beginning of a 15-year collaboration with Rem.

Would you say your designs look more towards innovation or towards tradition? How do you see your practice engaging with these sometimes conflicting notions?
For an architect the question of the future is an exciting challenge. How can we imagine things to be different? How can we generate new prototypes for our lives and existence? But of course the engagement with the past is equally important - not as historicizing or romanticizing it, but to understand its values and meaning. In this sense, I am interested in the ability of the Eastern mind not to separate everything in an opposing dialectic. Our Western mind - our philosophy, our thinking - is structured in a way that is mostly exclusive of oppositions and retreats to a rationale that ultimately tends to simplify things. I think that in Asia, there is a tendency to complicate things, and complexity is something that I'm deeply interested in. It has an intriguing potential in its subversive-ness, in its liberating capacity to be both ambivalent and holistic.

Our work is contextually specific, yet it is generated based on a very broad field of cross-cultural knowledge and involvement. The Guardian Art Center in Beijing is a special project and it's a very interesting counterpoint to the CCTV headquarters. CCTV, of course, is a building that very explicitly and radically addresses the future, and it is located in a part of the city that is also entirely dedicated to the future.

In contrast, the Guardian Art Center takes us into the very heart of Beijing - a stone's throw from the Forbidden City - and into this very meaningful context of Chinese historic meaning and substance. It was a very exciting challenge to design in this location and an opportunity to demonstrate that we can also work in very subtle ways. The design carefully inscribes the building into the surrounding context, in a sensitive architectural interpretation that fuses history and tradition with a contemporary vision for the future of a cultural art space.

What are some of the impediments today to creating good architecture? What are some of the specific challenges you have faced in Asia and how have you addressed these?
The core of our work involves imagining and instigating a process of collaboration and coordination - from the technical to the cultural - that enables us to move beyond the generic and create a series of prototypes that explore new typologies and engage diverse territories. Communication and dialogue are a key aspect of this process. In a way, this requires as much design as the building itself. And I believe that this is one of the important achievements of our work, the fact that we have been able to engage our teams and our clients as well as the wider field of stakeholders in a process that ultimately is able to move a project beyond the boundaries of the status quo.

What will you never compromise on?
I believe there has to be meaning to what we do, in whatever aspect we may find or define this. We are trying to explore shifts in the quality of spaces; of inhabitation, of work, and the civic nature of public space. I think it is important to take architecture back from its more individualistic orientation and recognise our responsibility towards a greater whole again. The making of architecture is, in some way, full of compromises, as physical reality can never exist in true perfection. But what can never get lost is the focus on the concept and the ambition of what we do.
Daven Wu is the Singapore Editor at Wallpaper*. A former corporate lawyer, he has been covering Singapore and the neighbouring South-East Asian region since 1999, writing extensively about architecture, design, and travel for both the magazine and website. He is also the City Editor for the Phaidon Wallpaper* City Guide to Singapore.