Ole Scheeren's architecture rewrites the rulebook
Ole Scheeren's architecture spans from the cinematic to the sustainable and the geometrically astounding. Deyan Sudjic, director emeritus of the London Design Museum, explores an architectural rule-breaker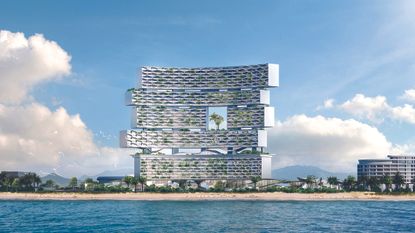 (Image credit: Courtesy Büro Ole Scheeren)
In partnership with Büro Ole Scheeren
The invisible but razor-sharp line that segregated what were once described as commercial architects, who built generic office blocks and everyday shopping malls, from the much smaller group that designed universities and museums and got talked about by architectural critics, evaporated some time before Ole Scheeren set up his studio in 2010. Culturally ambitious architects could see that to continue to be relevant in a rapidly changing world they would need to move beyond the scale of the exquisite. Commercial practices had begun to understand that they needed to offer more than pragmatism if an increasingly sophisticated new generation of clients was going to hire them. But there is still a divide between those architects who are seen primarily as builders, and those who are better known for their ideas.
Scheeren is interested both in ideas and in building, and he might be understood as the embodiment of the new reality of contemporary architectural practice. He is an architect who has immersed himself in the sometimes half-hidden constraints of planning and finance that shape and structure most buildings, along with the specific requirements of his clients. But he also uses his understanding of those constraints to radically transform the expected outcomes, so as to address the wider needs and expectations of the community.
Ole Scheeren's architecture
In the 13 years since he set up his own architectural practice, Scheeren has completed a series of striking projects, each of which offers an influential redefinition of a particular building type, from the skyscraper to the hotel. The pixellated form of the King Power Mahanakhon tower in Bangkok, for example, creates a powerful and instantly recognisable landmark – not an easy task in the context of a city that already has one tower modelled on a robot, another on an elephant and a third on an Egyptian pyramid.
The spiralling gash in the smoothly orthogonal tower gives a sense of scale to the tallest building in Thailand, and equally importantly, it disrupts the conventional form of high-rise architecture to offer a richer spatial structure that allows for multiple uses. Its height, substantially greater than was originally envisaged by the client, provides the economic underpinning for the whole project. It was made possible by Scheeren's rational analysis of the zoning conditions for the site, and yet the pixellated fracture of the tower hints at the highly poetic idea of nature invading technology.
The distinctive form of the Mahanakhon tower and its visible terraces is the product of Scheeren's search for a way to give high-rise buildings a visual connection with those on the ground, a search that he dates back to his early experience of standing at the foot of the twin towers of World Trade Center in Manhattan. At a time when so many towers had diminished into bland boxes, the challenge was to make evident the human presence inside a very tall structure. As the skyscraper has become the dominant building type of our times, it is an issue that has clearly preoccupied many architects, and Scheeren's approach in Bangkok has influenced a new generation of tall buildings around the world.
Like the Mahanakhon tower, which emerged from an analysis of the zoning rules of Bangkok, the DUO project in Singapore, a joint development by the government of the city state and its neighbour, Malaysia, is also the product of a creative manipulation of planning conditions. One of its two towers accommodates a hotel and offices, the other is residential. Following the existing zoning plan would have cut the site in half with two isolated towers. By carving circular urban spaces into the permitted building envelope, Scheeren was able to repair a broken part of the city and integrate the neighbouring buildings in a new coherent context and urban plan. The sculpting of the two towers through adding volumes in some areas, while subtracting it from others made a dynamic yet unified outcome possible, further reinforced by lush public gardens that embrace the whole site.
Also in Singapore, The Interlace development is an equally significant contribution to another typology, the evolution of large-scale high-density urban housing. Within the context of a limited construction budget, The Interlace escapes the constraints of vertical living, which is typically based on repetitive floor plans in isolated towers defined by lift cores. By stacking blocks of horizontally planned apartments grouped around a sequence of private, semi-private and public spaces and gardens, The Interlace offers a much richer social ecology.
In Beijing, the Guardian Art Center is a remarkable mixture of uses; part auction house, part art gallery and event arena, and part hotel, it is designed to embody the historical significance of its location very close to the Forbidden City. Meanwhile, Scheeren's design for a beach resort now under construction in Sanya Bay, on the tropical Chinese island of Hainan, stacks two hotels one on top of the other, structuring them around thickly planted open air garden decks and pools that offer a model for incorporating nature within the built environment.
His unrealised projects in central Berlin and London's Stratford district would have offered equally compelling insights into the potential of the contemporary versions respectively of the headquarters office building in the age of working from home, and the museum complex at a time of cultural uncertainty.
A global practice
Working in Vancouver, Shenzhen, Ho Chi Minh City, Frankfurt and the Philippines among other places, Büro Ole Scheeren is the model of a global architectural practice. It is a model that has proved itself through two years of pandemic travel restrictions, and continual Zoom calls across multiple time zones.
Scheeren has always been fascinated by the architectural thinkers, but he was never going to be content with restricting himself to critical theory or paper architecture. He had started to build even when he was still a teenager, working on construction sites of projects designed with his father, also an architect, before he arrived in London as a student.
When he was at the Architectural Association, he got to know Cedric Price, an English architect with a formidable reputation as a theorist, despite having built almost nothing. Price's way of unmooring architecture from the dictates of space and time by asking provocative questions has clearly had an impact on his own work. According to Price, there was no reason that a university should not become a distributed think belt rather than tie itself to a single site. Scheeren was also interested in the Archigram group's wildest concept, that of the walking city, and he read a lot of Situationist texts. But in his view ideas have their greatest impact when they get built, and Archigram built even less than Cedric Price.
Scheeren belongs to what may well be the last generation that learned to draw using ink on tracing paper. It's not something that he is sentimental about, but he is aware of the impact that the technique has had on his understanding of analogue reality. He is also young enough to have grown up with the first video games. Their low-resolution rendering of the world has fed into his use of 'pixellation' to form the Bangkok tower, and his designs for the Springer HQ in Berlin.
As a teenager in Karlsruhe, southwestern Germany, in the 1980s he was building architectural models for local firms to help him to understand the three-dimensional implications of a two-dimensional drawing. It gave him the skills that have underpinned envisioning the complex spatial geometries of his more recent buildings.
Model building also earned him enough to buy his first car. He used it to set off to see as much architecture as he could, from Le Corbusier to Mies van der Rohe and Hans Scharoun. Evidently it was the spatial complexity of Scharoun that he found more interesting than Mies' aristocratic restraint. At the same time, he developed an all-consuming interest in art-house cinema, which has had a profound impact on his approach to architecture. The local cinema programmed all-night triple-bill screenings, from Jim Jarmusch to Akira Kurosawa in a 1,000-seat red plush and gold auditorium. Scheeren found movies seen in that way, as a shared event rather than from a solitary sofa at home, were always an intensely emotional experience. He looked for a similarly intense quality in architecture, but it was hard to find.
It's not that he sees architecture as entertainment or believes that it should be a Hollywood-like experience, even if drama and a narrative arc can be a useful architectural strategy. Nor is it his objective to try to treat architecture as a frame-by-frame recreation of a film. But cinema has been a useful starting point for him in finding a strategy for architecture that goes beyond utilitarian functionalism in pursuit of a richer experience. He talks about using fiction to trigger architectural responses, to imagine the lives of those who will inhabit his architecture, and the interaction between user and building. He even suggests that architecture can take the form of a script. The energy that he has poured into designing and building a series of dreamlike temporary open-air cinemas, including one floating off a beach on the coast of Thailand, and another in the Venice lagoon, reflects his understanding of the power architectural spaces can have in animating social experiences.
Embracing sustainability
Scheeren makes sustainability an essential aspect of every project, from the consideration of the embodied carbon saved by re-using the concrete structure of a 1970s office tower in Frankfurt to make new apartments for the Riverpark Tower, to the incorporation of nature in The Interlace residences in Singapore where roof gardens and landscaped courtyards give the development more green surface than would be offered by the unbuilt site itself. These are not window boxes or planters, but gardens with communal access, stocked with flower and fruit-bearing plants, where 50 or more species of butterflies and birds have been counted. Cantilevered slabs and projecting balconies help to shadow the windows and courtyards from the fierce tropical sun. Carefully sited pools offer relief from high temperatures through evaporative cooling. Scheeren's approach to sustainability is to use it as an aspect of a poetic architectural experience rather than merely meeting a bureaucratic standard, though of course his projects do that too.
Ole Scheeren and OMA
In 1995 Scheeren went to the Netherlands to work with Rem Koolhaas, an architect whose ambiguous view of the creative tension between the architecture of ideas and the architecture of building interested him. He arrived in Rotterdam when Koolhaas had only just begun to build; his office, OMA, was still a modest size. He was with OMA when Miuccia Prada came to the studio for advice on reconfiguring her shops, and in so doing, transformed Koolhaas' practice. Scheeren worked on Prada's New York and Beverly Hills flagship stores. He went to China in 2002, by then as an OMA partner, to take part in the competition to design a new HQ for China Central Television. He spent the next decade in Beijing, during its most intense paroxysm of new construction, that also saw Herzog & de Meuron's Olympic stadium and Norman Foster's airport completed. He was the architectural leader of a team that included as many as 400 people and, in contrast to all the other Western architectural principals, who flew in to visit and then went home again, Scheeren actually lived in China.
Unlike many of the production line of talented, ambitious, and highly plausible architects emerging from OMA to set up on their own, Scheeren was a partner when he left. He had been given the freedom by Koolhaas to explore his own architectural interests and was able to take a couple of projects that he had designed with him and to build them on his own account. But while some architects establish themselves after leaving a partnership by going out of their way to create a new architectural language to symbolise a break in the most visible way, Scheeren decided that he could not turn his back on the ideas he had developed during his time at OMA, nor did he want to. While the CCTV building will always be associated with Koolhaas, it was Scheeren who headed the design team, moved to Beijing in 2004 when the project first broke ground, and spent several years of his life supervising the day-to-day work realising one of the world's most demanding and intense architectural pro-jects. It was Scheeren, in a hard hat, high-visibility vest and boots who was on site in Beijing on the day that the cantilevered steel structures of the two main towers were finally connected to make one continuous loop of interconnected volumes. And he was the first to take the leap across the completed connection.
Building CCTV established Scheeren's credibility. It is a complex that accommodates 10,000 people, and demanded the most sophisticated construction techniques, skills that Chinese contractors were still in the process of acquiring. It also established his continuing connection with Asia that began with backpacking in rural China over 30 years ago and matured when he went to Bangkok to work on the 'Cities on the Move' exhibition in the late 1990s, just after a financial crisis had left its skyline littered with half-built abandoned high rises.
Ole Scheeren's distinctive approach to architecture
Since starting his own studio, Scheeren has worked to show that he is an architect who is as capable of an architecture of ideas, as he is of building them. China gave him the opportunities he needed to establish himself and develop a global practice. It also gave him the experience of a culture able to embrace apparently contradictory positions simultaneously, to build and to think.
Scheeren has developed a framework for conceiving a distinctive approach to architecture. It is not one based on a singular architectural signature. But it can be described as putting an emphasis on what buildings can be, and on giving them a strong identity and presence in unexpected, even surreal ways. What counts is what buildings mean, and what they can offer in terms of experiences, rather than developing expensive forms and skins that have little impact on how buildings work.
The term 'client' is sometimes regarded as an abstraction, a cipher for the architect to manipulate, a barrier to be overcome in pursuit of their creative ambitions and on which to project their frustrations. For an architect such as Scheeren, who is building radical work, to do so would be a naïve and self-defeating attitude. The client cannot be treated as enemy. Scheeren has the ability to use concepts that his clients can understand, it is the key to unlocking architecture from a complex brief.
In Vancouver, the Fifteen Fifteen residential tower does it by introducing a horizontal element into the vertical emphasis of a 42-floor structure and cantilevering a proportion of the 200-plus apartments out into space. It is a conscious evocation of the glamour of Pierre Koenig's glass box Case Study house in the Hollywood Hills, as portrayed in Julius Shulman's famous photograph, that transforms the building's silhouette, and increases the value of the mid-level apartments. He also showed the developer the benefit to his business plan of making one of the cantilevered horizontal spaces available to all residents rather than keeping it private.
Scheeren's initial presentations tend to include enough shock value to attract attention, but are underpinned by the research and detailed analysis needed to provide the necessary reassurance.
Scheeren has a repertoire of techniques and ideas about architecture that he uses to explore the full potential of the situations that his clients ask him to confront, but they are not the ultimate objectives. The important thing is to put them to work effectively to go beyond what is explicitly asked of him by his client. In Vietnam for example, Scheeren's brief was to design a building whose height alone would make it a national landmark. He did much more. Hurling a fragment of what looks like a tier of rice fields at the 80th floor of the Empire City Tower in Ho Chi Minh City and leaving it surrealistically floating in space high above the Saigon river is hinting at the language of Situationism; it is like the radicals of Paris in 1968, discovering the beach beneath the pavement. But in Scheeren's version the metaphor is a symbolic evocation of the Vietnamese landscape, that will be a magical public space, and the tower is a landmark that will define the future of one of Asia's fastest growing cities.
The exhibition 'ole scheeren : spaces of life' is at ZKM Karlsruhe, until 4 June 2023, zkm.de