Büro Ole Scheeren adds DUO high rise complex to Singapore skyline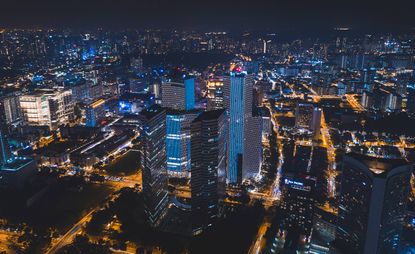 (Image credit: Claudio Chock)
The shoreline that once fronted Singapore's Beach Road may have been landfilled decades ago as part of the country's relentless urban expansion, but it's also the site of some remarkable architecture. These include IM Pei's majestic Gateway Towers, Paul Rudolph's griddled Concourse, and DP Architects' Golden Mile Complex. And now, Büro Ole Scheeren has added the DUO to the mix.

Sheathed with a honeycombed grid of hexagons – a pattern Scheeren used with great effect on his first Singaporean project at the Interlace (opens in new tab) - the striking silhouette of the twin-towered mixed-used development more than holds its own against its senior neighbours.

The eye travels restlessly along the edges, up and down straight lines that bend without warning into curves that have the subliminal effect of gathering pedestrians inwards through the porous passageways, whilst buttresses cantilever outwards to throw off any sense of symmetry. From a distance, the visual effect is of two tectonic titans dramatically squaring off against one another.

And though it's nowhere to be found in the press materials, it's understood that the raison d'etre of the concave curves was partly to deflect the 'negative' feng shui energy generated by the sharp knife-edges of Pei's Gateway building across the road.

The 39-storey tower holds a mix of offices, the first South East Asian outpost of the Andaz hotel, and an observation deck that offers a dizzying panorama of the island, not least the colourful rooftops of the fin de siècle shop-houses of the Bugis quarter.

Across a landscaped piazza that's peppered with restaurants, shops, and specially commissioned sculptures, the adjoining 49-storey DUO residential tower, meanwhile, features 660 private residences that range from studios to one-to-four bedroom apartments, and penthouses. These are collectively serviced by four decks of gym, 50m lap-pool, dining areas, gardens, outdoor pool and outdoor grills.
INFORMATION
For more information visit the Buro Ole Scheeren website (opens in new tab)
Daven Wu is the Singapore Editor at Wallpaper*. A former corporate lawyer, he has been covering Singapore and the neighbouring South-East Asian region since 1999, writing extensively about architecture, design, and travel for both the magazine and website. He is also the City Editor for the Phaidon Wallpaper* City Guide to Singapore.
You might also like
The System Lab founder Chanjoong Kim on style and evolution

The Wallpaper* Architects Directory has turned 20. Conceived in 2000 as our index of emerging architectural talent, this annual listing of promising practices, has, over the years, spanned styles and continents; yet always championing the best and most exciting young studios and showcasing inspiring work with an emphasis on the residential realm. To mark the occasion, this summer, we're looking back at some of our over-500 alumni, to catch up about life and work since their participation and exclusively launch some of their latest completions. South Korean Architects Directory alumnus The System Lab has gone from strength to strength since its 2016 inclusion, with work expanding from private homes to masterplanning, housing and impressive commercial work. Here, we speak to founder Chanjoong Kim to explore the studio's evolution and latest work.

By Ellie Stathaki • Published
View More ▸