Casa Swift by WMR Arquitectos makes the most of its setting on the Chilean coast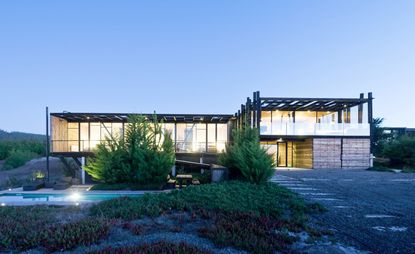 (Image credit: TBC)
Casa Swift is located on the windy coast of Chile, overlooking the world-famous windsurfing haven of Matanzas. Chilean architects WMR Arquitectos (opens in new tab) conceived this residence for a professional wind surfer and his wife, with the idea of creating a 'house that is not a home'. Set in the typical Matanzas woody landscape and just a few minutes' walk up from the beach, Casa Swift is the perfect holiday home.
Take an interactive tour of Casa Swift
The architects were commissioned to design a house that was to work as a hotel; where each room is independent from each other. With this in mind, the house was organised into different split levels, according to the views and degrees of privacy.

Partly cut into the landscape is the swimming pool on a lower level – followed by the parking, storage, and gym facilities on the 'ground' floor. The bedrooms, each with private bathroom facilities, are located on an intermediate level that can be directly reached from the pool by a ramp. Finally, the open plan living room and kitchen are located on the top floor, offering extraordinary panoramic views of the forest, beach, and the South Pacific Ocean.

While the height of the building was defined by the views, it was important to shut its southern façade off from strong winds, enabling a transparent (but sun-shaded) north-western façade that looks onto the bay of Matanzas.

The house is built entirely from different kinds of timber - an abundant traditional material in this area. For both the exteriors and interiors, the architects combined different tinted woods and contrasted them with white surfaces and darker materials.
Successfully dealing with strong winds, built to a relatively small budget, and made of locally-sourced materials, Casa Swift is a house that is set amidst this typical Chilean coastal landscape, while making the most of its setting in relation to the Matanzas bay.