Carterwilliamson Architects reflect Sydney life with mirror-lined Spiegel Haus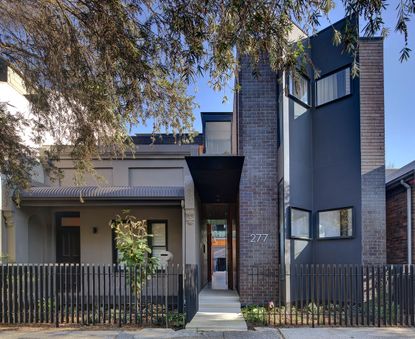 (Image credit: press)
Designed by Australian firm Carterwilliamson Architects, Spiegel Haus in Sydney's Inner West district is home to a young family with small children. Its efficient yet polished design makes an ideal home for the client, while its welcoming open plan and annexed guest house allows the family to host visiting relatives and friends.
Take an interactive tour of Spiegel Haus
The 330 sq m house is spread across three levels of well-lit space, including a garage, pool, garden and basement. 'All Caterwilliamson homes have light and a generosity of space as a driving idea for them,' explains practice principle Shaun Carter. This is particularly true to the Spiegel Haus ('spiegel' meaning 'mirror' in German) with the use of mirrors to reflect light and give the illusion of infinite space. The name also relates to a key landmark, The Famous Spiegel Tent (opens in new tab), erected every summer at the Sydney Festival.

The elegant material palette has been carefully selected for its durability, ensuring that the home is hardwearing enough for the rigours of everyday family life. The internal skin is robust, with pine clad walls providing a counterpoint to polished concrete floors. The exterior is a composition of brickwork and glass tiles - strategically chosen for its low maintenance - while adding a sculptural sense of depth to the façade.

Time was also factored in as a vital design element. Materials were considered for their textural patinas and ability to change their appearance over time. Their aesthetic will almost improve as they weather through the years, creating a sense of timelessness that is at the core of Spiegel Haus' design.
The 330 sq m house is spread across three levels of well-lit space, including a garage, pool, garden and basement. The exterior is a composition of brickwork and glass tiles - strategically chosen for its low maintenance, while adding a sculptural sense of depth to the façade
Upstairs, the timber clad walls provide a counterpoint to the glossy black exterior tiles and polished concrete floors. The elegant material palette has been carefully selected for its durability, ensuring that the home is hardwearing enough for the rigours of everyday family life