Carolina Neubern Fonseca Q&A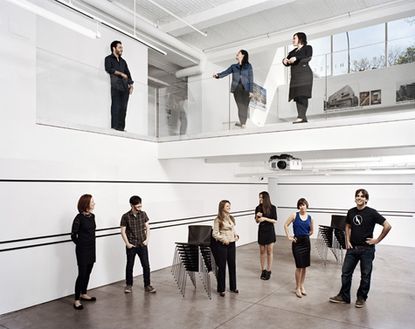 (Image credit: TBC)
Carolina Neubern Fonseca is an architect at Sterling Interiors working on retail and corporate interior design projects in New York, New Jersey, Connecticut and Westchester County.
How did you end up in New York?
I studied architecture and worked in Sao Paolo with international clients, from the US, The Netherlands and China. Then I met my Brazilian husband Luiz and he was working in New York. After lots of toing and froing, I decided to move here in 2006.
What do you miss most about Brazil?
Ai ai ai... This is a never-ending list, and includes my family, my favorite old-time restaurants in Sao Paulo where I'm from, listening to live music in informal pubs and the colours and the 'freedom' of our design in fashion, interiors and architecture.
What Brazilian things do you do in New York?
We Brazilians get together to chat, to watch Brazilian movies, swap Brazilian books, go to Central Park for picnics and visit the Petrobras Film Festival in Tribeca. Then it really feels like we are in Brazil.
Are there any Brazilian expressions that translate well into English?
There is one that is very special to me by Oscar Niemeyer: 'A Humanidade precisa de sonhos para suportar a miseria, nem que seja por um instante,'and means 'humanity needs dreams to face misery; even if it is for an instant.'
Emma O'Kelly is a contributing editor at Wallpaper*. She joined the magazine on issue 4 as news editor and since since then has worked in full and part time roles across many editorial departments. She is a freelance journalist based in London and works for a range of titles from Condé Nast Traveller to The Telegraph. She is currently working on a book about Scandinavian sauna culture and is renovating a mid century house in the Italian Lakes.