Home depot: a construction update from the Boijmans van Beuningen Museum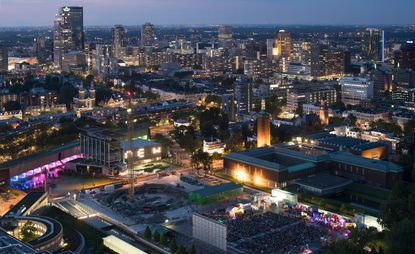 (Image credit: Ossip van Duivenbode)
Wallpaper* Newsletter
Receive our daily digest of inspiration, escapism and design stories from around the world direct to your inbox
Thank you for signing up to Wallpaper. You will receive a verification email shortly.
There was a problem. Please refresh the page and try again.
'I couldn't believe what I was seeing,' recalls Sjarel Ex, director of Rotterdam's Boijmans van Beuningen Museum, thinking back to when he first set eyes on MVRDV's design for the institution's new space.

With the museum's encyclopaedic, city-owned collection of European art constantly threatened by floods, a new storage facility was a matter of urgency for the Boijmans. Ex also saw this as an opportunity to gather the entire collection – currently scattered across several facilities – in one centrally located venue, and open it up to the public. While his Museum has currently the ability to show a mere 8% of the collection, the new Depot will be the world's first art storage facility that makes a staggering 99% of the collection accessible to public.

The design by MVRDV goes way beyond the core task of facilitating public access, while ensuring due security and appropriate climate control for the highly varied collection. It provides Rotterdam with a city-scale landscape-enhancing device.

The six-storey, 15,500 sq m Depot dissolves into its surroundings, due to the curved reflective facade that turns it into a giant mirror, which reflects everything, from visitors walking in, to the entire Museum Park, and Rotterdam's ever-changing skies. Occupying a former gravel plot adjacent to the original Boijmans van Beuningen building, the project will also use the newly created plaza as a canvas for large-scale artistic interventions. These will be amplified by the curved mirror.

Reflective, double-curved glass panels are the project's greatest challenge, confirms MVRDV's principal Winy Maas. Wishing the facade surface to appear seamless, the design team is working to reduce the gaps between the panels, from the customary 20mm, to a mere eight.

The Depot's sugar bowl shape minimises its footprint while allowing for a large rooftop terrace with a public garden that will float, like a mirage, 40m above ground. The idea of touching the ground lightly equally applies to the construction process. The foundation piles have been screwed rather than nailed into the ground, which has made them more stable and significantly reduced noise. The changing room and site office structure is raised on stilts to keep out of the way of the Museum Park's outdoor events.

The thickness of the curved concrete shell will vary from 55cm, to 30cm towards the top. Its ground level is being cast in situ, while the use of prefabricated elements for the upper floors will speed up the process once this is done. With a further 18 months needed to complete construction, plus another six for testing, we will have to wait until late 2019 to early 2020 for this radically new experience of the museum – and of Rotterdam itself. But it will be worth it.
INFORMATION
For more information visit the MVRDV website
Receive our daily digest of inspiration, escapism and design stories from around the world direct to your inbox