Pixel perfect: BIG unveil plans for downtown Toronto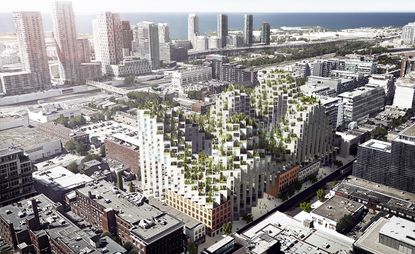 (Image credit: BIG )
Toronto's King Street West is an exciting and diverse urban neighbourhood, where one can hear dozens of languages within a few hundred metres. But so far it's failed to express the city's much lauded diversity in terms of architecture. That could change if Bjarke Ingels' latest project is realised.

The Danish architect's ambitious plans for a new mixed-use development – including a significant residential part – in the heart of the city were announced last week at Toronto's Koerner Hall.

Playing with the variegated building heights of the transitional area the site encompasses (between 469 and 539 King Street West), the conceptual design for the new project interprets the surrounding low-rises to the northwest and high-rises to the South and East through pixelated, stacked massing.

Set at a 45-degree angle from the street grid, the 'pixels' create an undulating street wall that offers a refreshing alternative to the usual tower and podium typology and respects the preserved volumes of the area's heritage buildings.

The complex's unique topography – that some have referred to as a mountainous terrain and others as a ziggurat – will offer balconies and terraces to all tenants and break up the surrounding architectural homogeneity. Alleyways will connect to an inner plaza with retail and public space, featuring a landscaped Hemlock forest to the West.


Ingels claims his inspiration for such 'community building' came from Moshe Safdie's 1967 Habitat housing project in Montreal – also a kind of prefab pixel city. But it's easy to also see influences from the works of Arthur Erickson – perhaps absorbed during Ingels' time in Vancouver – in particular his Evergreen building, which, like his Law Courts, features cascading green terraces as well as switchback-like rising tiers.

The King Street West design even recalls elements of Ingels' 2008 Mountain Dwellings apartment complex in Copenhagen, albeit with even more engagement with the streetscape and public realm. But in Toronto, his plans for 'utopian' living will be actualised not on an island or in a suburb, but like Erickson's aforementioned works, right in the heart of downtown.
INFORMATION
For more information on the project visit the BIG website (opens in new tab)