Berlin unveils a new cultural landmark designed by SPEECH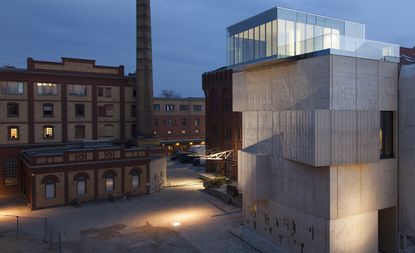 (Image credit: TBC)
Berlin's rich cultural landscape gained a new architectural feature this week in the form of a private museum, the Tchoban Foundation Museum for Architectural Drawing. Architect and owner Sergei Tchoban has built extensively in both Russia and Germany since co-founding the Russian practice SPEECH Tchoban & Kuznetsov in the 1990s.
His studio is perhaps best known for Berlin's DomAquarée hotel, with its massive foyer fish tank, and the Federation complex currently under construction in MIBC Moscow City, which is set to feature the tallest building in Europe.
With 490 sq m of exhibition and archive space, Tchoban's Berlin museum is a little more modest in size. It is located on the border between Mitte and Prenzlauer Berg in a 19th-century former brewery complex called the Pfefferberg, now best known for housing the Aedes architecture gallery.
Situated on a small sliver of land next to a firewall on the edge of the complex, it consists of a series of stacked and skewed cast-concrete boxes topped with a storey of glass, which lightens the overall aspect of the predominantly windowless façade.
Tchoban built the museum to house his extensive collection of historical architectural drawings and graphics, and to reflect this the sandy-coloured façade is covered in an ornamental relief of abstract marks that appear scratched into the surface.
The first exhibition on show, 'Piranesi's Paestum', is a fine selection of Giovanni Battista Piranesi's architectural drawings, on loan from London's Sir John Soane's Museum, which is in turn showing 'Northern Vision: Master Drawings from the Tchoban Foundation' from 21 June.
ADDRESS
Tchoban Foundation
Museum for Architectural Drawing
Christinenstraße 18 a
10119 Berlin