A series of villas in Cabo Verde synergise local craft and contemporary design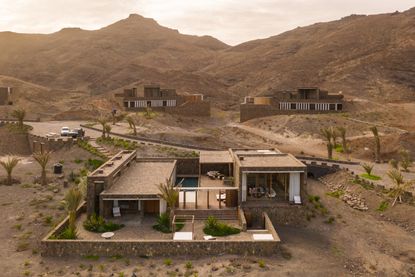 (Image credit: Francisco Nogueira)
Cabo Verde, an archipelago off the West-African coast, was unoccupied until the arrival of European colonists in 1456 – a scenery of arid and rocky hillsides that contrasts dramatically with the deep blue Atlantic ocean lapping in and out. After the Portugese settlers arrived here, they brought with them enslaved Africans, whose descendants now live scattered across these isles. Their culture, like their creole language, is a hybrid – a testament to survival and creation.

On the island of São Vicente, near the former colonial capital of Mindelo, another tour de force of creation is taking place – this time of architectural proportions. Nestled into the rocky hillsides that flank the Baia de João d'Evora, Barefoot Luxury Cabo Verde is taking shape: a hospitality project spearheaded by Serge Hannecart and Jan Talboom, that consists of 30 serviced villas, all within this unspoilt bay.

'Mindelo, is a very charming old colonial town, but also carries this tragic history', says Patrick Lootens, co-founder of POLO Architects, the local agency tasked with the design by LIFE, Hannecart's Antwerp-based real estate development company. 'It's a context that determined our way of handling this project.'
When visiting Cabo Verde, Lootens considered the fact that the bay, although only a 15-minute drive from Mindelo, was a non-built-up area. 'The last thing we wanted to construct here was this alienating type of luxury holiday enclave in a relatively poor country', he tells, 'or a development that does not respect the nature surrounding it.'

Instead, POLO Architects approached the bay with respect for its natural characteristics and its inhabitants. Key to this was their choice of materials. The villas, maximum four storeys in height, are built using raw concrete as a framework to a traditional Cabo Verdean way of erecting walls: by stacking basalt rocks dug directly out of the surrounding valley. A network of roads, also in basalt-stone, interconnects these structures. 'For this labour-intensive method, we counted on the expertise of local specialists from Santo Antao', explains Lootens, 'proving that it's possible to create contemporary structures with local techniques and typologies.'

Most of the villas' furnishings, too, were made by local craftsmen, tell Anaïs Torfs and Michiel Mertens of the Antwerp-based interior design agency Going East. 'We scoured Mindelo's markets for objects that connect these residences to their locale', they say. From shark teeth, to Awale game boards, wicker baskets and manioc mortars, the interiors – though they also incorporate Scandinavian design elements – are strewn with welcome reminders that we're on African soil.
Outside, within the villas' 'hortus conclusus', nature's forceful elements had to be taken into account, explains Lootens. Besides the island's continuous draught and the ensuing barren landscape, São Vicente is exposed to harsh winds. 'For us, it wasn't the sweeping views on the ocean that counted the most', elucidates Lootens. 'Here, strong winds travel inland from the ocean, so we wanted to provide a level of protection, and offer a dynamic experience of both the sea and the valley's landscape.' Pivoting panels made of Portugese-imported Kotibe wood do the trick, the same type of wood as is used throughout the villas.

Both Going East and Polo Architects are in unison about the synergy between Western and local that made Barefoot Luxury Cabo Verde materialize. From the woven wicker sunscreens, to the ironwork needed for the sofas, the carpentry and the masonry – 'on each level this was a work of collaboration and dialogue, in a truly constructive and amicable manner,' smiles Lootens with satisfaction. 'It's become a work of architectural ambition, founded on the last of Cabo Verde's artisans.'
INFORMATION
For more information visit the Polo Architects website (opens in new tab), the Going East website (opens in new tab) and the Barefoot Luxury website (opens in new tab)