Magical living: two architects explore the idea of habitat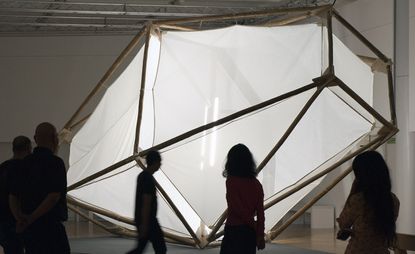 (Image credit: Photography: Graziella Antonini)
Launching this week at the Maison De La Culture Du Japon à Paris, The Magical House is an exhibition bringing together the work of two international architecture practices; Japanese studio Atelier Bow-Wow and Parisian firm Didier Fiuza Faustino.

The architects, who often explore the theme of habitation in their work, have joined forces to create a 'magical environment', presenting inventive and innovative architectural solutions through a series of speculative 'habitats'. Both practices are well known for their distinctive take on architecture and for this show, they embarked into a thorough research on living conditions in contemporary cities, the fruits of their labour is presented in the show.

Faustino's contribution, 'A Home is Not a Hole', takes the form of a polyhedral object with rounded edges. Sealed tight by a series of translucent walls, the structure doesn't have a specific function, but acts as an installation open to interpretation, possibly presenting itself as the solution to different habitation requirements, explains the architect. It could be a refuge, a cabin or a transportation method for a single person.

Atelier Bow-Wow's work is named 'Chigi House'. The Japanese team's space is conceived as a social seating area and shelter, resembling the archetypal pitched roof. Through their design the architects hope to initiate social exchange and conviviality between the exhibition's participants.

Walking into the gallery space, visitors will be plunged into dimmed, ambient lighting that will create a soft and subtle play between shadow, light, sound and silence, creating a serene and poetic atmosphere. Both exhibits are constructed from the same material: a light wood, sourced from Portugal, which will be recycled when the event draws to a close.
INFORMATION
'The Magical House' will run at the Maison De La Culture Du Japon à Paris until 30 July. For more information visit the centre's website (opens in new tab)
Photography: Graziella Antonini
ADDRESS
Maison de la culture du Japon à Paris
01 bis, quai Branly
75015 Paris
VIEW GOOGLE MAPS (opens in new tab)