New York's architecture film festival kicks off with an ode to Bauhaus visionary Moholy-Nagy
The five-day Architecture and Design Film Festival (ADFF) returns to New York City for its 11th edition, bringing its design-focused lens to the silver sceen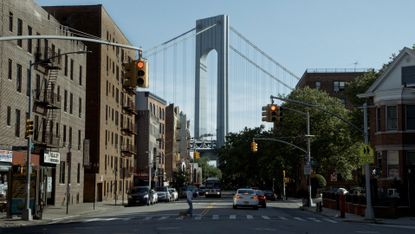 (Image credit: Press)
'It is not the person ignorant of writing, but the one ignorant of photography, who will be the illiterate of the future,' states modernist polymath László Moholy-Nagy – as performed by Hans-Ulrich Obrist – in the documentary film The New Bauhaus, directed by Alysa Nahmias. The film, which honours the movement's centenary with a close look at the seminal legacy and practice of the Bauhaus master, premiered globally at the Architecture & Design Film Festival on Wednesday night.

The New Bauhaus follows the journey of Moholy-Nagy, who founded the New Bauhaus school in Chicago in 1937, and theorised about a camera's possibilities, terming his view of making art 'Neues Sehen' (New Vision). It was this vision that played an influential role in America's embrace of modern design, and is still relevant today – ringing true in his prophetic statement above.
Fast forward to 2009, when Kyle Bergman founded the Architecture & Design Film Festival. The 21st century has seen an inseparable bond forming between architecture and the lens – sealed firmer still through popular culture (and social media) thanks to the discipline's often imposing visual impact. To Bergman, the big screen seemed the most fitting medium to transfer this multitude of messages to a multitude of architecture enthusiasts. Now in its 11th season, festivalgoers of ADFF New York have a packed programme to look forward to.

Focusing on individual architects' lives as well as wider political and socio-economic issues, ADFF touches upon a sizeable range of subjects in the following days. Some are related to architecture's role in tackling housing injustice (PUSH, by Fredrik Gertten), while some trace the immigration story of lauded and fledgling architecture professionals: the Swiss structural engineer Othmar H. Ammann in Gateways to New York by Martin Witz, and A Poetics of Living by Caroline Alder and co-directed with Damien Faure, respectively.
In Mario Botta: The Space Beyond, director Loretta Dalpozzo and Michèle Volontè travel along with the energetic Swiss architect as he continues to work on various projects at the age of 76. City Dreamers by Joseph Hillel, premiering on ADFF's closing night, sheds light on the careers and impact of four trailblazing architects – Phyllis Lambert, Blanch Lemco van Ginkel, Cornelia Hahn Oberlander and Denise Scott Brown – who all too often found themselves to be the only women in the room.

As well as films, expect i



ntimate post-film discussions with the films' subjects, directors and architects who inspired them. Beyond the movie screen you'll also find tours and walks across New York City on the festival's programme, offering a uniquely cinematic insight into architecture and design. Take your camera along too – you better follow Moholy-Nagy's advice.
A taster of The New Bauhaus – featuring quotes by László Moholy-Nagy set to atmospheric music and cinematic shots
INFORMATION
ADFF runs from 16 –20 October, at Cinépolis Chelsea
adfilmfest.com (opens in new tab)