Architects Directory 2020: Tropical Space, Vietnam
ove a shop) and giving it a contemporary twist, Cuckoo House is a home for a family of four, situated on top of a coffee shop in Da Nang, Vietnam. It also represents perfectly the approach and sensibilities of its creators, Ho Chi Minh City-based practice Tropical Space. The studio, founded in 2012 by architects Trần Thị Ngụ Ngôn and Nguyễn Hải Long, responds to culture and climWorking with the typical Southeast Asian typology of the shophouse (a house abate in their designs, aiming to create spaces that reflect the users' needs. In Cuckoo House, this involved composing three sculptural brick volumes placed on top of a rectangular base – each hosting different functions. Open areas link the different wings, uniting indoors and outdoors and allowing the breeze to flow in and cool the interior down during the tropical summer months.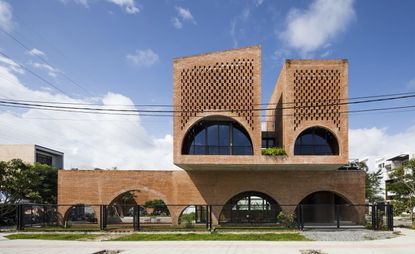 (Image credit: Oki Hiroyuki)
Ho Chi Minh City, formerly known as Saigon, is located on Vietnam's south-eastern most tip of the country where the Gulf of Thailand converges with the South China Sea. Cuckoo House is one of the city's most subtly radical buildings, also created with an intersection at its core.

This family home was designed by architects Nguyễn Hải Long and Trần Thị Ngụ Ngôn, both alumni the University of Architecture HCMC and co-founders of the aptly named practice Tropical Space which opened its doors in 2011. As unusual a dwelling for a family as it may appear, the building is reflective of their design practices.

'Everything starts with a response to the local climate and mitigating the effects of climate change by using sustainable and available materials, cost-efficiency and energy-efficiency,' says Trần Thị Ngụ 'Initially, these are practical design choices but our style of architecture is inspired by sculptural forms and simple shapes,' says Nguyễn Hải Long. Cuckoo House is designed to intentionally coax family members out of traditionally delineated rooms and spend more time in communal areas, outside and inside, together.
MORE FROM WALLPAPER* ARCHITECTS DIRECTORY 2020 (opens in new tab)
Modelled on the region's traditional shophouse (a house above a shop), the base of the house is a coffee shop, with a walled area containing an outdoor garden and communal public space. A central raised bed garden is planted in a long rectangular concrete island, which doubles as a verdant seating spot for guests.

On top of this, forming the family home are three independent blocks linked by an outside walk way. The construction appears to have been placed perfectly perpendicular onto the foundations, as if lowered on top by a giant crane. These blocks include a two-level master bedroom with bathroom and walk-in closet; a kitchen-dining space; and a two-storey living space with children's bedrooms. Elliptical half-moon windows mirror the archways of the walled coffee shop and garden downstairs. This motif extends to the wooden-shuttered windows and a large set of curved wooden external doors as the entrance to the living room.

An elevated terraced garden offers welcome private outside space at the back of the house. The lattice brickwork, in addition to the clever placement of the buildings, allows a cooling breeze to flow through the house during humid tropical summers. 'We think that a house contains a unit of society,' the architects say. 'It is the initial idea of living style and relationship between human and environment. Designing a house always brings us an abundance of inspiration.'
INFORMATION
tropicalspaceil.com (opens in new tab)
Tilly is a British writer, editor and digital consultant based in New York, covering luxury fashion, jewellery, design, culture, art, travel, wellness and more. An alumna of Central Saint Martins, she is Contributing Editor for Wallpaper* and has interviewed a cross section of design legends including Sir David Adjaye, Samuel Ross, Pamela Shamshiri and Piet Oudolf for the magazine.
With contributions from