Architect-designed prefabs to collect, courtesy of Wallpaper* and entrepreneur Robbie Antonio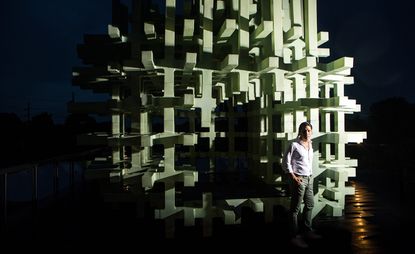 (Image credit: Geric Cruz)
Palloon, by J Mayer H (opens in new tab): The Palloon relaxation pavilion is formed from an interlocking lattice of structural elements, arranged around a seating niche. J Mayer H has designed it to be an inhabitable sculpture.
The very first Wallpaper* House was revealed back in issue 30, designed by Swedish architects Natasha Racki and Håkan Widjedal. Inspired by the sleek simplicity of the American Case Study House programme and set in the modest, secluded beauty of a Swedish archipelago, the design marked the start of our ongoing obsession with the perfect space. Over the next 16 years, we returned again and again to the ideal of the dream house, briefing architects, building prototypes and exhibiting ideas that embodied the Wallpaper* ethos.

Now, we're finally bringing those visions to life. Revolution is a company casting its net wide among the global architectural community, reeling in designers of all churches in the hope of striking it lucky in the nascent designer-prefab market. Armed with blueprints prepared by some of the world's most celebrated architects, Revolution aims to reinvent home-buying, presenting private clients and big developers alike with a portfolio of striking residences that fuse low build effort with high design.
Vertical Prefab House, by AFGH (opens in new tab): Andreas Fuhrimann Gabrielle Hächler Architekten created its 'vertical' prefab to be installed on any site, with a scalable system of columns and floors that allows multiple units to be stacked up, depending on the application. The single, standalone unit has either an internal or external stair and storage space below
Robbie Antonio set up Revolution in 2015. The Philippines-based property entrepreneur learned his craft in the family business, Century Properties, where big brands were spliced with system-built tall towers to create megastructures that ticked all the boxes for a label-hungry local market. Revolution is rather more down to earth, with an increased emphasis on the importance of good design and diverse contributors from all four corners of the earth. To date, Antonio has secured residential concepts from Marcel Wanders, Marmol Radziner, Tom Dixon and Fernando Romero, among others.

Antonio also plays a prominent role in the international art market, almost entirely on his own terms and to his own preferences. Revolution is part construction company and part global art installation, very much in keeping with Antonio's own approach to collecting. In an upscale district of Manila, hidden behind the black facade of his OMA-designed villa (known as Stealth), is a vast art collection largely containing portraits of the patron himself.
Piazza d'Italia, by Mario Bellini (opens in new tab): The legendary Italian designer channelled Giorgio de Chirico with his geometrically precise arrangement of volumes.
This enthusiasm for art is one of the reasons why Antonio's project has, from the outset, mixed structures for living with structures for pure contemplation. While Wanders et al have been tasked with creating places to live, Revolution is also building elegant prefabricated pavilions for the collectors' market. Think of these as akin to the Serpentine's annual architect-driven projects, albeit compacted for (slightly more) modest domestic tastes. Designs include a spherical structure by Sou Fujimoto, a metallic tree-shaped dining pavilion by the late Zaha Hadid with Patrik Schumacher, a mesh of interlocking forms by Kengo Kuma and a cone of bentwood ribbons by Ron Arad. Ben van Berkel and the Campana Brothers have also contributed.

Here's where Wallpaper* comes in. Our black book of designer names grows by the issue, but over the years we've yearned to see how some of our favourite designers might respond to a real-world commission. The basic idea was straightforward: invite a select group of architects to design a compact house with prefabricated elements for transportation and construction anywhere in the world. 'Wallpaper* is a leading tastemaker and source for high design,' says Antonio. 'We partnered to combine our expertise in order to create a product that is representative of Revolution's trailblazing creativity.'
Intended as an inhabitable still life, Bellini's prefab divides living spaces into a series of individual, discrete zones, each arranged around a central 'cone' that provides privacy, ventilation and light
One result of Wallpaper's curation is J Mayer H's Diago home, a high-tech steel sandwich that makes a virtue of its flowing structural frame, with living spaces enveloped in a ribbon of glazing. Practice founder Jürgen Mayer H describes it as a 'home that becomes a light, open place that fuses inside and outside, somewhere you can enjoy the dynamics of nature'. J Mayer H has also created Palloon, a pavilion with a three-dimensional lattice of beams, which the architect describes as 'something like a hideout in a thicket'. The prototype sits atop Antonio's house in Manila, showcasing the 'go anywhere' application of Revolution's pavilion programme.

As well as bringing J Mayer H on board, Wallpaper* is developing schemes with other collaborators, allowing Antonio to shape the top-level branding and infrastructure so that innovative ideas can percolate through the industry. 'Wallpaper* is the premier global design magazine, so we asked it to curate a selection of names it thought would be appropriate for this initiative,' he says.
Modular Living Unit, by Paulo Mendes da Rocha and Metro Arquitetos (opens in new tab): Inspired by the idea of small-scale prefab 'transformations', Mendes da Rocha and Metro developed a modular steel system with lightweight concrete infill panels, allowing installation by hand
Other Wallpaper* prototypes in the works include Matilda by Studio Fuksas and Sphere of Influence and Piazza d'Italia by Mario Bellini, while Smiljan Radic has created Shehouse 2, a curtained platform surrounded by glass. Legendary Brazilian architect Paulo Mendes da Rocha is working alongside regular collaborator Metro Arquitetos to exploit the potential of lightweight concrete construction. In Europe, Wallpaper* approached Swiss studio AFGH to find new ways of squeezing a superbly crafted, flexible structure into the dimensions of a standard shipping container. In the UK, Nigel Coates has been working on his Aerofab concept, while negotiations are ongoing with Atelier Bow-Wow in Tokyo and Amateur Architecture Studio in China. Founded by Wang Shu and Lu Wenyu, Amateur is exploring how to turn local skills and materials into a globally adoptable design.

'Robbie Antonio is not only a developer but also an art collector,' says Massimiliano Fuksas. 'And Matilda is a house but also a piece of art, a new concept of habitat. It's a mobile home that can be anywhere in the world, and it's a modular unit so that many of them can be added together, like a cloud. It can even be a city.'

Mendes da Rocha and Metro's scalable structures can be arranged in almost infinite ways
The intersecting hexagonal forms of Studio Fuksas' concept create a fluid interior space across a number of levels. Built-in appliances and a variety of finishes, depending on the level of spec, make Matilda a compact solution for expansive living on a small plot. 'Nowadays we don't need so much storage space – you just need to have a screen,' the architect says. 'The only  important thing is to have a nice place to eat, to sit and to sleep. But this can also be done with something you close when you don't need it.' Fuksas believes his design could be a primary residenceas well as an extracurricular space – 'a guest cottage, home office, artist's studio, or as a second home in a city or rural setting'.

Metro's Martin Corullon is working with Paulo Mendes da Rocha on an expandable frame-based scheme, with 'small pieces that can be carried and installed by hand'. 'One of the important features is the decks that protect from sound and provide a hybrid inside-outside space – a buffer zone, very characteristic of tropical architecture,' Corullon says. Meanwhile, Amateur Architecture Studio's approach is to distil the requirements of space, fabrication and transportation into something that merges local craft with factory manufacturing. 'Traditional residential buildings in Hangzhou are full of wisdom on low cost, prefabrication and assembly,' says Lu Wenyu. Her studio has used a 3m x 1.5m grid to form a live-work space that can adapt to almost any circumstance. 'Architects need to have a special collaboration with the craftsmen,' she says, mindful of the importance of pure flexibility within a standardised design.
Matilda, by Studio Fuksas (opens in new tab): This dramatic home by Massimiliano and Doriana Fuksas was developed to be dropped into almost any kind of site and habitat, from urban plots to open landscapes. The twin volumes can interlock in a variety of combinations and scales, with structural wood panels forming generous interior spaces that redefine the idea of prefabricated living
Nigel Coates' Aerofab is an industrially produced house that tries to transcend the 'overtly temporary character and little sense of place' evinced by conventional prefab design. 'Aerofab emphasises architectural "weight" while providing open, flexible, modern living space,' Coates says, explaining how the living spaces are arranged around a hefty central 'wall' element. And Mario Bellini's design has evolved from a spherical, polished-steel pavilion into a house intended as a retreat from an angular world.

For now, Revolution is targeted primarily at developers, especially in the burgeoning Far Eastern market. But economies of scale could mean consumer sales in the future. 'I wanted to do something global and it's hard to transport towers, so I investigated the prefab industry,' says Antonio, matter- of-factly. He cites previous successful collaborations with Armani, Versace, Missoni and Hermès in Asia, and believes the housing market is ripe for this combination of big names and convenience.
Aerofab, by Nigel Coates (opens in new tab): Building on previous small-scale living concepts, Nigel Coates has created 'Aerofab', a mass-produced house with the weight and solidity of a conventionally built one. With twin wings arranged around a central service core, the structure is formed from just a few prefabricated elements
Revolution is in it for the long haul, identifying sites and collaborators for much larger schemes ahead. 'I'm planning to put pavilions into developers' master plans,' says Antonio. 'We can develop hotel villas and art parks, both in the Philippines and elsewhere.' Prefab's potential has always been constrained by its profile. Revolution is pairing the creative industries with creative construction, with Wallpaper* helping to curate a fresh approach.

'People crave extraordinary architecture and we provide this in an accessible format,' Antonio says. 'Architecture is a fine art and these objects exemplify the artistry involved with the discipline.' Life, art and design might still come together just as Wallpaper* imagined all those years ago.

As originally featured in the December 2016 issue of Wallpaper* (W*213)
INFORMATION
For more information, visit the Revolution website (opens in new tab)
Jonathan Bell has written for Wallpaper* magazine since 1999, covering everything from architecture and transport design to books, tech and graphic design. He is now the magazine's Transport and Technology Editor. Jonathan has written and edited 15 books, including Concept Car Design, 21st Century House, and The New Modern House. He is also the host of Wallpaper's first podcast.