Flexible tiny house by Beatrice Bonzanigo presents infinite opportunities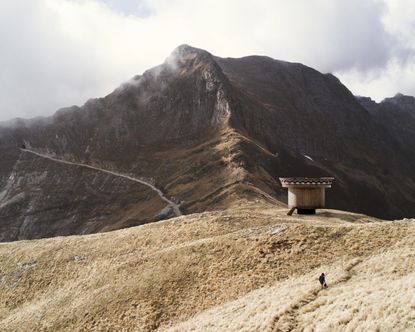 (Image credit: Beatrice Bonzanigo)
Escaping from Italian bureaucracy into the open spaces of Argentina's untouched landscapes, architect Beatrice Bonzanigo of IB Studio was inspired to design Casa Ojalá: a circular house prototype with endless possibilities. Her concept for the small 27 sq m home rethinks living and architecture from the ground up with the priorities of flexibility and sustainability.

'Little pre-fab houses are exploding around the world. My concept is small and sustainable like many others, yet it has enormous flexibility. It's a bit like a sailing boat, it can be configured in 500 different combinations with the modern mechanical system and you can make the walls disappear,' summarises Bonzanigo.

Casa Ojalá was initially designed as a holiday cabin that could place travellers in idyllic landscapes, yet soon it evolved into something even more flexible and open: 'I travelled a lot in South America, around Argentina especially which I love, where you find these enormous empty landscapes, but you have to go back to the cities to sleep. I felt like I wanted to stay there longer, day and night, so I created something that could respect those places with materials and also disappear – I didn't want to create something arrogant. So it was born there, but then I realized it can be everywhere.'
The design is equipped with everything you may need for a holiday or a longer stay, along with warmth and personality too. It has two bedrooms, one double and one single, a bathroom, kitchenette, living room and terrace. 'The main idea was to be able to live in nature, and in the meantime feel at home with every type of comfort like heating, bath, a terrace and privacy,' says Bonzanigo.

Space is at a minimum, yet every inch of it has been considered and the whole concept is responsive to its USP, flexibility. The circular shape of the house is integral to Casa Ojalá as it enables the spaces to be divided into slices, each always connecting to the facilities of the central core. While, at the exterior, the curves rungs make the flexibility of moving the walls so easy.
The clever mechanical push and pull system that operates the walls and interior furniture has been designed to be sensitive to every inhabitant's whim – so smooth and seamless that you could adjust your house according to your mood, the weather, or the activity you were doing – 'Every few minutes you can decide whether to have an open living room or an enormous bathroom.'

A double bed lies just below the floor ready to be slid open at the end of the day, the toilet can be totally hidden with a swipe, and storage and cabinets can recess into the base of the house. It is also adaptable to climate and environment: 'You can add some gadgets, like a swing or hammock, and also some more practical things, a third layer outside which is a mosquito net.'
It was this high flexibility of the design that distinguished her design from all the others, making it so unique that Bonzanigo was granted a patent for Casa Ojalá: 'Residential building with high flexibility' is the title of the patent, offering 'more than 1,000 interior solutions working in synchrony without ever changing the original structure and shape'.

'When the lawyers helped me with the patent, they had to do an international screening to see if something like this already existed. The only similar level of flexibility was found in California in 1972, within a house designed by Paul Hanna, one of the biggest clients of Frank Lloyd Wright. His house is triangle but it also had the base and central stem. The flexibility was less, but you could move these triangles to close it and inside there was another triangle wall that could be moved.'

As well as the mechanical system that Bonzanigo worked on with a team on engineers, the materials are integral to the flexibility. The exterior walls are made of Wood-Skin, a flexible timber that can roll up designed by a group of Milan-based designers, which gains its flexibility through a series of vertical cuts in the material – another proudly patented invention.

Yet the materials are not site-specific, and Casa Ojalá has been designed to be built using locally sourced materials. The plan is that IB Studio would provide the core structure – the concrete base and mechanic system, yet everything else, the water collecting system, cistern, solar panels, water pump, textiles and wood – would be fabricated locally with a template and building manual.
The design therefore also retains a material aesthetic local to its context, and the type of timber and textiles will reflect the unique culture of place. In the exhibition, Bonzanigo displayed hanging textiles from Thailand, Africa, Guatemala and India, each with totally different patterns, techniques and histories showing the potential for expressing culture and difference through a replicable prototype. While Bonzanigo chose a variety of landscapes and climates in her imagined renders, where in each one Casa Ojalá looks at home.

The prototype has opened up even more possibilities, this time, much closer to home in Milan: 'Here in Italy, there are a lot of bureaucracy issues with building and enlarging properties. I found out that as Casa Ojalá doesn't have walls, it isn't classified as a 'volume' so the only permit it would need is one for an underground cistern. It's just two platforms.'

The concrete base is shaped as a 'chakana' – an ancient Inca symbol that describes the time, place and axis of the earth. And from this concrete shape, grows Casa Ojalá: 'The Spanish word ojalá doesn't have an English or Italian translation,' says Bonzanigo. 'It's a very full word, an existential and infinite possibility.'

During Milan Design Week, Bonzanigo launched a 'waiting list' which is growing still, and soon she will decide how to move forwards with her prototype.
INFORMATION
The Casa Ojalá protoype was on display at Galleria Post Design during Milan Design Week. For more information, visit the IB Studio website (opens in new tab)
Harriet Thorpe is a writer, journalist and editor covering architecture, design and culture, with particular interest in sustainability, 20th-century architecture and community. After studying History of Art at the School of Oriental and African Studies (SOAS) and Journalism at City University in London, she developed her interest in architecture working at Wallpaper* magazine and today contributes to Wallpaper*, The World of Interiors and Icon magazine, amongst other titles. She is author of The Sustainable City (2022, Hoxton Mini Press), a book about sustainable architecture in London, and the Modern Cambridge Map (2023, Blue Crow Media), a map of 20th-century architecture in Cambridge, the city where she grew up.