Aalto2 Museum Centre opens, fulfilling Alvar Aalto's vision in Jyväskylä
The Aalto2 Museum Centre opens, connecting the Alvar Aalto Museum and the Museum of Central Finland in Jyväskylä, the legendary Finnish architect's home town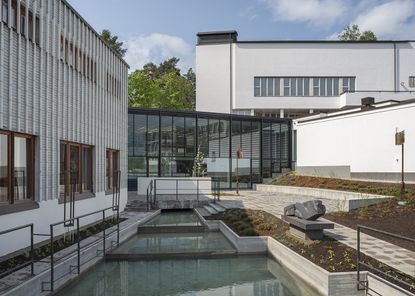 (Image credit: Maija Holma, courtesy Alvar Aalto Foundation )
Wallpaper* Newsletter
Receive our daily digest of inspiration, escapism and design stories from around the world direct to your inbox
Thank you for signing up to Wallpaper. You will receive a verification email shortly.
There was a problem. Please refresh the page and try again.
The Aalto2 Museum Centre is the latest addition to Jyväskylä's rich cultural offering. It was there that legendary Finnish modernist architecture master Alvar Aalto (1898–1976) created the Museum of Central Finland (completed in 1961, and later thrice renovated) and the Alvar Aalto Museum (1971-73), standing next to each other, representing his 'white' era. Now, Aalto2 is set to further articulate the architect's powerful creative vision, connecting the two adjacent structures.
Jyväskylä, 270km north of Helsinki, is Aalto's home town, and a must-see destination for architecture, design and culture enthusiasts, as it is also home to the largest number of Aalto-designed buildings in the world. There are 29 in total, including the Säynätsalo Town Hall (1949-52), the University of Jyväskylä (1951-71), Muurame Church (1926-29), Jyvaskyla Worker's Club (1924-25), and Muuratsalo Experimental House (1952-54). Meanwhile, his otherworldly Finnish Pavilion at the 1939 World's Fair was hailed as the 'work of genius' by Frank Lloyd Wright.
Aalto2 Museum Centre: a vision fulfilled
Aalto2 fulfills Aalto's wish of creating a forum to showcase a variety of art forms. In fact, in his first proposal for the Jyväskylä Art Museum (later the Alvar Aalto Museum), he envisioned a connecting corridor between the two neighbouring institutions, as evidenced in a 1971 drawing.
The extension design that opened to the public this week was created by Helsinki-based A-Konsultit Architects (also behind the renovation of both museums). It has turned the gap with a geometric pool and landscaped garden between the museums into a courtyard. Courtyards became Aalto's signature element after he saw people socialising in piazzas in small Italian villages. Behind the extension is another newly created small outdoor gathering space with rectangular stone benches for various activities, such as school children's meetings.
The interior is a clean, white open space with straight lines seamlessly fusing the two museums on both ends. Its functionalities are multilayered and enhance the visitor experience. It improves accessibility to both museums, and houses the gift shop, the café-restaurant, and the space for events with a wide staircase doubling as an amphitheatre-like seating (another Aalto signature feature inspired by the ancient Greek theatre of Pergamon).
Visitors to Aalto2 are treated to three new exhibitions. The opening show of Aalto2, 'World Heritage – Human Traces', jointly produced by the two museums, is a grand tour of tangible and intangible heritage, accompanied by photos and detailed descriptions. It consists of five sub-exhibitions: World Heritage, Celebrities, Finnish Sauna Culture, Finland and the World, and The Moderns, each diving into its theme. It was curated and designed by the Finnish-Spanish architectural duo Anna and Eugeni Bach.
The permanent exhibition of the Museum of Central Finland, a regional cultural history museum, 'Exploring Central Finland', takes visitors on a journey across the rich, unique spirit of Central Finland from prehistoric times to this day, with objects to see, memories to listen to, a film to watch, and more. One of the highlights is a working jukebox from the 1960s.
The new permanent exhibition at the Alvar Aalto Museum, 'AALTO – Work and Life', presents the architect's body of work through his philosophy, drawings, materials, processes, models and end-results.
The show also highlights works by his wives and collaborators, Aino Aalto (1894–1949) and Elissa Aalto (1922–94); as well as vital collaborators such as Otto Korhonen, a carpenter and factory owner from 1920s, for furniture; Viljo Hirvonen, a metalsmith master electrician from 1950s, for lighting fixtures; and ceramics companies like Kupittaa Clay and Arabia Ceramic Factory for tiles. Mari Murtoniemi, chief curator of the Alvar Aalto Museum, said: 'Aalto was a designer, and absolutely needed the talents and skills of those material experts to realise his designs.'
The exhibition also showcases, for the first time in the museum's history, illustrations and book cover designs from the architect's 1920s. These supplemented his income while he was building up his architecture commissions.
Aalto believed that architecture and good design can solve problems in human life and society, as it is the architect's duty to serve the everyday, and us all. This democratic design principle helped Finland lift its peoples' spirits and face the daily realities of life after a series of wars since the country's independence in 1917. This principle is amplified in Aalto2 as it welcomes everyone of any age and background to immerse themselves in its well-curated, multifaceted programme of exhibitions and events.
Aalto2 is part of the 125th anniversary celebrations commemorating Alvar Aalto's birth.
Receive our daily digest of inspiration, escapism and design stories from around the world direct to your inbox
Naomi Moriyama is a contributing writer for Wallpaper*. She is co-author of 'The Sisterhood of the Enchanted Forest: Sustenance, Wisdom & Awakening in Finland's Karelia,' which explains, through personal journeys, how connections to nature and democratic design principles have helped make Finland the world's happiest nation. She also co-authored three books on the health benefits of traditional Japanese foods. Naomi is a Tokyo-born New Yorker who spends much time in Helsinki.