Weissense School of Art
September: The Results
The concepts that were created out of Berlin's Weissensee School of Art focused heavily on new forms of personal and public transportation. Student designs included the MONO, a sculpted three-wheeler for a single commuter, to the Vertigo concept for a small city car that can be racked up in stackable parking spaces. The 'i rise up' concept features a collapsible wheelbase that enables the car to take up less space when it comes to finding a tight parking spot, while the VIO is a box on wheels, eschewing all conventional car design traits to make the most practical and space efficient way of person transit. The small-format BMW bus design takes the company's design language and applies it to public transportation, bringing long-established brand values and expertise into an undervalued sector. Student designs went beyond new car form factors to also examine interior design, information technology and car ownership and ride-sharing. Designs explored how steering wheel and systems displays would evolve, together with the role of smartphone connectivity and innovative design in steering social attitudes towards a long-term pattern of change.
Berlin
Website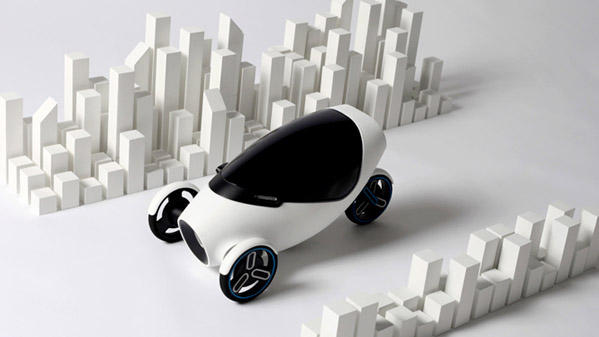 August: The Development
The 11-strong student team from Berlin's Weissensee School of Art, working under tutor and architect Niklas Galler, continued to examine the form factors that would determine the road transportation of tomorrow, honing their designs and studying every aspect of road use, from journey length to the need to park, communicate, share information and space with other road users. BMW i designer Kai Langer oversaw a design workshop with the students, helping direct and shape their research. Using BMW's existing brand as a starting point, the students sketched up eight concept vehicles, ranging from one-person tricycles to city buses.
Boxing clever in Berlin: Weissensee School of Art students
explore new typologies for urban transport. Part 2
June: The Research
The 11 students in the team from Berlin's Weissensee School of Art, overseen by lecturer and architect Niklas Galler, analysed the way their city and its inhabitants approached personal transportation. The initial findings have focused on access rather than ownership. 'Future customers do not have to choose mobility modes by purchasing vehicles,' says Galler, who leads Berlin-based studio nr21 Design, explaining that the wide range of necessary options, from single, one-person trips to family holidays or object moving will always be a part of everyday life. 'Vehicle sharing concepts will influence future vehicle technologies and structures, as well as the material choice,' says Galler, and the students have been exploring ways in which connectivity, communications and interiors will evolve to deal with the broad demands of society. Preliminary ideas range from concepts for ultra lightweight single-person vehicles through to emerging service providers offering a portfolio of vehicles of differing sizes and abilities. The concepts will build on existing technology and accelerating consumer demand, creating a 'radical and consistent response to the ongoing debate of future mobility.'
Boxing clever in Berlin: Weissensee School of Art students want to expand
inner city functionalism.
April: The Brief
Berlin's School of Art and Design Berlin Weissense is one of the city's preeminent institutions, founded partly from the ashes of the Bauhaus but also hugely influenced by the directorship of the architect Mart Stam. Restructured in the reunification era, the KHB now sits at the heart of a city with a recent history of constant change. Niklas Galler, who heads up Berlin-based nr21 Design, is also a lecturer at the KHB. His involvement with the BMW Neighbourhoods project will focus on the evolution and demand for all forms of urban mobility. 'How do we move from A to B in the future?', he asks, 'How do vehicle archetypes develop when there is a change of structural demands?'. Using Berlin as a canvas for new ideas, KHB's collaboration with Wallpaper* and BMW is a testbed for site-specific mobility, an exploration of a reinvented city in search of new challenges.
Students of Weissensee School of Art, Berlin explore Berlin