Van Cleef & Arpels brings the myths of the Black Forest to life in its high jewellery
The Grand Tour inspires the new Van Cleef & Arpels high jewellery collection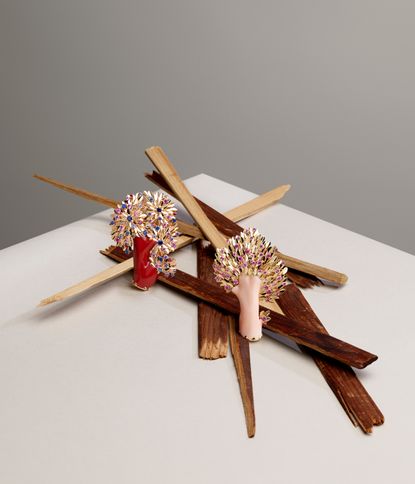 (Image credit: Philippe Lacombe)
Wallpaper* Newsletter
Receive our daily digest of inspiration, escapism and design stories from around the world direct to your inbox
Thank you for signing up to Wallpaper. You will receive a verification email shortly.
There was a problem. Please refresh the page and try again.
For around 250 years, undertaking a Grand Tour was considered the pinnacle of good taste, intellectual curiosity and artistic learning. Embarked upon by young aristocratic types throughout the 16th to 19th centuries, this round-trip of Europe, sometimes taking years, saw a decline in popularity with the advent of accessible rail and sea travel. Yet we can always take our own version of the trip vicariously, through the Florence of Merchant Ivory's A Room with a View, the Lake Geneva of Mary Shelley's Frankenstein, and the Versailles of whichever Marie-Antoinette biopic you happen to love most.
For its latest high jewellery collection, Le Grand Tour, French jewellery house Van Cleef & Arpels is celebrating the romance of this cultural excursion. Naturally, the art-packed cities of Italy are a key reference – the turquoise-rich 'Chant des Gondoliers' necklace, from the Venice suite, needs no explanation, while central to the 'Laurier Impérial' clip, from the Rome suite, is a third-century intaglio sapphire portrait of emperor Caracalla. But it was the tinkling gold leaves of the 'Feuillage Mystique' and 'Feuillage Enchanté' pins, with their menacing air of Grimms' fairy tales, that really drew us in. Part of the Baden-Baden suite, their yellow and rose gold leaves are meticulously formed like marquise-shape gemstones, radiating with pink and blue sapphire buds, while the substantial angel-skin and red coral trunks are carefully honed and polished from their original, organic forms.
The house's decision to stop off at the lesser-known Grand Tour destination of Baden-Baden highlights the importance of the German spa town in bringing a different point of view to the collection, focusing not on the towering achievements of classical columns, awe-inspiring artworks and grand palaces, but something more esoteric – folkore. The 'healing' waters of the city's natural thermal baths, the 'magic' flowers in traditional festival crowns, and the myths and legends of the Black Forest are celebrated in a mesmerising suite of jewels, some of which reference Baden-Baden's ancient willow, birch, oak and linden trees, particularly those that form a serene presence around the city's fabled Lichtenthal Abbey.
'We still travel to widen our perspectives, in a quest for experiences and encounters,' says Van Cleef & Arpels president and CEO Nicolas Bos. 'With Le Grand Tour, we took inspiration from Roman, Etruscan, medieval and Renaissance antique jewellery, marrying it with our own heritage, style and craftsmanship to create enchanted souvenirs.'
This article appears in the October 2023 issue of Wallpaper*, available in print, on the Wallpaper* app on Apple iOS, and to subscribers of Apple News +. Subscribe to Wallpaper* today
Receive our daily digest of inspiration, escapism and design stories from around the world direct to your inbox