What's in the box?: London smitten by Tiffany's New York Minute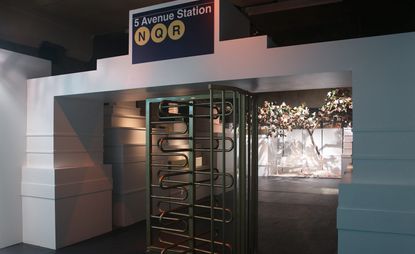 (Image credit: press)
It takes chutzpah to unravel the classic codes that your brand is built on and reform them as something new. Especially if you happen to be Tiffany & Co, a name synonymous with a box in a colour that no-one else can replicate – the famous bird's-egg blue has its own Pantone reference (PMS number 1837).

But the New York fine jeweller's installation 'Fifth & 57th' – currently on show at the Old Selfridges Hotel, a dilapidated, industrial space to the rear of the eponymous London department store – does just that. Naturally, the famed Tiffany box is the pivot around which this temporary immersive exhibition revolves but in a delightfully witty move, it has been stripped of the colour that is one of the most distinguishable calling cards of all time.

Instead, towers of hundreds of pristine-white architectural square boxes represent New York's Deco cityscape. This orderly melange forms a backdrop for a brilliantly noisy video installation capturing the flavour of a typical Fifth Avenue day, from sunrise to sunset, played on a 13-minute loop. So, rather than the blue box representing the glamour of New York, the city itself becomes a reflection of the famed luxury house that was established on the corner of Fifth & 57th in 1837 (hence that bespoke Pantone reference).

This smidgeon of subversive humour goes a long way to making 'Fifth & 57th' a richer visitor experience, providing the element of surprise that can do much to bring over 100 years of heritage to life. But of course, this is not just any history, this is New York history – Tiffany style. And so all this abstract thinking must be tempered by the sweetness of romance.

Hence, a stroll down the 'Avenue' is designed to reassure visitors with classic notions of NYC: a pretzel and coffee cart; a secluded bench in Central Park, where a smitten lover might pop the question under the boughs of a perfectly pink magnolia; Charlie's Bar – a speakeasy humming with low chatter, laughter and smoky jazz.

The house's formidable design heritage is also celebrated. A master engraver is installed in his studio on site, referencing Tiffany's reputation for decorative silver and expert craft techniques. And a homage to the genius of the late, great designer Gene Moore – who, for 40 years (until 1994) beguiled millions of passers-by to take a closer look into Tiffany's windows by way of his beautifully intriguing displays – is an unexpected delight.

'Fifth & 57th' is in keeping with the current trend for luxury houses to bring their heritage to life but none has done it with quite so much humour and sass as Tiffany & Co has here. Now we all know what is really inside that Little Blue Box.
ADDRESS
Old Selfridges Hotel
1 Orchard Street
London, W1H 6HQ
VIEW GOOGLE MAPS (opens in new tab)