Watchmakers on the concept of time
As the world continues to pause, watchmakers tell us how the meaning of time has changed for them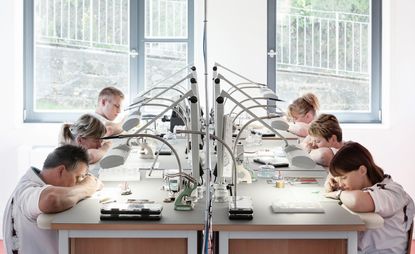 (Image credit: press)
Whether worldwide circumstances have gifted an abundance of time, or a severe lack of it, no-one has felt the shifting of time's meaning more keenly than watchmakers. In an industry where precision is paramount and every millisecond accounted for, watchmakers are having to look at time very differently. Here, they tell us what they are doing with the time, now, on their hands.
Adrian Bosshard, CEO, Rado
'Under normal circumstances, I would have travelled a lot over these past few months. Having joined Rado last summer, after working 24 years for other brands in the Swatch Group, I have used the time to get to know the Rado headquarters and the teams in Lengnau. Together as a team, we used this calmer time to reflect, be creative and to develop new products and enhance existing ones with the goal to surprise and enchant our customers worldwide. I'm convinced that watch lovers will be positively surprised about the outcome…'
Marie-Laure Cerede, watchmaking creation director, Cartier
'Cartier time has always been the sacred time of aesthetics. The objects we are creating symbolise the transcendence of time, of being suspended in aesthetic meditation, which becomes essential in this confined moment. Our watches are not defined by their sole function. That is why I rather like to speak more about objects of time than about watches. A Cartier creation is a signature in a single stroke, made by hand: a gesture of movement, devoted to everlasting beauty.'
François-Henry Bennahmias, CEO, Audemars Piguet
'The crisis has offered us a rare opportunity to pause and think, together. This difficult period has not only forced us to adapt and collaborate differently, but it has also spurred our creativity in many different ways. In the 18th and 19th centuries, our ancestors in the Vallée de Joux crafted fine mechanical watches in the confines of their homes during the long winter months which isolated them from the rest of the world. Their seasonal confinement brought remarkable creations to life. Let's hope the same happens in the months to come!'
Philippe Delhotal, creation and style director, Hermès Horloger
'When I see the news online, I feel lucky. I feel blessed that my family are healthy and safe, which matters to me above all. Of course there was a sudden change in all of our daily lives, which has obliged us to organise our time differently. Working from home has meant no loss of time from going from one place to another or on a plane. I feel that we're more efficient, focusing more immediately on the essential. I have tried to use my knowledge to help outside the house, wherever possible, supporting friends' children with their design studies, and also delivering food for some of our elderly neighbours during this period.

I can see the time passing by during the day, which I always found impossible in the past. We spend more time with our family yet that time is even more precious, despite there seeming to be more of it. However if this situation would last, I would miss colleagues and friends. We can achieve a lot through Skype or phone calls but I miss the genuine contact that comes through the eyes, body language and facial expression. I am filling my time with more exercise, reading more books, cooking and spending more time with my family. But this is all about finding the right balance between the previous situation and that of today. No situation is ever perfect but we shall probably draw conclusions from this experience to take forward into life after the situation has passed.'
Maximilian Büsser, owner and creative director, MB&F
'The world has gone into a spin and we have no idea where, how and when it will stop. This has hindered any long or medium-term planning. So is it with our time management. Before, we had dedicated time for work and for family/play. We are left now with no such boundaries. Agility has become the game-changer. Forget your previous life, ways, structure. Welcome to the world of improvisation!'
Ricardo uadalupe, CEO, Hublot
'The confinement has definitively changed timing in everybody's life. For two months now, I have taken the time to read, time to walk in the forest, time to think, time to cook … as well as time to reinvent myself.'
Karl-Friedrich Scheufele, co-president, Chopard
'In this particular period, my life credo became even more meaningful: 'Time is what you make of it.' Indeed, over the last weeks, I have discovered a different relation to time. The fact that I use the home office, spend less time on the road, no longer travel and have no last minute physical meetings enables me to 'gain time' and better control my agenda. Being physically confined to a small number of places offers valuable moments to pause and reflect in depth on personal or professional projects.

Living at a less frantic pace also provides opportunities for more quality interactions with my family. So despite the fact that we are unquestionably going through a very challenging period, the past few weeks have nevertheless given us something very precious in itself: more time to focus on essential matters.'
Christian Knoop, creative director, IWC
'I can't remember not travelling for six weeks in a row during the last ten years. You lack exchanges, distraction, but also inspiration. However, this period lets you focus on the projects that matter most. At IWC, we have a very long-term vision for the brand. Our design and development teams are now creating the products that will be coming to the market in the next two to three years. I'm curious to see if – and how – this period will influence the creative works across different industries.'
Anthony de Haas, director of product development, A. Lange & Söhne
'Our working method is characterised by long-term thinking. We are currently preparing the launches for the next five years. It is good to think ahead and plan for the period after the crisis. We realise that the work environment will become more flexible in the future. In the product development department at A. Lange & Söhne, we have anticipated this development to some extent. Interacting with remote teams is not uncommon for us. Now, we have to improvise even more and juggle with the time at and outside work, which is not necessarily a disadvantage for the creative process.'
Gregory Bruttin, product director, Roger Dubuis
'When you are courting a nice girl an hour seems like a second. When you sit on a red-hot cinder a second seems like an hour. That's relativity.' – Einstein. The last few weeks can seem like days or months depending on who and where you've spent them. We have had time to appreciate what we have rather than wish for what we can have. A mandatory carpe diem.
Patrick Pruniaux, CEO, Ulysse Nardin
'No doubt that the most important change for me over the last six weeks and the beginning of the quarantine has been the time spent with my two year old son, Alexandre. While working from home and not travelling extensively as I usually do, I have spent much more time close to him. The concept of time has changed with a paradox. The time felt shorter – as the days were much more of a routine – and it also felt it had more depth, since the frequency of contact and the time allocated to Alexandre without an agenda were much more frequent. Laying in the grass and admiring the clouds moving or witnessing the changes in trees blossoming day after day with him have been a blessing. This time remains as a different chapter in the story I have with my son. I was fortunate to have the opportunity to sail through this quarantine time with him before going back to the hectic and passionate professional life of running watch companies.'
Julian Tornare, CEO, Zenith
'The actual concept of time has not really changed for me. What has changed is the way I have actually spent my time over the past six weeks. Although we have all been in an unprecedented and very difficult situation, it has been great for me to have time to enjoy my family, with simple pleasures like sitting down to eat with them twice a day, for example. This rarely happens as a rule because I am not often at home. I have also spent as much time as possible in the garden which is unusual for me, thus benefitting from Switzerland's wonderful fresh air. And aside from that, being forced to stay home has given me a chance to catch up on all the architecture and decor books I have been wanting to read for some time, as we are redecorating our house. So it has definitely been time well spent.'
Magnus Äppelryd, founder, Bravur
'I find myself dividing the day into specific sections for different activities much more strictly nowadays, to get some kind of structure. This feels much more important now. It feels like the days otherwise just become one undefined mass, when you hardly leave your home. I have also learnt when working from home to dress up every day, even though hardly anyone will see me.'
Ander Ugarte, designer, Tudor
'I am usually always working two or more years ahead of what you see in the market. With the current situation the work pace has become somewhat different – not slower but more spontaneous, allowing me time to reflect on the design history of the brand and rediscover some of the watches in a new light. I am specifically referring to what some call the 'original' Black Bay with a very noticeable burgundy bezel, which I had not thought about in a while. I can't say I had forgotten about it, but always looking forward sometimes makes the current a distant memory.'
Judith Borowski, creative director, Nomos Glashütte
'I haven't had this much time in 20 years. Whereas up to now my schedule was filled with tasks and obligations and diversions, I – like many others – am now experiencing time in a completely new way. Preparing food, having a conversation, ironing a blouse: simple things now fill my day. And yet time passes, and it's not boring at all.

An hour will stay an hour, and our watches will continue to count them reliably. But we are currently witnessing a clear shift in priorities. Our lives were off course – too busy, too hectic, too selfish, too banal. And if we take a look at our health systems, we also see too little invested where it mattered. Perhaps that is why, despite all the challenges of the current moment, there is also a chance to improve things as well.'
Lionel Favre, director of product development, Jaeger-LeCoultre
'Being confined has changed the work pace. When you are in the office, 100 per cent of your time is spent in work tasks, but when you are at home for weeks, your days are split between work time and personal time especially if you have kids like I do. It turned out to be a bit challenging to start with, but it also allows me to step back and look at the overall picture. Every interruption feels like a total disconnection, and every time I concentrate on work again, my perspective is better.

I am using this time to increase my skills on the Sketchbook app, which lets me draw on my iPad directly. I had the time to get used to this totally different feeling of drawing and it is amazing – I used to sketch with paper and pens and this has been a revelation! Now, I'm not using this time to work on new ideas, but instead am focusing on developing a new and different approach; taking the time to reflect more deeply.'
Rolf Studer, CEO, Oris
'We are a tight-knit community at Oris and during these times our priority is each other. It's strange to see the world come to a grinding halt, but we are trying to continue our days as best we can and are busy resorting to different tactics to connect with our customers. Last week we hosted our first digital product launch and we're enjoying being able to communicate with our customers and clients in ways that we haven't before.

This change of mindset has proved challenging, however also refreshing and as an independent business who survived world wars and the quartz crisis, remaining resilient and positive are attitudes engrained in the Oris way. We have and will stay focused on continuing to share our passion for timeless design and thoughtful movements with the world and spread positivity where we can.'
Alexandre Mille, sales director, Richard Mille
'For me, it is as if time has now taken on additional dimensions during the last weeks. On the one hand, dealing with many things at our company means that I am as busy as usual. It is also very important to remain in regular contact with everyone who works with us on a regular basis. Staying in touch is crucial right now. It's as if time manifests itself simultaneously in different layers and different speeds as it continually proceeds forward.'
Bernardo Tribolet, VP Marketing, Swatch
'We have all experienced how the perception of time has changed in the last month. Confinement at home has clearly shown that time is a central aspect of our life. It has made us ask, what is quality time? How do we make the best use of our time?

For Swatch, time has obviously played an essential role, but in a fun and positive way. The beginning of April was the right time for us to head off on our SwatchTakesMePlaces, a 30-day virtual trip around the world, bringing together people from all over the globe. Time is what you make of it and with its life-affirming spirit, Swatch has always been known for making the best of it. Staying true to our values, we will keep sharing positive and upbeat messages, well prepared for all that is yet to come.'
Hannah Silver joined Wallpaper* in 2019 to work on watches and jewellery. Now, as well as her role as watches and jewellery editor, she writes widely across all areas including on art, architecture, fashion and design. As well as offbeat design trends and in-depth profiles, Hannah is interested in the quirks of what makes for a digital success story.