Game on: toy-inspired jewellery
In a year in which we have sought simpler pleasures to keep us entertained, games like Lego and Scrabble have once again become firm favourites. Now, these childhood classics are inspiring jewellers who are creating tactile and playful collections which help you pass time in the most chic of ways.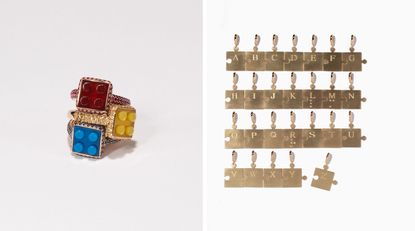 (Image credit: TBC)
Wallpaper* Newsletter
Receive our daily digest of inspiration, escapism and design stories from around the world direct to your inbox
Thank you for signing up to Wallpaper. You will receive a verification email shortly.
There was a problem. Please refresh the page and try again.
This topsy-turvy year has given us so many hours to play with that playing is what we did. With sales of puzzles, board games and Lego spiking, jewellers couldn't help but be inspired, creating jolly jewels we'll be wearing into the new year.
Hemmerle
You can identify a Hemmerle piece by the recherché materials fused by virtuoso engineering, creating elegant jewels. It is an idiosyncratic style that persists even in pieces unexpectedly peppered by a touch of humour. Take the Cog earrings. Observing her son absorbed in playing with construction toys, Yasmin Hemmerle thought of reproducing that tactile and kinetic experience in jewellery. It wasn't child's play, though. Hemmerle's atelier worked about 400 hours to make the iron cogs rotate seamlessly in fully pavé diamond wheels that are the marvel of disc-shaped earrings. 'The engineering within it is left out of sight, adding a sense of mystery and playfulness,' they explain. The same sharp precision informs the abacus earrings which are simply irresistible for fun-seeking restless fingers.
Nadine Ghosn
The Nadine Ghosn Jewelry collection of rings, Building Blocks, is set with stones cut in the shape of Lego bricks for a hopeful message. 'The collection brings you back to the simple fundamentals: the very shapes and forms that instilled in us the ability to build and to create,' says the designer who, since her debut Hamburger ring, has built a reputation for quirky but refined jewellery. The Bon Bon Block – the most affordable of the range – comes in a yellow or blue agate rimmed by yellow or blue sapphires or in carnelian surrounded with rubies. The Bare Block in white quartz and jade fully exposes the Lego piece in its entirety. There is even a fully paved diamond version: the Bling Block.
Carolina Bucci
For London-based Italian designer Carolina Bucci, summer means handmade bracelets. As a child, she crafted fabric bracelets that would fade and tear in the sun and salty seas of Forte dei Marmi in Tuscany. As a mother now, summer begins with a large bowl of colourful beads that she and her sons thread into wristbands to wear until the last day of the holiday. This year, Bucci has elevated that personal ritual with a DIY necklace and bracelet kit made of up to 80 colourful precious stones, including malachite, turquoise, lapis lazuli and countless more. These are strung on a Lurex cord tipped with 18-karat gold aglets in endless elegant combinations. The real fun is that you can wear summer around your wrist all year long.
Suzanne Syz
About two decades ago Geneva-based Suzanne Syz, an avid art collector, turned to jewellery to inject her craft with a dose of fun. Syz's repertoire features a Hashtag cuff, reproducing the social media ubiquitous sign, and Campbell's soup-can earrings in titanium and ceramic, set with diamonds. The Scrabble bracelet is inspired by her childhood, which, Syz says, 'is the time of life where creativity has no limits and judgement.' Syz has often enjoyed spelling messages on her jewellery, and her clients have had fun personalising their bracelets with their own messages. 'Mothers like to put their children's names, or husbands like to send a love message. It's usually very romantic or personal.'
Milamore
As a child Milamore's founder, George Root, was obsessed with dinosaur puzzles. As a grown-up designer of jewellery that fuses his Japanese heritage with the cultures and traditions he encounters in his peripatetic life, Root wanted to imbue the humble puzzle piece with a message of inclusivity and unity. The collection of puzzle-shaped charms in yellow and white 18-carat gold are engraved with letters and set with diamonds, tracing the Braille sign of the corresponding letter; the back of the piece is left blank for anyone to add a personalised message.
INFORMATION
hemmerle.com
nadineghosn.com
carolinabucci.com
suzannesyz.ch
milamorejewelry.com
Receive our daily digest of inspiration, escapism and design stories from around the world direct to your inbox