Baselworld 2016: Tudor's new bronze age is an instant antique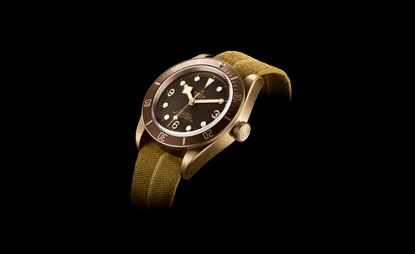 (Image credit: tudorwatch)
Naturally, the Italians came up with this one: instead of a sexy new material, how about a sexy ancient material? Yes, bronze is back. Watch case materials have run the gamut from steel to precious metals, to techier stuff like ceramic and carbon fibre, but always with either strength, durability or looks determining the choices. What all strove for, though, was some kind of consistency from watch-to-watch. But how about a material that creates series-production watches that vary from example to example?

For seafaring brands Anonimo, Panerai and U-Boat, who pioneered the use of bronze in the 21st century, it was all about that metal's popularity in the manufacture of fittings on ships. But whatever its metallurgical properties, bronze offered something few other metals could without actually corroding. Bronze, with use, acquires its own unique patina.

For the individualist, it means owning a watch that doesn't look exactly like someone else's, without affecting the actual physical design, like the recent craze for aftermarket customising. But bronze has another aesthetic property that inspired Zenith, Bell & Ross and Oris to join the club: even fresh out of the box, a bronze-cased timepiece looks, well, old. And in a good way.

Among this year's biggest surprises at Baselworld will be the arrival of a bronze timepiece from one of the more conservative, yet hipper-than-Ferlinghetti makers: Tudor. For a company that ignores – or actually creates – fashion, Tudor has proven to be susceptible to the lure of a recently formed and now much-loved sub-genre, based primarily on an aesthetic concern. By issuing the hugely successful and irresistibly covetable Heritage Black Bay (try finding a watch journalist who hasn't bought one!) in bronze, the company has created a fourth colour scheme to sit alongside the steel versions with black, blue or Bordeaux-coloured dials and bezels.

Tudor has not tampered with a pretty-much-perfect form that dates back to 1953. It is instantly recognisable as a Tudor diving watch. To complete the 'instant antique' look, the watch wears a chocolate-y dial and rotating bezel reminiscent of its elder cousin, the Rolex GMT 'Root Beer' with similar brown dial and bezel. Adding to the ready-for-Shoreditch/hipster look, Tudor supplies every Heritage Black Bay Bronze with both an antique'd leather strap and canvas-y over-under strap. We can safely predict: there's gonna be a queue for this one.
INFORMATION
For more information, visit the Tudor website (opens in new tab)